The New England Patriots were leading 13-7 at halftime, but couldn't hold on to the lead.
Some would say it's because Wes Welker couldn't hold onto the ball.
Rational thinkers will tell you that while that may have been a turning point, there was a lot more to it than that.
In the end, as Belichick said, the team came up short of the Ravens in just about every area. That is why they lost at home when leading at halftime for just the second time in Bill Belichick's Patriots career and the first time in Tom Brady's.
Let's just try to make sense of it all and break down what happened.
Offense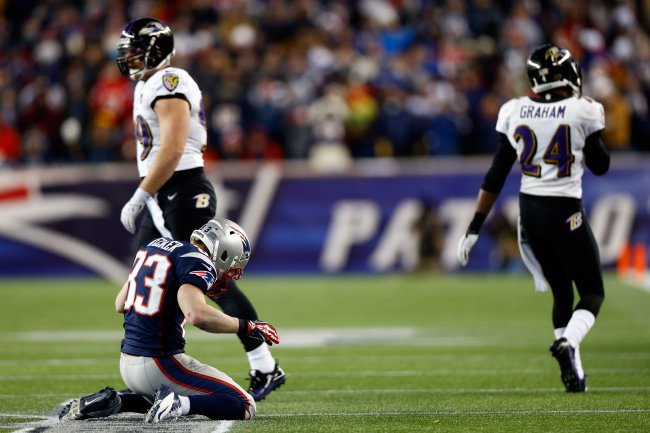 Jared Wickerham/Getty Images
Another Wes Welker drop proved to be a turning point in another Patriots playoff loss.
That drop, though, was far from the only shortcoming for the offense.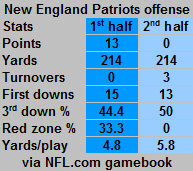 In fact, there were at least eight other missed opportunities. Nine
times they crossed the 50-yard line, and came away with one touchdown and two field goals. There were two interceptions in Ravens territory, as well, and the Patriots punted three times and turned it over on downs another time.
They gained 428 yards of offense and 5.2 yards per offensive play, both marks that surpassed the Ravens, but only had 13 points to show for it. Their red zone offense, which averaged a league-best 69.7 percent conversions in 2012, came away with just one touchdown on four red zone possessions.
Overall, the offense had some success, but could not sustain it long enough to build any kind of rhythm.
Defense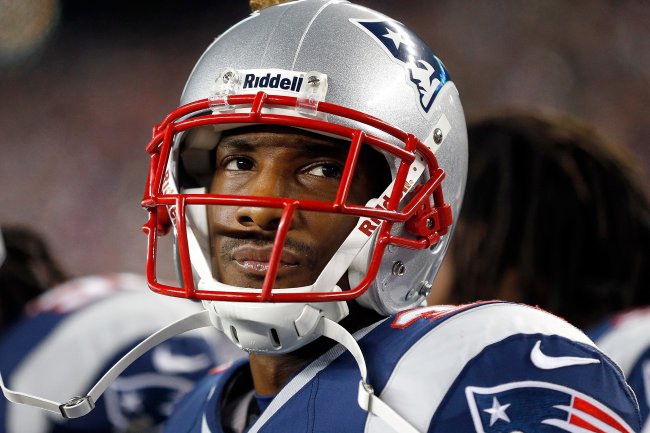 Jim Rogash/Getty Images
There were also some injuries, and almost all of the major ones took place on the defensive side of the ball.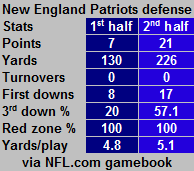 Cornerback
Aqib
Talib
was one of the key differences that was supposed to tilt the matchup in favor of the Patriots secondary, but he injured his thigh and was out of the game by the second defensive series. Defensive tackle Kyle Love also left with a knee injury after the first drive, and didn't return.
"We had to make some adjustments to what we were doing when Kyle [Love] went out and when [Aqib] Talib went out," Belichick said after the game (via Patriots Fifth Quarter). "We had to make some adjustments there, but that's the National Football League."
Certainly, the Ravens are worthy of their share of credit.
The Patriots took away the long ball and forced the Ravens to move the ball down the field with long drives. The first three touchdown drives for the Ravens were all of at least 10 plays, with the first two traveling 90 and 87 yards respectively.
Joe Flacco hit six pass plays of 20 yards or more against the Patriots in the last meeting, and the Patriots kept that number down to just four plays this time around. The Patriots also limited Ray Rice to just 48 yards on 19 carries (2.5 YPA) and the Ravens running game to just 3.7 YPA on the day.
Without being allowed much in the way of a running game or a deep passing game, the Ravens deserve credit for doing what the Patriots forced them to do, and succeeding at it.
Turnovers
Three of the Patriots six second-half drives ended in turnovers.
Tom Brady threw a pair of interceptions—one on a tipped pass, the other on a last-minute desperation heave into the end zone—and Stevan Ridley fumbled after getting his bell rung by (who else but) Bernard Pollard.
The Patriots have been very safe with the football all season, only turning it over 16 times in the regular season and zero times in the past two games.
In fact, as Gary Marbry of WEEI.com points out, they've been the best in the league in that regard for years.
.@cpricenfl After going NFL best +70 turnover margin over last 3 reg seasons, #Patriots are -6 in postseason in that span (worst in NFL).

— Gary

Marbry

(@nuggetpalooza) January 21, 2013
That tells you just about all you need to know: dominant regular season team, coming up short in the playoffs.
Erik Frenz is the AFC East lead blogger for Bleacher Report. Be sure to follow Erik on Twitter and "like" the AFC East blog on Facebook to keep up with all the updates. Unless otherwise specified, all quotes are obtained firsthand or via team press releases.