New York Giants: Does Bill Cowher Still Have Eyes on Big Blue's Head Coach Job?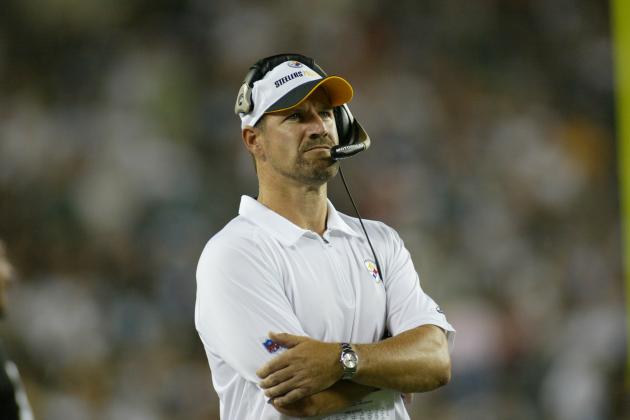 Len Redkoles/Getty Images

The other day, I was pretty surprised to hear Bill Cowher's name come up in coaching rumors again.
I mean, we always hear Cowher's name anytime there is a vacancy, but usually, he has no interest.
However on Wednesday, ESPN broke the news of Cowher stating at a CBS function that he wants to coach again.
What was interesting from the story was the report based off the story done by Gerry Dulac of the Pittsburgh Post-Gazette, which said that Cowher isn't interested in coaching for another four to five years.
The 55-year-old Cowher has not coached since the 2006 season after spending 15 years with the Pittsburgh Steelers (1992-2006).
A few years ago, the rumors of Bill Cowher being interested in taking over the New York Giants head coaching job came about, especially with the Giants struggles early in the 2010 season and Tom Coughlin missing the playoffs for two straight years.
Cowher's name came up on this web site several times last year during the Giants mid-season slide, but were put to bed when the Giants went on their Super Bowl run for a second time.
I am, in no way, trying to push a two-time Super Bowl winning coach like Coughlin out the door.
What this story is doing is wondering about the future, and if Cowher still wants to be the Giants head coach in that future.
Begin Slideshow

»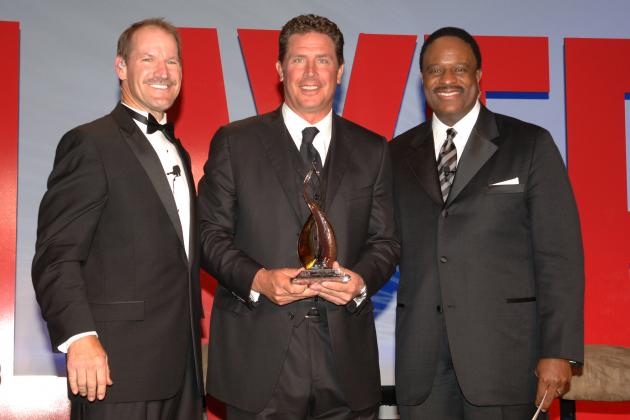 Mitchell Layton/Getty Images

Ever since he stepped away from coaching, Bill Cowher has had a nice, cushy studio job with CBS.
Every Sunday, you can see him along with James Brown, Shannon Sharpe, Boomer Esiason and Dan Marino doing the pregame show on CBS before the 1:00 p.m. kick-off.
Aside from that, Cowher's had a nice six-year lay-off from the NFL.
In the story from the Pittsburgh Post-Gazette, there has been some interest from teams looking at Cowher as a potential coaching candidate.
Cowher, 55, was contacted in the past couple weeks by several NFL teams who are looking for a head coach. One of those teams was likely the Cleveland Browns, who are owned by Jimmy Haslam, a former Steelers investor who knows Cowher.
Cleveland trying to get Cowher would make sense, and so would the San Diego Chargers who were rumored to be interested in him last year.
But it looks like Cowher has no intent of coaching any of the teams with a vacancy.
So for the Eagles, Browns, Bills, Chargers, Jaguars and Bears fans, don't count on Cowher being your new head coach in 2013.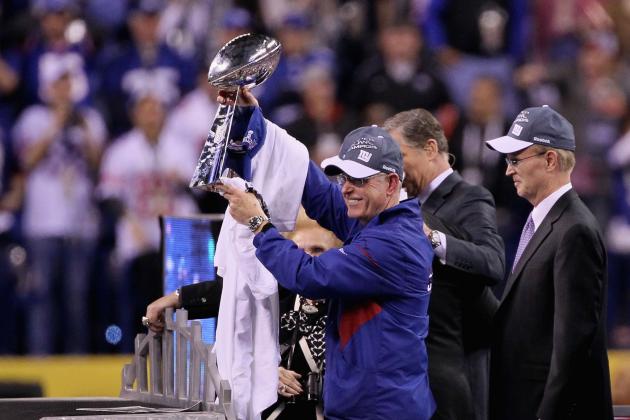 Jeff Gross/Getty Images

Can you name the team that has ever fired a head coach after winning two Super Bowls?
I can't, because I don't think it ever happens.
After winning Super Bowl XLVI, Tom Coughlin earned himself job security for good with the New York Giants.
He also earned himself a nice two-year extension on his contract that takes him through the 2014 season.
Despite finishing at 9-7 and missing the playoffs in 2012, Coughlin will be back in 2013, because well, why wouldn't he be.
And I'm sure Coughlin will be looking for an even better season from his group in 2013.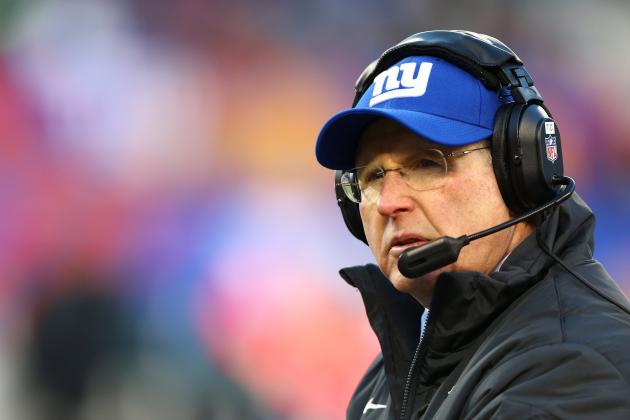 Al Bello/Getty Images

When the 2013 season begins, Tom Coughlin will still be the NFL's oldest head coach at 67-years-old.
His passion for the game and his will to win has not gone away with his age, though, and his recent interview with Mike Francesa of WFAN was very clear of that.
"I can't even describe how it hurts," Coughlin said. "I don't know what to do. I'm walking around here like a crazy man. I am. I don't know what to do with myself. We shouldn't be doing this right now.

"The pain of it is almost indescribable. Because your expectations are so high and as a matter of fact it drives you because of the opportunity that you have. The thing that's most difficult to deal with is losing, and then being out of it. It's difficult to describe."
That is a direct quote from a coach who was just 11 months removed from being a Super Bowl winning head coach for the second time.
Before the 2012 season started, Coughlin had stated that he thinks he can still coach into his 70's, which is a very rare thing to see in the NFL.
Bill Parcells coached until he was 65. Tom Landry coached until he was 64. Dick Vermeil coached until he was 69, however, Vermeil also stopped coaching for 15 years between his stints with the Eagles and Rams.
Even Bill Belichick is getting up there as well at 60. But at 66, Coughlin's fiery passion for the game has yet to go away.
The only thing I can see luring Coughlin away is his family and spending more time with his children and grandchildren, something Coughlin is growing more fond of in recent time.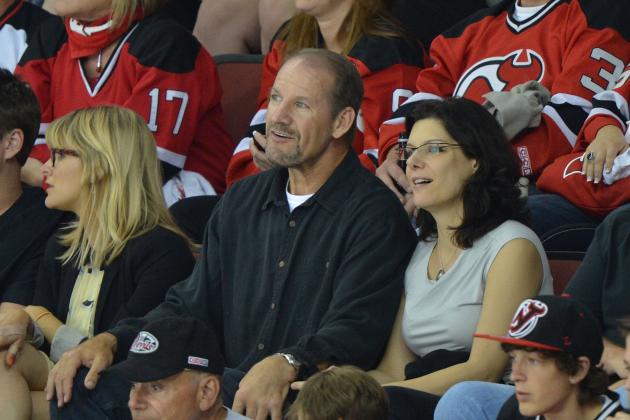 Mike Coppola/Getty Images

Bill Cowher and his family used to make their home in Raleigh, North Carolina.
Cowher and his late wife, Kaye, went to N.C. State and always loved it there and wanted to raise their three daughters there.
However, Cowher's life changed drastically when his wife died in 2010 after a battle with skin cancer at the age of 54.
Since then, Cowher has relocated and now lives in New York, where his CBS job is.
It's also close to where his two daughters, Meagan and Lauren, went to college and played basketball at Princeton University.
Pictured above was Cowher attending Game 1 of the 2012 NHL Stanley Cup Finals between the New Jersey Devils and Los Angeles Kings (his daughter Meagan is married to Kings forward Kevin Westgarth.)
I think Cowher likes the New York lifestyle now, and it's been rumored that he's been dating someone who lives in the New York area (possibly the woman in the above picture.)
If he were to take another job, he might want to stay close to his newer home.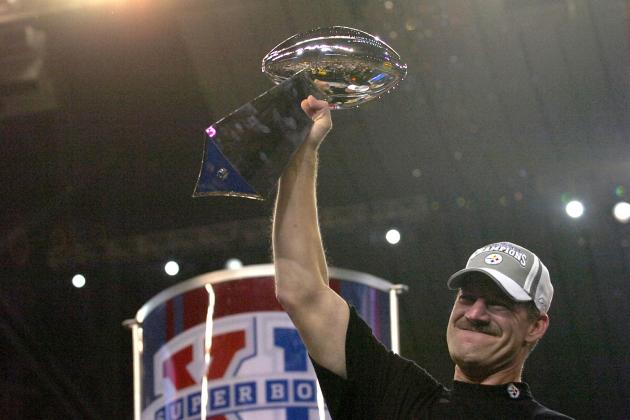 A. Messerschmidt/Getty Images

When you look at all the factors presented, one thing still comes to mind for me.
Which is Bill Cowher taking over the New York Giants head coaching job in the future.
Sure, he might not be the guy in 2013 or even 2014.
But what about before the 2015 season, when Tom Coughlin's contract expires; could Coughlin decide to walk away after his deal expires?
Nobody would blame him for wanting to spend more time with his family as he gets up in age.
But lets say Coughlin goes for four-to-five more years with the Giants, which would have him coaching at age 70 or 71.
And Cowher says he might not come back for four-to-five years.
At that time, Cowher will be either 59 or 60-years-old, which is still a good age to coach in the NFL,and especially with all the time off Cowher has had away from the field.
Remember, the Giants brought in Coughlin at age 58 back in 2004, so it wouldn't be a total shock if Cowher came back at 59 or 60.
Cowher has been and will continue to be just fine staying in his role at CBS, working the pre-game show every Sunday on CBS.
But I honestly believe Cowher is still waiting for one final vacancy to open up in the NFL because I think he can see himself winning another Super Bowl with the Giants.
He'd have a great owner and general manager to help him out in New York in building a roster.
But for now, Cowher's main focus is CBS and his family.
In the end, he's still waiting until Coughlin walks off into the sunset.