FC Barcelona vs. Cordoba: Complete Preview, Predictions, and Expectations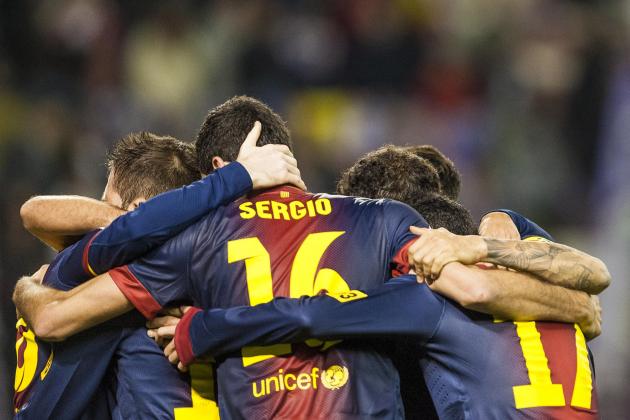 Victor Fraile/Getty Images

When: January 10, 2012
Where: Camp Nou, Barcelona
What Time: 3:30 pm EST, 21:30 CET
Aggregate: 2-0 (Barcelona)
Barcelona will host Andalusian side Cordoba on Thursday in the second-leg of Copa del Rey action. After a 2-0 win in the first meeting, Barcelona look set to advance.
Though Cordoba is not a club that should worry the Catalans, there are a few factors going into the game that fans should keep an eye on.
Barcelona will be hoping to continue their impeccable start to 2013 after displaying their best game of the season against Espanyol on Sunday.
But for Cordoba, this game means a lot. The fans will hope for a result while players will get to showcase their skill at the Camp Nou.
In this article we will cover some of the expectations and talking points going into the match, as well as predictions. Let us begin, shall we?
Begin Slideshow

»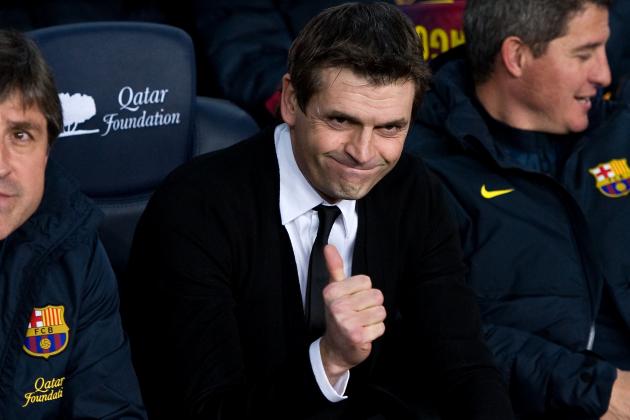 David Ramos/Getty Images

Barcelona will be without manager Tito Vilanova for the encounter with Cordoba.
Vilanova will miss the game as he will be in New York getting a second opinion after his successful surgery (via Marca). The world will be waiting for the results as Vilanova is currently set to miss more time.
While the surgery was a success, Vilanova is still set to undergo chemotherapy for approximately six weeks, which will likely cause the Catalan boss to miss more time while assistant Jordi Roura steps in again.
Surely Vilanova will be hoping that the second opinion will bring good news.
The boss does not want to miss time away from the club, but he would be wise not to push himself. Of course the club is wise enough to be very careful with Vilanova's recovery. The pursuit of a second opinion should be seen as Barcelona taking precaution.
Regardless, Vilanova will not be on the sidelines against Cordoba. His absence should not hurt the club too much in a match like this. Expect La Blaugrana to once again play for their boss, who has probably already picked the starting lineup.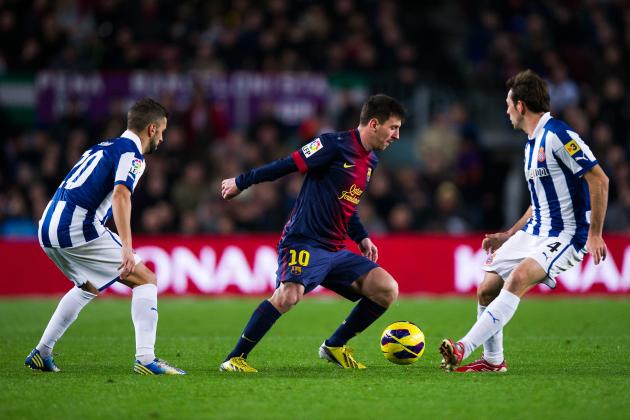 David Ramos/Getty Images

La Blaugrana began the New Year in an emphatic manner. A 4-0 demolition of Espanyol in the Catalan derby has shown the world just what this Barcelona team is capable of.
In fact, the performance against Espanyol was the most impressive Barcelona has looked in roughly two years.
There is no reason to believe that Barcelona will not be able to replicate the same performance against a lower-tier Cordoba.
This match could set the tempo for the rest of the season by showing that the team can play every game at the same level as the Catalan derby. There is no better way to start the year than consecutive dominant performances.
Cordoba could be on the wrong end of Barcelona finding their best form and confidence of the season.
With Pedro now scoring and nearly the entire team healthy, La Blaugrana will look to assert their dominance. Cordoba should not be expected to handle the Barcelona pressure.
But if Cordoba is able to really make Barcelona work, fans could immediately forget the Catalan derby. A big win is needed for Barcelona to continue gaining confidence and improving on an already masterful season.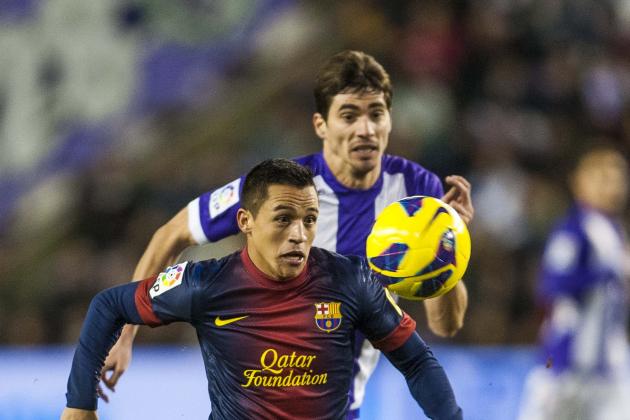 Victor Fraile/Getty Images

It is no secret that both David Villa and Alexis Sanchez are struggling mightily this season. Yet a chance against Cordoba to start 2013 would be the perfect time to turn things around.
Both wingers have a good chance of featuring, maybe even starting. They should take this opportunity as a chance to start the season over.
Cordoba is a weaker team than most opponents Barcelona will face during the second half of the season. If neither Villa nor Sanchez can succeed against the Andalusians, their careers at Barcelona may be coming to an end.
After numerous reports of teams being interested in David Villa, Barcelona president Sandro Rosell has recently stated that the Spanish striker is not for sale (via Goal).
It has been a roller coaster of a season for Villa. But he has struggled heavily in the past few months and will absolutely need a strong performance against Cordoba if he is to earn a spot in the starting lineup.
Alexis Sanchez, on the other hand, has just been in poor form for the entire season.
The Chilean has only scored one goal since the season began. Though his talent immense, his confidence is not. The winger must start scoring goals or could soon be seen as a flop for Barcelona.
It appears as though Villa and Sanchez are battling each other to become full-time starters. But Cristian Tello may have the edge at this point. Also, with Iniesta playing so well at the left-wing and Pedro finally finding form on the opposite wing, Villa and Sanchez may be out of luck.
The match against Cordoba will be huge for Villa and Sanchez. Let us hope they show what they are truly capable of.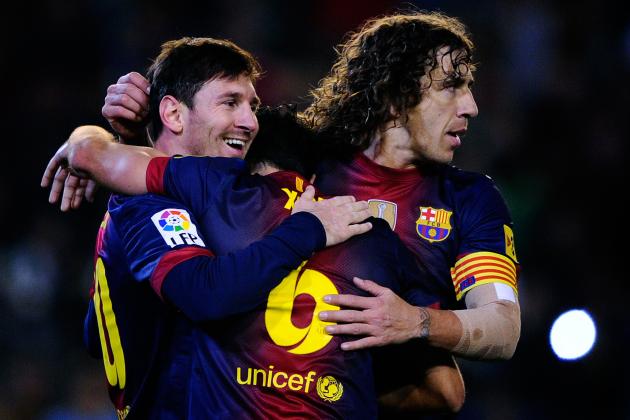 David Ramos/Getty Images

Only three days after the match against Cordoba, Barcelona will travel to face fourth-place Malaga in what will be a difficult match.
With such a huge game on the horizon, expect La Blaugrana to rest some of the more important stars while a few youth players should get some valuable minutes.
The club released on its official website that Xavi, Pique, Iniesta and Pedro will all be given a rest for the meeting with Cordoba. No doubt these four players will be vital in the game against Malaga.
Expect the talented Thiago to start in place of Xavi as well as the promising Marc Bartra in place of Gerard Pique. Cesc Fábregas should feature as well to continue the best form of his career.
Of course, Jose Manuel Pinto will start in goal as Victor Valdes does not feature in Copa del Rey games.
Sadly, the club gave an official statement saying that Adriano will miss the game due to discomfort (via fcbarcelona). He would have likely been the starting left-back.
Not any B team players were listed in the squad, though Sergi Roberto may feature late as he continues to impress. Fans should also expect Cristian Tello to make a promising appearance.
However, the game against Cordoba is very important. Barcelona will still start important and capable players to ensure victory. The likes of Lionel Messi and Sergio Busquets are always the first names on the team sheet.
Regardless of who does and does not feature, the lineup will be chosen with Sunday's clash with Malaga in mind. But as we all know, the replacements for the resting stars are just as dangerous.
Tito Vilanova has most likely already chosen the starting lineup. If there is one thing the Catalan boss has showed this season, it is that he knows his players. The Barcelona lineup will be very exciting and carefully planned.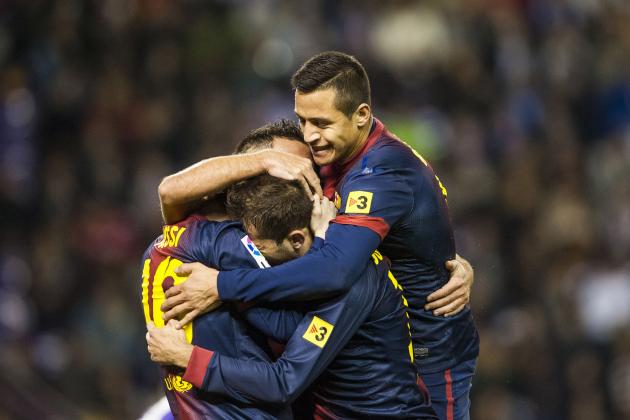 Victor Fraile/Getty Images

If we are to be honest, advancement has already been decided by Barcelona in the first fixture. Though Cordoba could shock the world by getting a positive result, overcoming a 2-0 aggregate to progress will be impossible.
That does not mean that Cordoba will not try. Expect the Andalusians to pressure early before succumbing to the overall strength of La Blaugrana.
With the aggregate score heavily in their favor, Barcelona will most likely seek to take the lead early before killing the game off with possession. But some of the fringe players may look to make their mark on the game if the opportunity arises.
I predict a final score of 3-0 in the favor of Barcelona. Expect Lionel Messi to naturally get a goal. But either Villa or Alexis should score in this game as well.
Predicting Barcelona's Starting Lineup
Pinto
Martin Montoya, Marc Bartra, Carles Puyol, Alba
Thiago Alcantara, Sergio Busquets, Cesc Fábregas
Alexis Sanchez, Lionel Messi, David Villa
How do you see the game playing out? Has Barcelona already advanced? Who will feature and is this the best chance for both Villa and Sanchez? Don't forget to leave your thoughts and comments below.
Tre' Atkinson, the Catalan Blood of Bleacher Report. Follow @TreAtkinson
Check out my latest articles here.
Why Dani Alves No Longer Deserves to Start
Compete Recap of the Barcelona Derby