2012 St. Louis Rams Draft Rewind: How Did They Fare in Their First Season?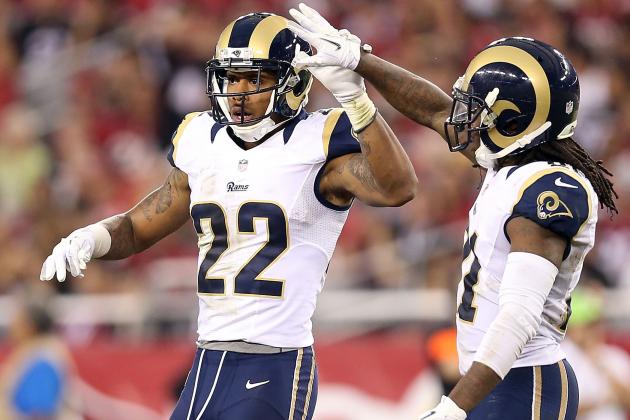 Christian Petersen/Getty Images

The 2012 St. Louis Rams' draft class has quietly been praised as one of the most effective and best draft classes this organization has seen in the last 15 years. General manager Les Snead and head coach Jeff Fisher make it obvious that they are the right men to lead this organization to the promised land.
After years and years of failed drafting, the community of St. Louis has to be pleased that the organization's arrow is indeed pointing up. As the youngest team in the league, there were some ups and downs, yet they never let the youth factor affect their ability to win.
They showed resilience more than once on the road and in tight ball games.
Let us take a look at each player's individual grade, based on their performance, from the 2012 season.
Begin Slideshow

»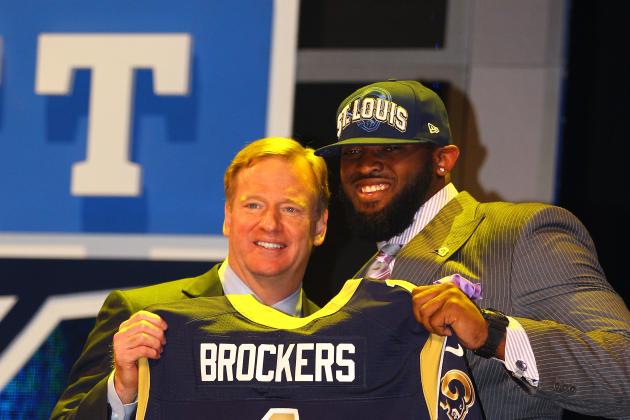 Al Bello/Getty Images

Despite being hobbled by a sprained ankle early on in the year, first-round draft selection Michael Brockers finished the season as one of the five best defenders on the Rams' roster. He made his presence felt against the run, he rushed the quarterback with success and even dropped back in coverage a time or two.
Against the run, Brockers managed to pile up 21 defensive stops and seven defensive tackles for loss. According to the analysts at Pro Football Focus, Brockers graded out as the 21st-best run defender out of 85 defensive tackles and nose tackles.
As a pass-rusher he outperformed everyone's expectations by registering five quarterback sacks, four quarterback hits and nine quarterback hurries. The five sacks tied him for fifth overall in the defensive tackle-nose tackle category, which should come as a surprise considering Brockers only managed two sacks in two years at LSU.
With a healthy ankle and a full year under his belt, No. 90 will be looking to take that next step as a player in 2013.
2012 Grade: B+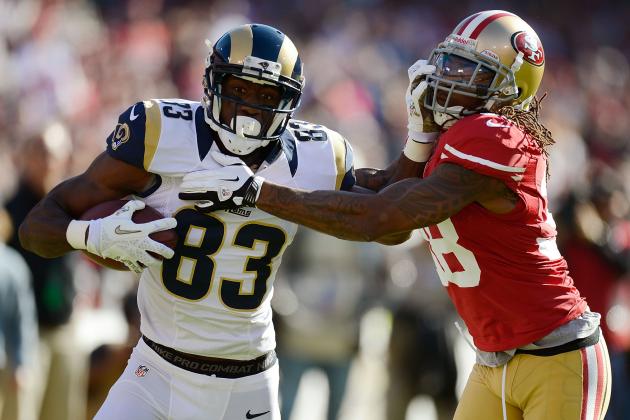 Thearon W. Henderson/Getty Images

Head coach Jeff Fisher and general manager Les Snead spent a lot of time this past offseason trying to figure out how the Rams could become a more competent team on offense. The return of Sam Bradford obviously helped, along with the addition of Brian Schottenheimer as offensive coordinator.
Yet they were hoping rookie wide receivers Brian Quick and Chris Givens could become impact players immediately. Unfortunately for Bradford and company, only Givens made that immediate impact. Quick had a hard time doing anything right to say the least.
He logged a measly 187 snaps, caught 11 passes on 27 targets, dropped two passes and scored two touchdowns. The only thing positive to come out of his lackluster campaign was the fact that he garnered invaluable playing time and two of his 11 receptions went for touchdowns.
Everyone, including myself, wondered if he had been drafted too high at No. 33 overall, but now is no time to question the selection. Some players take more time to develop than others, especially a small-school product like Quick. It's possible the speed of the game was consistently too fast for him.
Heading into year two, St. Louis needs to see a big jump in production for the sake of everyone involved. A young, rebuilding franchise cannot afford to strike out on a draft pick as high as Quick.
2012 Grade: D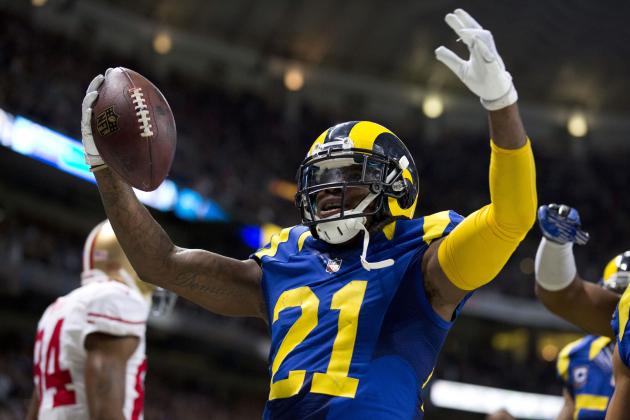 David Welker/Getty Images

Cornerback play in St. Louis drastically improved this season thanks to free-agent addition Cortland Finnegan and rookie second-round pick Janoris Jenkins.
Jenkins was highly touted out of North Alabama due to his lockdown coverage skills that he had put on display in college. However, many teams were wary based on the fact he had multiple run-ins with the law, which eventually got him kicked out of the University of Florida.
Even though the run-ins with the law cost him a first-round draft selection, it didn't stop him from making an immense impact on the field with the Rams. He managed to intercept four passes, three of which were pick-sixes, and recover one fumble for a touchdown as well.
His four defensive touchdowns are a rookie NFL record, and they ranked second amongst all Rams players. Only wide receiver Brandon Gibson had more touchdowns on the season—he had five receiving touchdowns.
His coverage skills didn't prove to be as valuable as his ability to score touchdowns, but he showed improvement over the second half of the season. Through the first eight games PFF had him ranked dead last in coverage, but over the course of the last eight games he managed to move himself out of that bottom spot.
In 2013, Jenkins will need to focus on not giving up so many big plays and touchdowns.
Being a gambler can pay dividends in big ways, yet it can lead to hurting the team more often than it helps the team.
2012 Grade: A-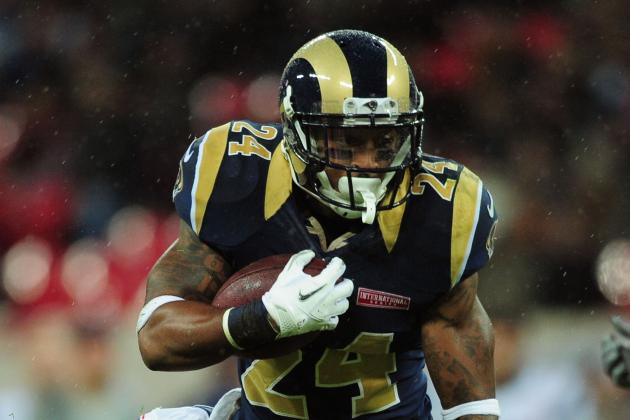 Jamie McDonald/Getty Images

When St. Louis drafted Isaiah Pead in the second round, many thought he could possibly be the eventual replacement to running back Steven Jackson. It's still possible he could become Jackson's replacement, but after his freshman season in the NFL that prediction seems a bit far-fetched.
Like Quick, Pead had trouble finding the field and being productive when given an opportunity. He played a minuscule 42 snaps on offense over the course of 16 games and recorded 10 carries. On 10 carries he picked up 54 yards and even managed to force four missed tackles.
Yet he didn't score a touchdown and managed to fumble one of the 10 carries he received away.
Moreover, his performance as a kick returner failed to impress anyone as well. In all he returned 10 kicks for 212 yards, a return average of 21.2 yards. His pedestrian numbers eventually got him replaced in favor of fellow rookie Givens.
With Jackson possibly on his way out, Pead's workload is set to increase. For the sake of St. Louis, hopefully limited playing time and a second offseason will help him prepare for an increased workload in 2013.
It wouldn't be fair to label him a bust after one season, but it is fair to give him an almost-failing grade.
2012 Grade: D-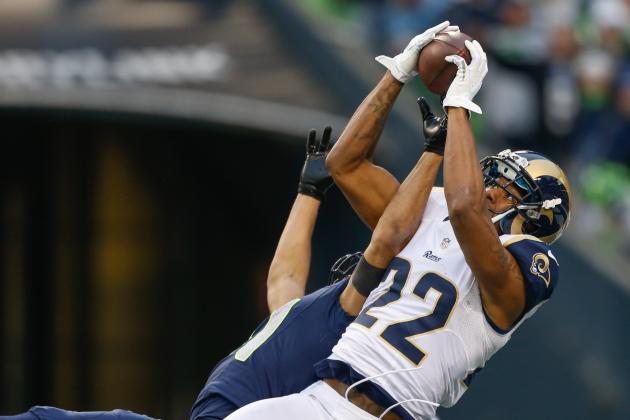 Otto Greule Jr/Getty Images

One of the bigger surprises in the Rams' draft class was cornerback Trumaine Johnson. Johnson was a third-round selection out of the University of Montana who had fallen in the draft due to an off-the-field incident like Jenkins.
Yet Fisher and Snead proved once again that they were not afraid of any player who had previous run-ins with the law. Johnson kept his nose clean during the season and played well enough to earn himself three starts by season's end.
He was best known for his big, physical style of play on the outside. In nickel situations, Johnson would man one of the outside cornerback positions, Jenkins would man another and Finnegan would move inside to cover the slot.
His bump in playing time over the course of the season helped him net two interceptions, five passes defended and a completion percentage against of 52.4. Not to mention opposing quarterbacks only registered a 72.3 quarterback rating when throwing into his coverage area.
With the NFL becoming more and more pass-heavy annually, St. Louis is in good position to defend the pass for years to come.
2012 Grade: B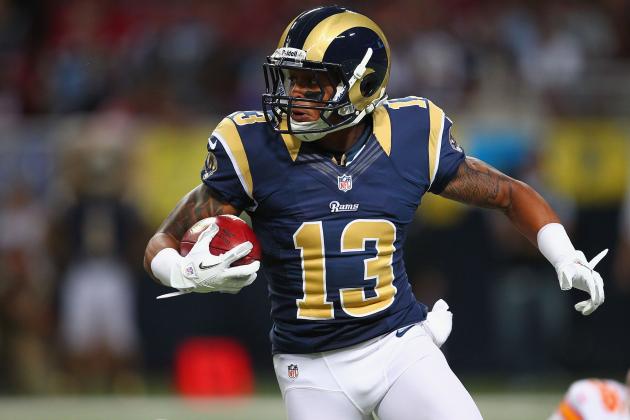 Dilip Vishwanat/Getty Images

Along with Brockers, Givens was quite possibly the biggest home run of the Rams' 2012 draft class. Initially Givens was a tad slow out of the gate as he saw limited snaps in the team's first three contests, but once Week 4 rolled around against Seattle, the breakout party was in full effect.
From Week 4 to Week 8, Givens recorded at least one 50-yard reception in five consecutive games. Like Jenkins' four defensive touchdowns, that reception streak was a rookie record as well. Over the course of the season, Bradford targeted him 77 times and connected with on three touchdown passes.
Givens' 698 yards receiving was a team high, and 16.6 yards per catch average was also a team high. St. Louis had been frantically trying to find a deep threat for a number of years, and it appears that they finally have with the 96th selection in the draft.
Heading into 2013, Givens should give Gibson a run for his money to start at left wide receiver.
2012 Grade: B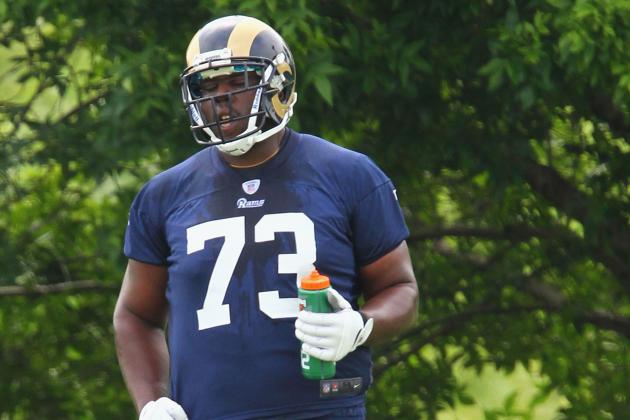 Dilip Vishwanat/Getty Images

Fifth-round draft selection Rokevious Watkins got off to an initial slow start after reporting to camp overweight, but that didn't deter Coach Fisher. Fisher pushed Watkins until he was at a comfortable playing weight that was deemed acceptable in his eyes.
The 338-pound left guard played in one game and logged 37 snaps after Scott Wells left the Detroit game with a foot injury. Watkins seemed poised to take over at left guard after Robert Turner slid over to center, but an ankle injury proceeded to sideline him for the rest of the season.
In his only action of the season he surrendered one sack, one hit and was penalized once. Look for Watkins to be given the opportunity to start at left guard in 2013. Coaches had previously liked what they had seen on tape in both the preseason and Week 1.
2012 Grade: C
David Welker/Getty Images

The phenomenon that is Greg Zuerlein swept Rams nation after he started the season 13-of-13 on field goals and 5-of-5 from 50 yards-plus. His first five games more than solidified St. Louis' choice to use a draft pick on him, but his impressive kicking streak only lasted so long.
Once the Rams hit the road and played outside of a dome on a more consistent basis, Zuerlein's numbers slipped. After his perfect start he ended up finishing the season 23-31. Not a bad number considering there were a couple of 60-yard attempts in the mix, yet there is room to improve nonetheless.
Even though his overall percentage wasn't where he wanted it, his ability to boom the ball on kickoffs helped the Rams' defense. The opposition's starting field position was the 21.5-yard line—that number ended up being better than the opposition's average starting field position in 2011.
In preparation for 2013, the biggest thing Zuerlein needs to improve upon is his field-goal accuracy in outdoor conditions.
2012 Grade: B-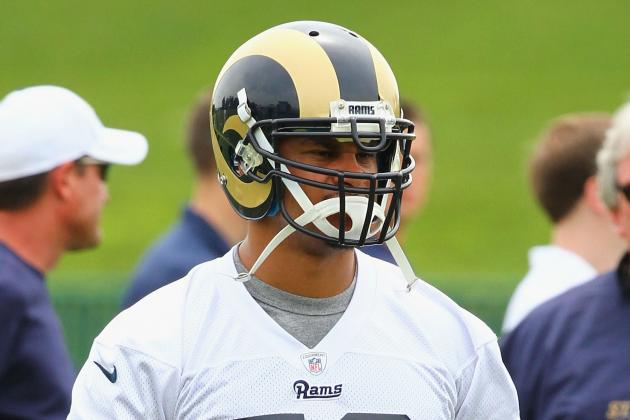 Dilip Vishwanat/Getty Images

The seventh-round draft choice out of Hawaii didn't initially make the Rams active roster, yet he was signed to their practice squad after he cleared waivers. However, his practice squad stay didn't last long as he was released on September 17.
2012 Grade: F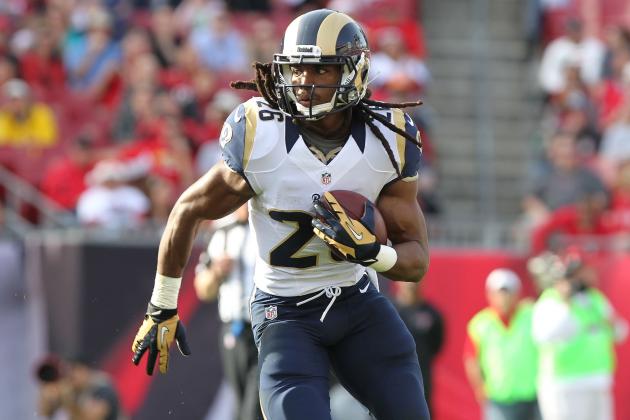 Kim Klement-USA TODAY Sports

As the last selection for the St. Louis Rams, not many figured running back Daryl Richardson would help a backfield that employed SJ39 and fellow draft selection Pead. Richardson was hoping to do enough in training camp to lock down the No. 3 running back position.
However, Richardson continued to prove his worth throughout training camp and the preseason. By the time Week 1 rolled around, he was ahead of Pead on the depth chart and he was seeing more carries than he could have ever imagined.
He often struggled in pass protection and wasn't always the best route-runner out of the backfield, but he averaged 4.8 yards per carry when spelling Jackson on 98 carries—that's 88 more carries than the second-round draft pick out of Cincinnati.
Richardson also forced 11 missed tackles—meaning he forced a missed tackle once every eight carries. That average was higher than Jackson's. On average he forced a missed tackle once every 11 carries. Don't be surprised if Richardson's carries climb even more in 2013.
2012 Grade: B-