49ers 2013 Mock Draft: The Smartest Pick San Francisco Can Make at Every Spot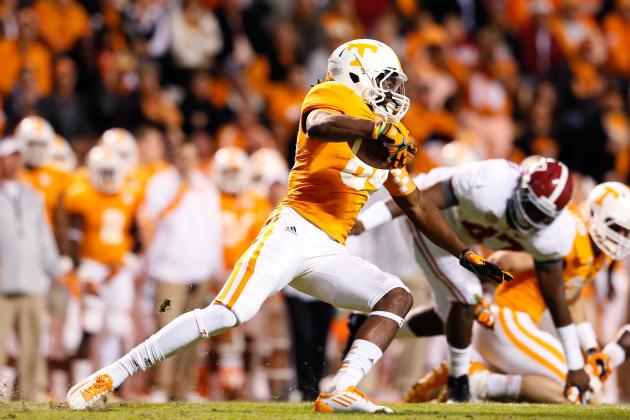 Kevin C. Cox/Getty Images

With the playoffs beginning, and the conclusion of several major bowl games in College Football, there should be plenty of mock drafts streaming in.
Considering the San Francisco 49ers were on a bye week waiting for an opponent to be revealed, we should take a look at some of the college prospects that could soon don the red and gold.
In my previous mock draft, four of the seven selections were defensive players. However, in this mock, it has a more offensive-minded feel, with emphasis on skill position players.
Let's get this mock draft started!
Begin Slideshow

»
Cordarrelle Patterson will be a hot name come draft time. At 6'3'' 205, Patterson has legit NFL size and length to be a number one receiver at the next level.
However, what impresses me the most is his catch radius and change of direction speed. Patterson has strong hands and can catch off-target throws.
Some may view him as a taller version of Michael Crabtree, but he reminds me more of Dwayne Bowe.
Like Crabtree, Patterson is very elusive and has excellent footwork. Both are sharp cutters who can retain top speed out of cuts. However, Patterson reminds me more of Bowe because of his potential for big plays.
Crabtree has done a tremendous job this season in the short-to-intermediate area, but because of his height, he isn't much of a red-zone target. Patterson can be that guy and so much more.
Despite all this praise, Patterson has his shortcomings. He is a bit raw as a route-runner, but don't expect this to be a big issue. Under general manager Trent Baalke, the 49ers have taken chances on several raw players (e.g., Aldon Smith, Chris Culliver).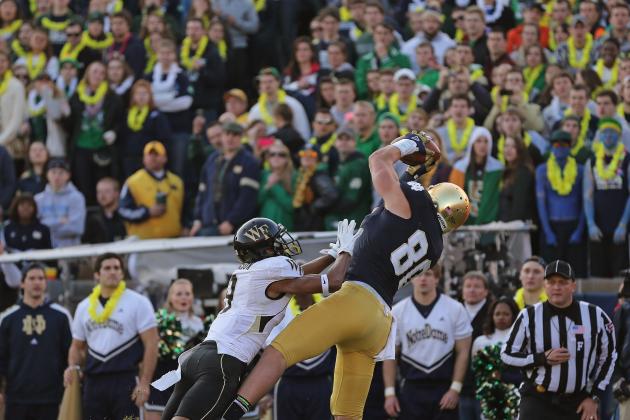 Jonathan Daniel/Getty Images

At 6'5'', 252 pounds, Eifert has the size and hands to be a huge red-zone target for Colin Kaepernick—or any 49er quarterback for that matter.
Some consider him a first-round selection, but I think Eifert drops into the second. I have concerns about his speed and blocking ability.
Teams usually overvalue tight ends heading into the draft, and I think that's what's occurring here with Eifert. On tape, he isn't a great blocker, but he has shown flashes in this area. With proper coaching, he could be a mauler in the run game.
The same was said about Vernon Davis coming out of the University of Maryland, but he turned that weakness into an overwhelming strength. Davis is probably the best blocking tight end in the league right now.
Additionally, Delanie Walker will likely depart the 49ers in the offseason, leaving a big opening behind Davis. Garret Celek, brother of Eagles tight end Brent Celek, is not the answer, though he has shown some flashes in the passing game as someone who can move the chains.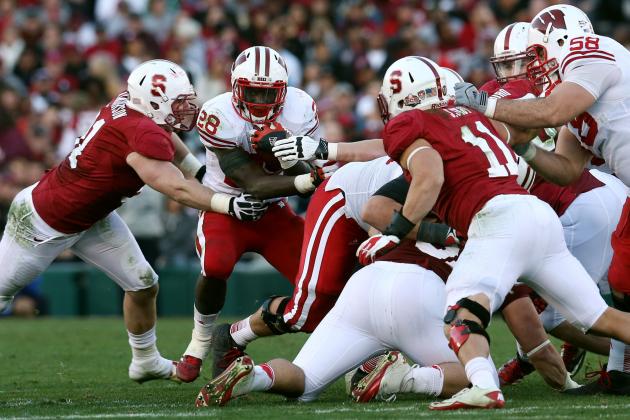 Stephen Dunn/Getty Images

I know, another running back? Ball is just too good to pass up, though, even for a 49er team loaded with depth at this position.
Look, Ball will add a different dimension to the running attack. At 234 pounds, Ball will bring some true physicality to the position. He is a perfect fit for the power running scheme the 49ers employ.
With Kaepernick at quarterback, many envision the 49ers offense becoming pistol happy next season, but I expect the exact opposite. Even if it does occur, the 49ers could use a running back for goal-line and short-yardage carries, and I think Ball would play this role perfectly.
Brandon Jacobs was supposed to fill this demand, but for whatever reason, his services will not be available to the 49ers next season.
Even with Anthony Dixon (who I think will be on the cutting block next year) and LaMichael James (who is more of a situational rusher at this point), the 49ers could use another back, especially with Kendall Hunter's injury.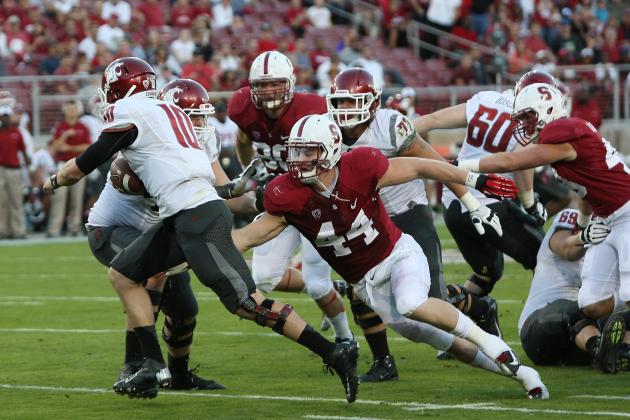 Tony Medina/Getty Images

In my previous mock draft, I also pegged Thomas as a potential fourth-round selection for the 49ers.
As I have stated before, Thomas isn't a high upside player. I believe his draft stock will suffer as a result of this, but no worries, the 49ers could definitely use a player like him on the outside.
He is both disruptive and energetic, while also employing great technique from a two-point stance. Thomas won't be a star, but he'll be a fan favorite in San Francisco.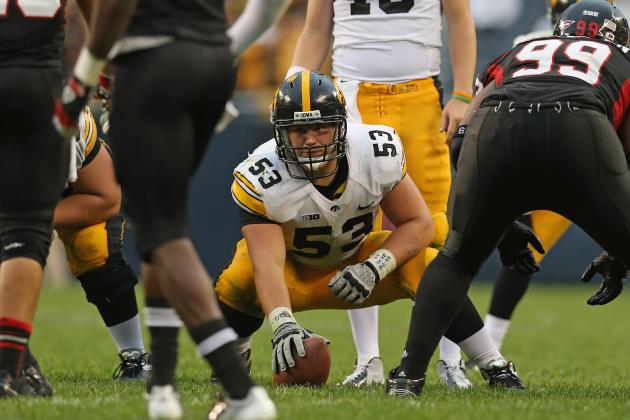 Jonathan Daniel/Getty Images

At 284 pounds, Ferentz is a bit undersized but his high energy and technique would be a great addition to an already-strong 49er offense line.
Ferentz doesn't have a ton of upside, but he's smart and tough, two qualities that Jim Harbaugh loves in his players.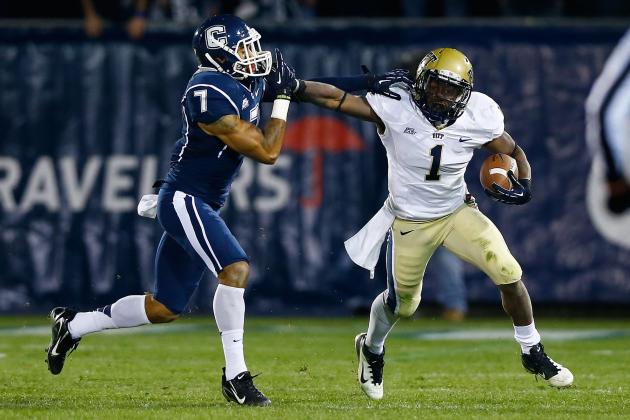 Jared Wickerham/Getty Images

Gratz isn't a big play cornerback, but he is a solid technician. His best attribute is in run support, something that 49ers require of their defensive backs.
Behind Chris Culliver, the 49ers defensive backs are replaceable. I've been very disappointed in the play of Perrish Cox, who will likely be replaced after this season.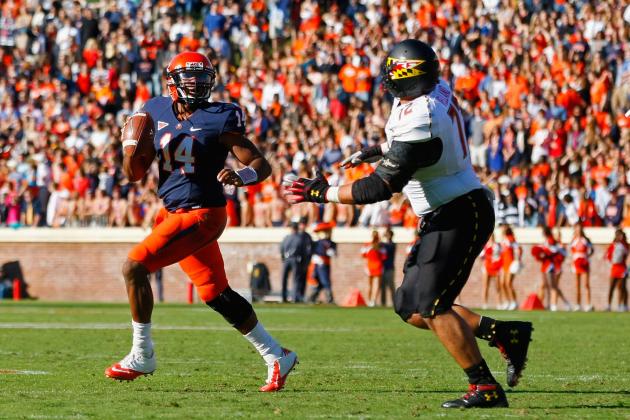 Geoff Burke/Getty Images

If it ain't broke, don't fix it. This idiom serves well in this slide. Vellano was the seventh round selection for the 49ers in my previous mock draft.
The 49ers need depth on the edge of the defensive line. Ricky Jean-Francois and Ian Williams are both solid rotational players, but they're more suited at nose guard.
Vellano can play the nose but is more suited as an end in the 49ers 3-4 defense. He should be a good pickup for the 49ers, if available.