New York Yankees: 7 Offseason Storylines That Will Bleed into Spring Training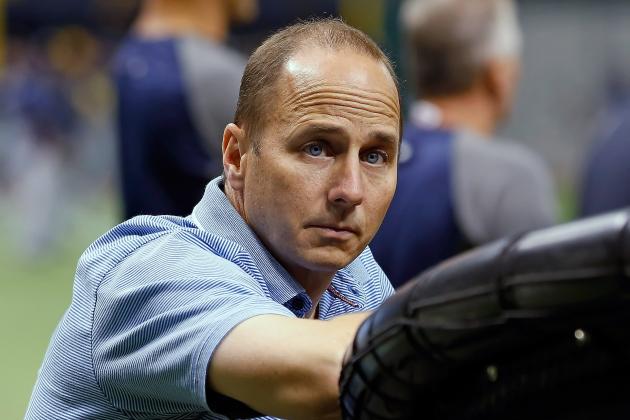 J. Meric/Getty Images
General Manager Brian Cashman has led an uneventful offseason in the Bronx
Very much like last offseason, New York Yankees general manager Brian Cashman has gone all of December remaining quiet and allowing big name free agents to land elsewhere.
Unlike the Yankees of George Steinbrenner, his son Hal's Yankees are more fiscally responsible and will not splurge on the market's most expensive players unless they are a perfect fit.
The result is a Yankees team that goes deep into the offseason with many holes and very little public information on how they will be filled.
What questions do the Yankees have that could spill over into spring training 2013?
Begin Slideshow

»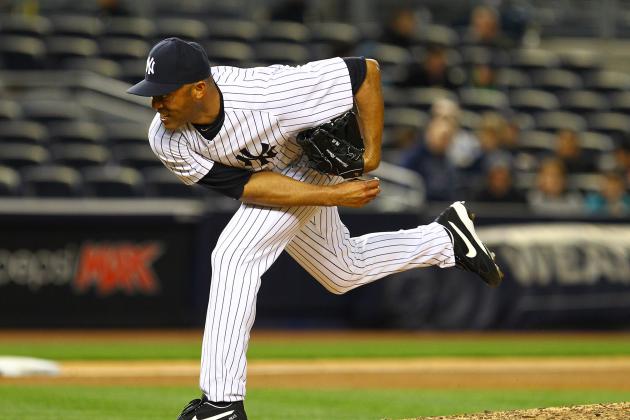 Al Bello/Getty Images
Rivera will return to the mound in 2013
Mariano Rivera is arguably the most dominant closer in the history of baseball. He is a 12-time all-star, the all-time leader in saves with 608 and owns a career ERA of 2.21.
However, on May 4, 2012, before a game in Kansas City, Rivera tore his ACL fielding fly balls before the game and suffered the first major injury of his hall of fame worthy career.
Rafael Soriano filled in admirably in Rivera's absence, recording 42 saves and a 2.26 ERA. With Soriano expected to depart via free agency and Rivera re-signing with the Yankees for what is expected to be his final season, the question remains: Will Rivera be able to return to form at the age of 43 after the first major injury of his career?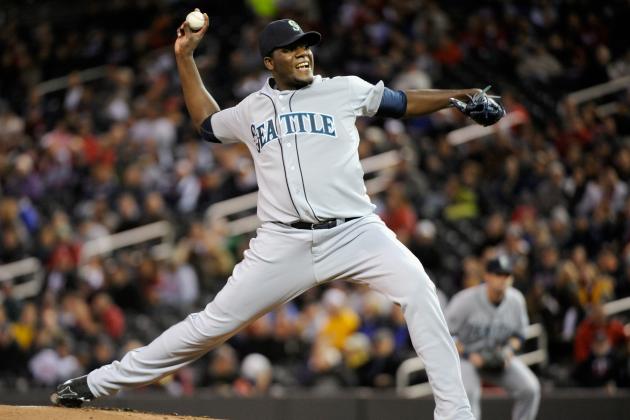 Hannah Foslien/Getty Images
Pineda has yet to throw a pitch in pinstripes
Last January, Brian Cashman made a blockbuster deal for a young ace and in return gave up his top prospect in catcher/DH Jesus Montero.
For Montero, the Seattle Mainers forfeited flame-throwing righty Michael Pineda, who at 22-years-old made the American League all-star team. Pineda, expected to be a major factor for the 2012 Yankees, injured his shoulder in spring training and never threw a pitch.
In 2013, Pineda is expected to return around mid-season and will hopefully justify the package that Cashman sent to Seattle featuring the slugging catcher Montero. The Yankees have been very quiet on Pineda's rehab and Cashman has urged fans and the media to be cautious with their expectations upon his return.
The past year has been an inauspicious start to Pineda's career as a Yankee, but hopefully for the Bronx Bombers, he will turn it around when and if he joins the rotation this season.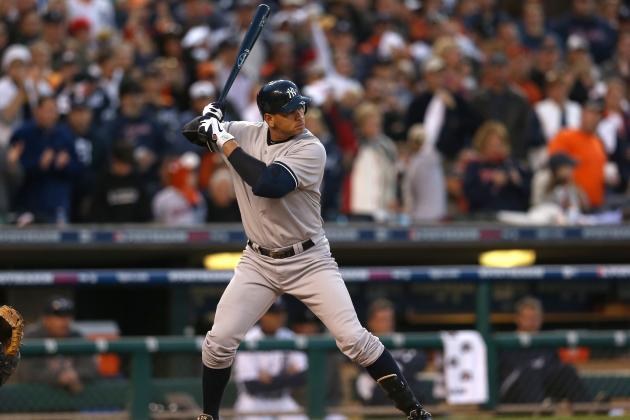 Jonathan Daniel/Getty Images
A-Rod's performance has dipped in recent seasons
Alex Rodriguez was once a perennial MVP candidate. He was dominant enough that at the age of 32, Hank Steinbrenner's Yankees felt comfortable enough to extend him for 10 years through his age 42 season.
Two hip surgeries and a steep regression later, the Yankees may be regretting that contract with 5 years left to play on it. Rodriguez was so ineffective in the postseason, that manager Joe Girardi frequently pinch-hit for him or benched him outright in the Yankees' two series.
Now that the Yankees have signed Kevin Youkilis to play third base, will A-Rod return in a DH and part-time third base role? For a man making over $20 million, his role with the Yankees is incredibly undefined.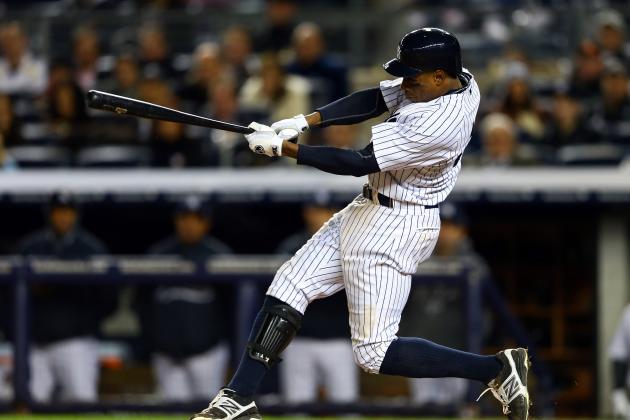 Al Bello/Getty Images
Granderson has provided power from the left side for the Yankees
Since the Yankees traded Austin Jackson, Phil Coke and Ian Kennedy, they have recorded two first place finishes in the AL East and three playoff berths in three years.
The player they received in return, center fielder Curtis Granderson, has been everything they could have asked for and more. Granderson hit 108 home runs in those same three seasons and has been a source of desperately needed power in an aging lineup.
However, at 31 years old and due to make $15 million next season, the Yankees could look to deal Granderson as his prime years draw to a close and net themselves young prospects for the aging slugger of a center fielder.
General manager Brian Cashman is never vocal about the internal operations of the Yankees, but don't be shocked if a blockbuster deal involving Granderson is pulled off before pitchers and catchers report to spring training.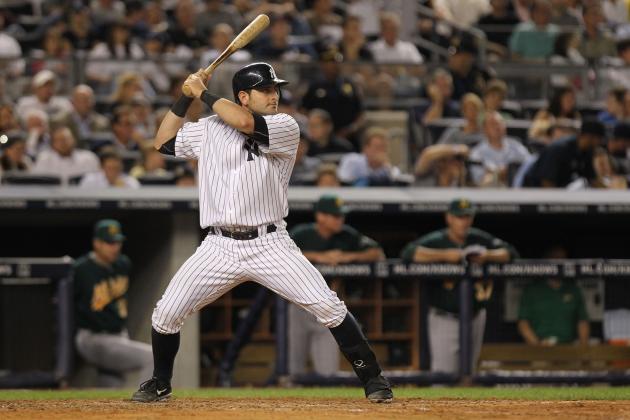 Nick Laham/Getty Images
Who will start at catcher in 2013?
According to MLB.com, the Yankees current options at catcher are (in order) Francisco Cervelli (who spent most of last season and his career in the minors), Chris Stewart, last season's backup catcher and Austin Romine, the heralded prospect who missed most of last season with an injury to his back.
Last season's starter, Russell Martin, signed with the Pittsburgh Pirates and potential target AJ Pierzynski signed with the Rangers. With few remaining impact players at the position remaining on either the free agent or trade market, who will start at catcher for New York in 2013?
Your guess is as good as mine, but potential targets are limited and Mike Napoli remains as the only interesting name left on the market.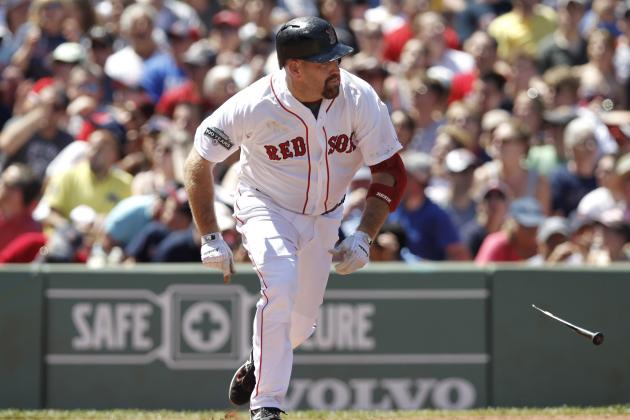 Winslow Townson/Getty Images
Youkilis was a Red Sox fan favorite before signing with the Yankees
This is going to take some getting used to for Yankee fans. Kevin Youkilis will suit up at third base on opening day and will be wearing Yankee pinstripes as opposed to the Red Sox red, white and navy blue that we are all accustomed to seeing him in.
Youkilis has been a Yankee killer throughout his career and is very well-known for his clashes with Yankee reliever Joba Chamberlain, who has thrown at Youkilis on numerous occasions.
Youkilis is a vital piece for the Yankees in 2013 and will be relied upon to replace A-Rod's run production in the middle of the order. How will Yankee fans receive the former Red Sox star? Youkilis can only hope that he is welcomed with the same positive reaction that Johnny Damon was in 2006.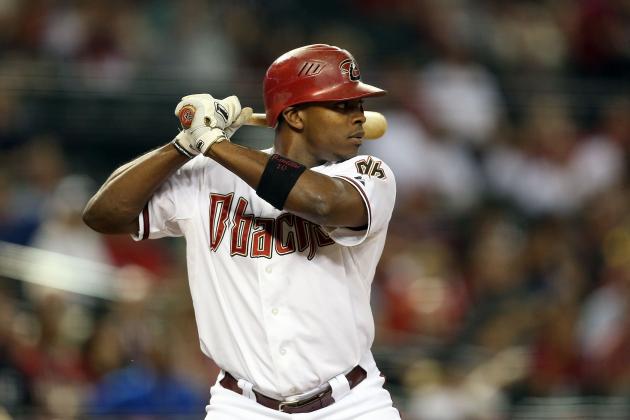 Christian Petersen/Getty Images
Can the Yankees acquire Justin Upton?
Currently, the Yankees' outfield will consist of Curtis Granderson, Ichiro Suzuki and Brett Gardner. Gardner is not an excellent hitter, Granderson is a candidate to be traded and Ichiro is 39-years-old.
This makes the Yankees players in the market for outfielders. Justin Upton is a name being thrown around in trade rumors, but remains at this point a very unlikely deal for the Yankees to complete.
With Raul Ibanez departing for the Mariners and Andruw Jones departing for Japan, the Yankees will be searching for outfield bats to replace the power provided by Ibanez and Jones who combined for 33 home runs last season.
Will Cashman surprise us all and pull off a blockbuster deal for an outfielder before spring training?