Washington Redskins: 3 Free Agent and Draft Targets the Team Must Chase in 2013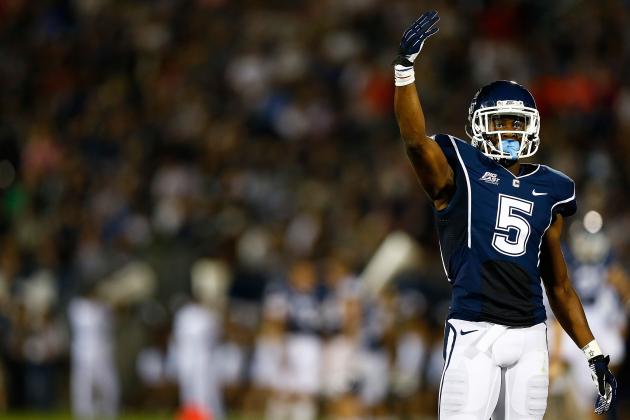 Jared Wickerham/Getty Images
Blidi Wreh-Wilson could offer excellent value for the team as it seeks help at cornerback.
The Washington Redskins have enjoyed a resurgence of late, but there can be no arguing that the most glaring needs for 2013 are at cornerback, safety and right tackle.
It's unlikely that Josh Wilson or DeAngelo Hall will be cut from the team, but both players should see their contracts restructured to reflect their performances a little more. Bringing in a cornerback who can start, especially after an injury or poor play, is essential to the long-term development of the team.
Brandown Meriweather will return at safety next year, but he is also in the final year of his deal and there is still no real indication of how well he will perform in a Redskins uniform. The first half of the Philadelphia Eagles game was very encouraging, but the sample size isn't big enough to make a judgement just yet.
Right tackle, meanwhile, should be an open spot, with Tyler Polumbus becoming a free agent next year. Polumbus has had a poor year and hasn't shown enough to justify keeping him on the roster. Jammal Brown has shown nothing of value since 2009, so don't expect to see him next year, either.
Tom Compton is a project, and although Rich Tandler reported that his pay increased to a level above most practice squad players—to curb any temptation to join another team—he is unlikely to make the transition to a regular starter by the start of the 2013 season.
With this in mind, the following slides outline three targets for the Redskins front office to pursue in the offseason, either through free agency or the draft.
Begin Slideshow

»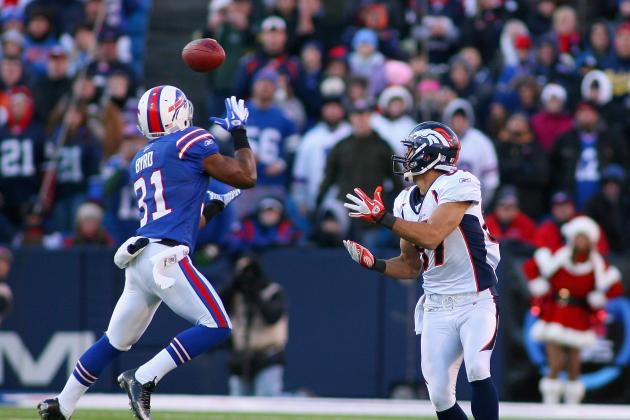 Rick Stewart/Getty Images
Jairus Byrd is a ball hawk who would represent a significant upgrade for the Redskins at safety.
Although it was reported by ESPN.com that the Buffalo Bills have opened contract talks with Byrd, he could still leave in free agency. If this happens, the Redskins have to make a move for him.
This year, we have seen Byrd develop into one of the top safeties in the NFL and he deserves to go the Pro Bowl.
It's true that he will have no shortage of offers if he leaves Buffalo, but the emergence of the Redskins as a young team with potential suddenly makes them an attractive destination. Don't discount the RGIII factor, either.
Robert Griffin III is already the leader of this team in his rookie season and every player is behind him. It's very rare to see that kind of respect earned in a quarterback's rookie year and Griffin's on-field play has only added to his value.
The Redskins also have a good defensive front seven—when healthy—and Byrd would slot into the secondary quite easily. Wherever the ball is, that's where Byrd seems to be.
When was the last time the Redskins had a safety like that? That's right, you guessed it—the late Sean Taylor.
Obviously, not every safety in the league can match Sean Taylor's play, but Byrd would create the turnovers that the Redskins desire to get their offense back on the field.
He has five interceptions, six pass deflections and three forced fumbles for Buffalo this year. That sort of productivity doesn't go unnoticed, and the Bills will likely do everything they can to keep him.
If he is allowed to leave, however, the Redskins must do everything they can to get him.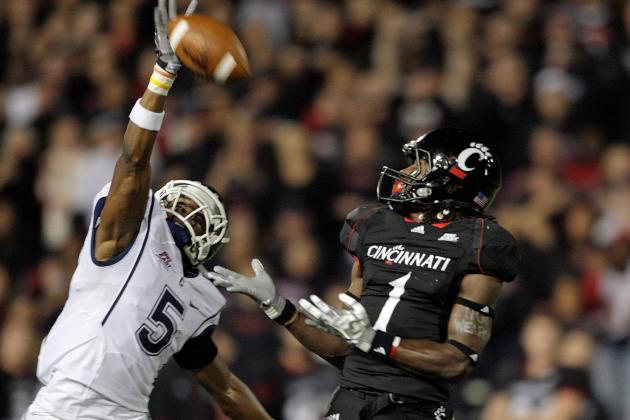 Andy Lyons/Getty Images
Blidi Wreh-Wilson has the coverage skills that the Redskins need.
While not blessed with incredible speed or a college career that shows interception after interception—his biggest season was 2010, when he had four—Wreh-Wilson excels in coverage, which is something the Redskins need more than anything at the moment.
Josh Wilson is the best cover corner on the roster. Given the season that he has had, this is a worrying fact to state. Wilson has been repeatedly burned on big plays and he has been targeted this season as a weak link.
I see Wilson returning next year at a cheaper salary, but drafting Wreh-Wilson would offer a like-for-like replacement if Wilson's under-performance were to continue.
Wreh-Wilson is a physical corner who stays with his receiver, step-for-step, often jamming them at the line of scrimmage and making it very difficult for them to get open.
He is difficult to fool, so he immediately brings reliability to a secondary that currently operates on hope. While both Hall and Wilson have made plays this year—as has Richard Crawford, for that matter—they have also disappointed regularly.
It's not impossible to succeed in the NFL with a leaky defense, but it's not easy, either. Griffin needs all the help that he can get, and with teams getting more film on him each week, this need will only increase next year.
Wreh-Wilson isn't a glamorous pick in the way that, say, David Amerson is, but there is a lot of upside in both his technique and attitude. He has recovered well from a knee injury that restricted him to eight games last year, and he would be a good fit for Mike Shanahan.
He could fall to the third or fourth round, which would represent excellent value at a position of need for the Redskins.
A special mention should also go to Chase Minnifield. There are a lot of Redskins fans hoping that he returns to the team next year and continues the progress that he has shown in camp this season. Minnifield has all the attributes to succeed in the NFL, but he needs to prove that he can recover from another knee injury.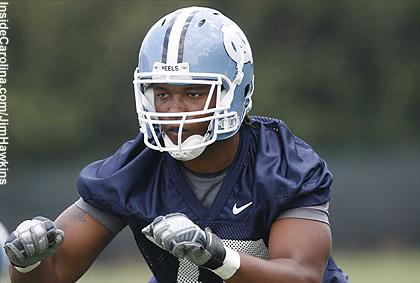 Brennan Williams is ready to start in the NFL.
Williams was projected by some as a first-round pick before a torn labrum resulted in shoulder surgery, ending his 2012 season. His draft position now depends on his recovery. If it is delayed, he will miss some pre-draft workouts and his stock will fall.
Williams, like Wreh-Wilson, could represent a great value pick for a team that needs as many draft picks as possible after the trade with the Rams last April that saw Griffin come to Washington. While no one is regretting it, there is also no denying that it limits the options available.
2012 saw great improvement in Williams' footwork and his technique looked totally pro-ready in his limited action this year.
He has the great athleticism that Shanahan likes in his linemen, and at 6'7", he has the reach to keep the faster defensive ends at bay. In an NFC East loaded with quality pass-rushers, this is an essential attribute.
Although Tyler Polumbus possesses a similar reach, his technique in pass-protection just isn't up to the job, and it puts Griffin at risk on every throw. It's no use that Trent Williams is playing at a Pro Bowl-level on the left side when opposing teams know to attack the quarterback from the right.
Brennan Williams has played at right tackle for most of his career and would slot straight into the starting position. While Tom Compton is being groomed for that position, he isn't ready to start, and Shanahan needs to find an NFL-caliber player at this position in the offseason.
Even with his injury status currently unknown, Williams is a player who can contribute immediately for the Redskins. Someone like D.J. Fluker would also be a possibility, but it's unlikely that he falls to the Redskins, especially if they keep winning—not that I want to cite that as a problem, obviously.
A Williams-Williams combination at left and right tackle would give Griffin the time he needs to build on his excellent rookie year, as well as the confidence to stand in the pocket longer and allow the play to develop.
Brennan Williams has the same mean streak that Trent has, which allows him to push defenders back and create lanes for his running backs or his QB. With the rushing attack that the Redskins boast, this would be of huge benefit for next year.