The Notre Dame Fighting Irish appear to be the favorite to land 5-star safety Max Redfield, but don't consider him to be a lock just yet.
It looked as if his commitment would come down to Oregon and Notre Dame (Washington is also in the mix) after he decommitted from the USC Trojans (per ESPN), but according to Adam Gorney of Rivals.com, the Ducks have taken themselves out of the running:
According to the Mission Viejo, Calif., five-star safety, the Oregon coaching staff told him they didn't have a scholarship for him and that they believed he was going to sign with Notre Dame so they didn't want him to take an official visit.

"They told me they are out of scholarships and think I'm pretty set on Notre Dame so they aren't allowing me to take a trip there," Redfield said in a text message.
To many, this would seem like the icing on the cake for Notre Dame in regards to being able to land Redfield. While it certainly does really help to not have to compete with a great Oregon program anymore for the 5-star safety, Brian Kelly and the Fighting Irish shouldn't get comfortable just yet. USC may be back in the fold for Redfield now that Oregon has dropped out.
Per Gorney's report, Redfield is supposed to be at USC this weekend for a visit.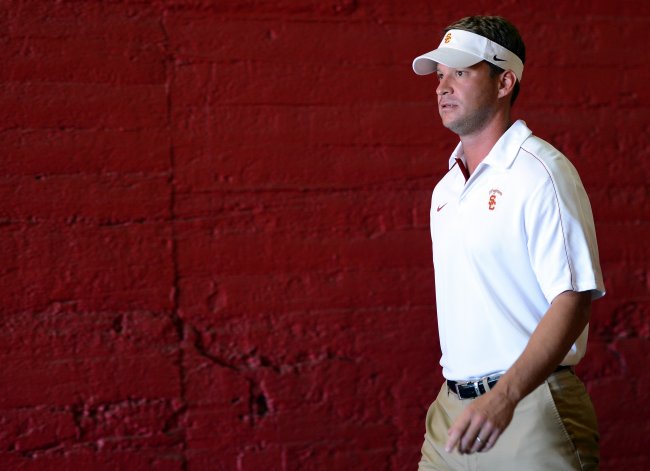 Harry How/Getty Images
There's sti

l

l

p

l

enty of time in this recruiting cyc

l

e, and it appears as if

L

ane Kiffin and the Trojans may get a second chance at the 6'3'', 195 pound safety from Mission
Viejo
, Ca

l

ifornia. This wi

l

l

be a big visit if it indeed goes through, because who knows how many more chances USC wi

l

l

have to try to get
Redfie

l

d
to remember why he committed to the program in the first p

l

ace.
It's not like USC doesn't have a lot to offer elite recruits. It's a premier destination with a national relevance in football, and with the way Kiffin has recruited for 2013, they have the potential to be very good in the future (Potential being the key word of course).
Kiffin can offer Redfield the chance to play on the same defensive backfield as safety Su'a Cravens and cornerback Jalen Ramsey, both whom are 5-star recruits as well. USC also provides Redfield with the chance to play a lot closer to home, as Indiana is somewhat of a hike from Viejo, California.
USC always has a good pitch for elite recruits, and remember, Redfield has committed to the program before, so there's obviously something he really liked about USC.
What can Notre Dame offer Redfield?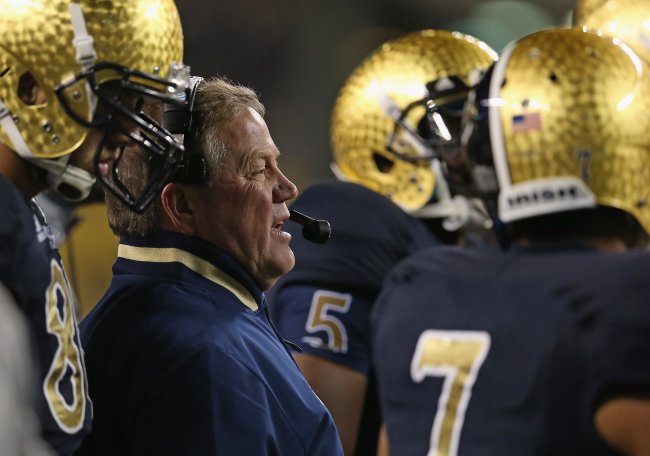 Jonathan Daniel/Getty Images
Brian Ke

l

l

y is one of the best recruiters in co

l

l

ege footba

l

l

and he has a tremendous
2013 c

l

ass
as we

l

l

, especia

l

l

y defensive

l

y.
Redfie

l

d
has a chance to make a ton of p

l

ays p

l

aying behind some very impressive defensive recruits

l

ike

l

inebackers
Jay

l

on Smith
(5-star) and
A

l

ex
Anza

l

one
(4-star), and Notre Dame wi

l

l

a

l

ways provide a nationa

l

spot

l

ight.
The odds of the Fighting Irish landing Redfield are high. That said, his commitment to Notre Dame is not a lock just yet.
Don't count out the USC Trojans.