Oakland Raiders Week 14 Preview: Oakland vs. Denver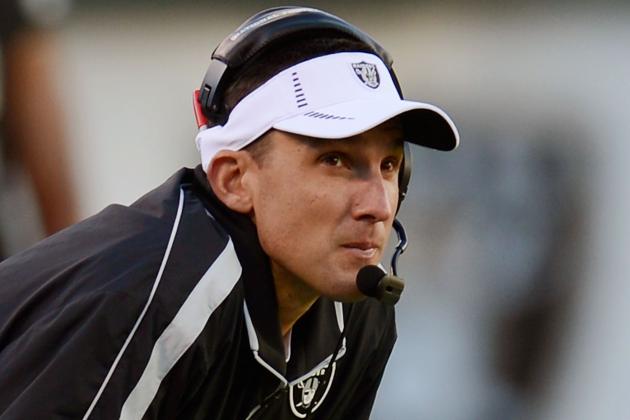 Thearon W. Henderson/Getty Images
Dennis Allen will be grieving the loss of his father, Grady.
Having lost five straight games, prospects for the Raiders snapping their slide don't look good. They prepare for a matchup with the surging first place Denver Broncos on Thursday night against the backdrop of head coach Dennis Allen on a leave of absence to mourn the death of his father, Grady.
Trust me, having lost my father, there's no question whatsoever about this decision, nor should there be. But for the purpose of writing a preview, there has to be an effect on how the Raiders get ready for Peyton Manning and Denver. A short week with a struggling team and facing a very good team (something I readily admit, I didn't expect to say in the preseason), this doesn't bode well for Oakland.
But as Chris Berman says, "That's why they play the games!"
So here are five keys to what would be a shocking upset for the Raiders.
Begin Slideshow

»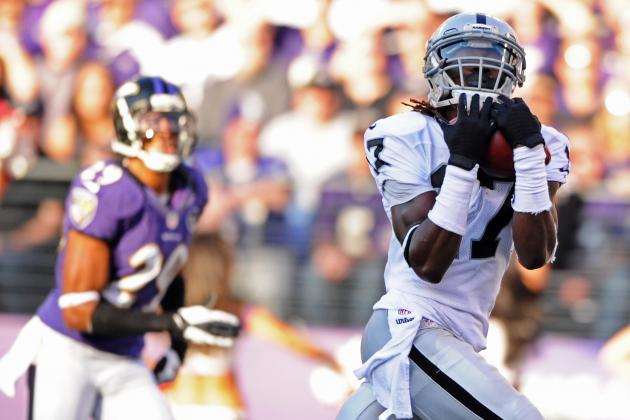 Patrick Smith/Getty Images
Moore and the receivers have to hit big passes against Denver.
Truthfully, I can't see the Raiders sustaining drives against Denver. They haven't in about six weeks and really aren't equipped to do so at this point in the year. What's even more discouraging is that even with great success running the ball (Marcel Reece and Jeremy Stewart averaged 5-plus yards per carry), the Raiders only ran the ball 17 times against the Browns.
To that end, this is a game that if the Raiders are going to score, they have to get big plays. Plays like Rod Streater's fantastic 64-yard catch and run touchdown Sunday. Oakland has to attack in this game because we all know Manning and the Broncos are going to get points.
The other reason this has to be a quick strike type of game is because Denver's Von Miller looms large. Entering this game, he has 15 sacks, second only to Houston's J.J. Watt in the AFC. If the Raiders make a habit of dropping back to pass time after time, sooner or later, Miller and that defense will make them pay.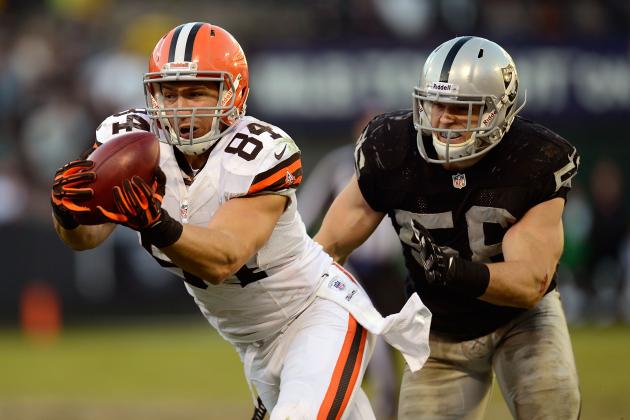 Thearon W. Henderson/Getty Images
Burris needs to be turned loose as a pass-rusher.
One of my biggest peeves has been the Raiders inability to key in on one part of a opponent's offense and at least slow it down enough to make them have to do something else. Far too often, teams are able to run and throw, regardless of down and distance, with impunity against the Raider defense schemes.
That is precisely what Allen and defensive coordinator Jason Tarver were hired to avoid. Instead, it looks like a broken record as teams convert short third downs with runs and short, medium and long third-downs passing.
In a game like this, it is already hard enough to win for this team even if it's doing many things right. But if the Broncos are able to run the ball with Knowshon Moreno and Ronnie Hillman, this game will likely get out of hand early.
In other words, make Peyton Manning have to win and take your chances. He is their best player, arguably the NFL MVP and likely the Comeback Player of the Year. Get after him! Rush him, hit him and don't just sit back and hope one of the 3-4 best quarterbacks of all time has an off night.
The onus is on Tarver to dial up something unique this week. You know, like using a guy who entered the league with a reputation as a pass-rusher. Like Miles Burris!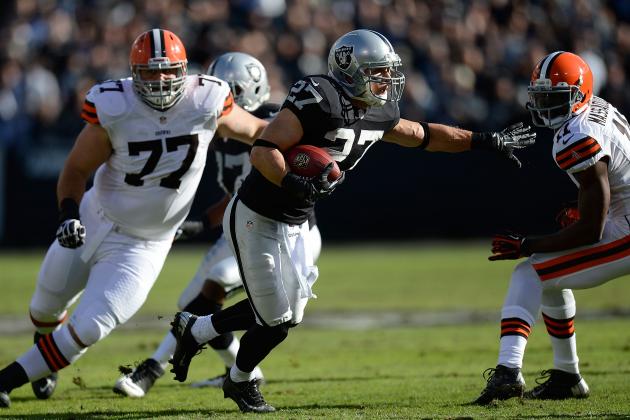 Thearon W. Henderson/Getty Images
A good old-fashioned mudder could slow down Peyton for guys like Giordano.
The weather forecast in Oakland doesn't look good for this key Thursday night. But I would love to see the Raiders get into an ugly game with Denver. Something that looked like this. The muddier and uglier the better, as the Raiders don't exactly have the guns to win a shootout with Denver.
As it stands, the field will likely be cleaned up if there is more than 12 hours to do so. That said, maybe an accidental tarp removal or something to level the playing field. Hey, at this point, I'll take any advantage I can get. The Raiders need something to alter what Denver is doing. Playing this straight up just seems disastrous for the Silver and Black.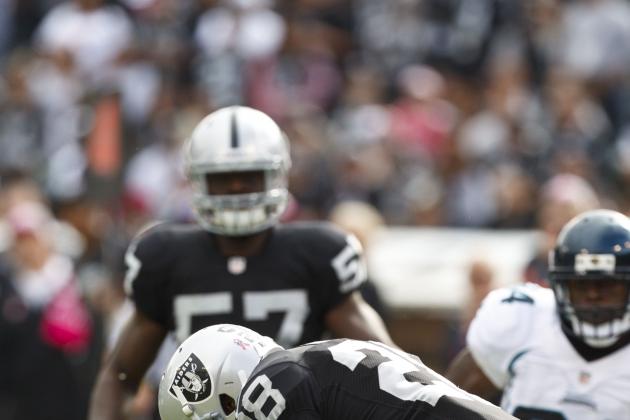 Jason O. Watson/Getty Images
Whether on coverage or returns, the Raiders can't make any mistakes.
Invariably, the Raiders have a pattern that happens. Either they come out sluggish and struggle to play up hill, or they wind up getting buried by decreasing effort as a game goes along.
The other scenario is like the one that played out last year against Denver at home. In Carson Palmer's first start, the Raiders led by 10 twice before allowing the last 24 points of the game in a disappointing 38-24 loss. The most damning play of that sequence was Eddie Royal's 85-yard punt return to give Denver the lead and ultimately the game.
This is No. 2 on the list because if the Raiders are even remotely competitive Thursday night, it will only be because they did not sabotage themselves early on. One of the most likely ways will be on special teams where they have been largely putrid this year in terms of coverage and returns.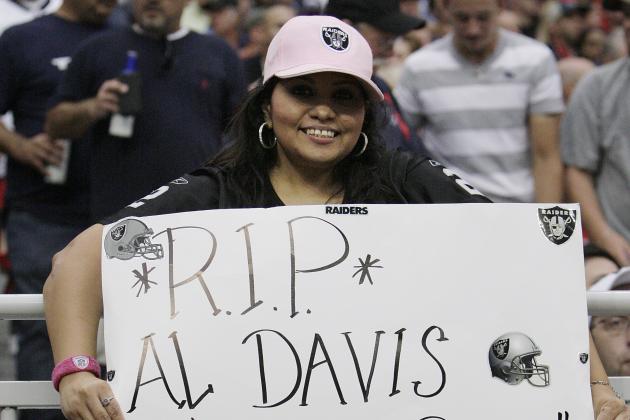 Bob Levey/Getty Images
Oakland upset the Texans in 2011 after the death of legendary owner Al Davis.
I am not going to insult anyone's intelligence by saying that the death of Al Davis is comparable in terms of impact on the Raider franchise to the death of Grady Allen, father of head coach Dennis Allen. While I wish my heartfelt condolences to Allen and his family, of course the impact felt by the Raider Nation is absolutely muted right now.
That said, a game like this, on a short week against the best team (and maybe the most hated) in the AFC West should bring out a maximum effort for this team. When you are a professional and you play for one another, short-term grief has a way of galvanizing a team instead of fracturing it or weakening its resolve.
The Kansas City Chiefs were a fantastic example of that last Sunday, as they defeated the Carolina Panthers at home just hours after the shocking aftermath of a murder-suicide committed by their own teammate Jovan Belcher. Allen may or may not be back for Thursday's game, but this is an interesting examination of his team's character and resolve in his absence.
If the Raiders lie down and get throttled by the Broncos, it could be disastrous for a man that is currently going through a trying time in his family/personal life. But, if the Raiders play inspired Thursday night, it could be the proof that despite their record and the obviously rough season that has unfolded, there has been enough imparted from the young coach to move forward with him.
My hope is that the latter takes place Thursday night. For the players and for Allen, who has been subject to much second-guessing and critique, but has also stood in and been accountable for everything in 2012.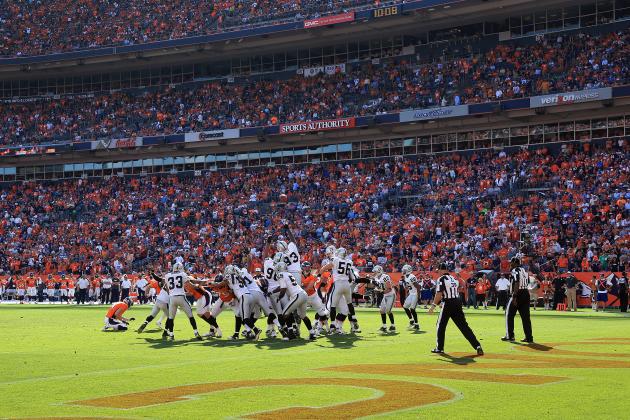 Doug Pensinger/Getty Images
Raiders and Broncos will do battle for the 105th time
So yes, the Broncos are heavy favorites to win their eighth straight game. And the Raiders will likely be short handed again (no Seymour, McClain, McFadden, Spencer, etc.). But this is a division game. And the ultimate pride check. Recent events have put the game back in proper perspective and hopefully, the Raiders can emulate another rival in the Chiefs and play an inspired game to distract themselves from all the rough areas this season has brought.
Unfortunately, hard work and energy just won't be enough. This team is simply outgunned right now and these last four weeks will serve more as an evaluation of next year and beyond more than an exercise of winning and losing in 2012. The hope is that Oakland plays hard and valiantly, because if they don't, there won't be much to watch by the fourth quarter.
Prediction: Denver 37, Oakland 17