NASCAR: 6 Reasons Jimmie Johnson Is in a Tough Spot Heading to Sprint Cup Finale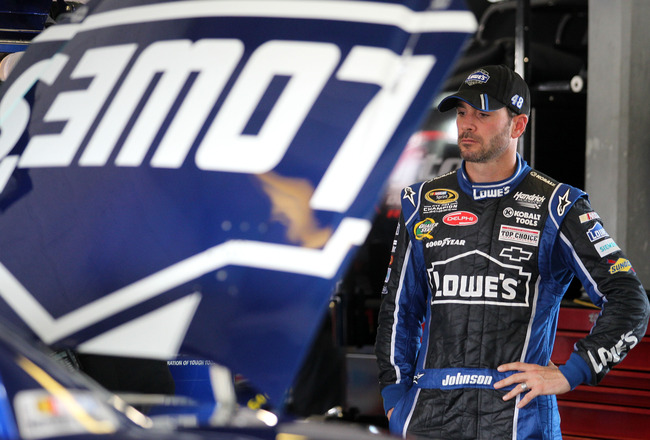 Todd Warshaw/Getty Images
For the second time in three years, Jimmie Johnson enters the Ford 400 at Homestead-Miami Speedway second in points, within 20 markers of the leader. Last time it happened, in 2010, he overcame his 15-point deficit to Denny Hamlin easily to score his fifth consecutive title.
It won't be anywhere near as easy this year.
There's a new point leader in town, the ultra-confident and consistent Brad Keselowski. That point deficit means something totally different after last year's format change. And all of the momentum that Johnson had just a week ago has evaporated after a disastrous race at Phoenix.
Here are the top six obstacles that Johnson will have to overcome to win his sixth championship on Sunday:
The Automatic Clinch
Mike Ehrmann/Getty Images
Of course, this is the biggest killer for Johnson. By virtue of coming into Sunday's event second in points, he's not in control of his own championship destiny, even if he wins the race and leads the most laps. Keselowski needs to finish 15th or better, 16th with a lap led or 17th with the most laps led, and the championship is his.
Given the way this season has gone for Keselowski, bank on that happening. Since a 36th place finish at Texas all the way back in April, he's only finished worse than 15th twice: 18th place at Pocono in June and 30th place at Bristol in August. In fact, he's scored 20 of his 23 top 10s in those 28 events.
20 Points Then Aren't 20 Points Now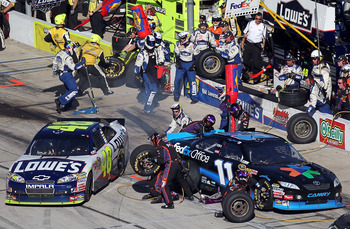 Jonathan Ferrey/Getty Images
Those who cite Johnson's comeback from 15 points behind Denny Hamlin in 2010 would be well advised to consider the differences in the points systems then and now. 2010 was the final year of the old system, which gave the winner 185 points, a lap leader five points and featured gaps of five, four or three points. Johnson only needed to beat Hamlin by five or six positions to claim the title, whether they had led laps or not.
Now, the NASCAR points system offers a difference of only one point per position, plus a three point bonus for winning and one bonus point for leading a lap. If Johnson wins and leads the most laps, he scores 48 points; he would still have to beat Keselowski by about half of the field in that scenario.
Qualifying Disadvantage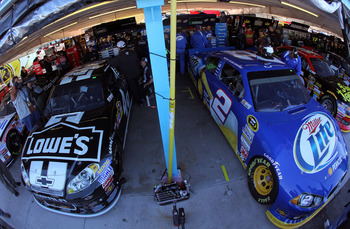 Jonathan Ferrey/Getty Images
This one is a double whammy for Johnson. In qualifying, Keselowski turned the third fastest lap of the session, traversing the speedway in 30.841 seconds. Johnson, however, turned a lap of 31.020 seconds, slotting him tenth.
But thanks to a practice accident with Denny Hamlin and Greg Biffle on Saturday, polesitter Joey Logano had to pull out a backup car and move to the back on Sunday. The driver behind him? Keselowski, who will inherit the inside line of the front row. Meanwhile, Johnson outqualified both Hamlin and Biffle and thus will not move up at all.
No More Momentum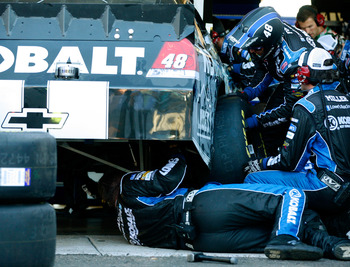 Tyler Barrick/Getty Images
Johnson had all the momentum in the world coming into Phoenix last week. He'd been lurking at second in points behind Keselowski from Dover to Kansas, and took the lead with his victory from pole at Martinsville by a two-point margin. After the heated battle at Texas, he extended that lead to seven.
But while Keselowski wasn't great at Phoenix, Johnson completely wasted an opportunity to extend his lead. By qualifying 24th, the team started in a hole, and the blown tire to put them in the wall and off the track undid all of that work from the previous weeks. The 32nd place finish swung the standings 27 points in Keselowski's favor, and it also snapped a streak of nine consecutive races with laps led.
Keselowski Isn't Fazed by Head Games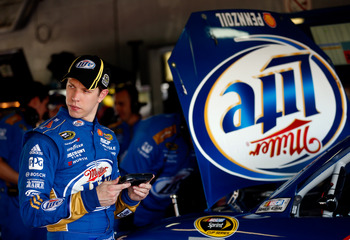 Chris Trotman/Getty Images
For his part, Keselowski has been talking like a champion all week, telling anyone who will listen that he's not scared. "I know if we go out there and just do our job, everything will take care of itself," he said at a recent press conference. "To put your focus on other things is just another distraction that doesn't serve the goal that we have. So, I haven't done it."
If you're still unsure, try this tweet:
Woke up this morning trying to understand how a driver who has 2 finish 15th at worst is under more pressure than 1 who has 2 win.#Confused

— Brad Keselowski (@keselowski) November 16, 2012
The Greater Good of the Sport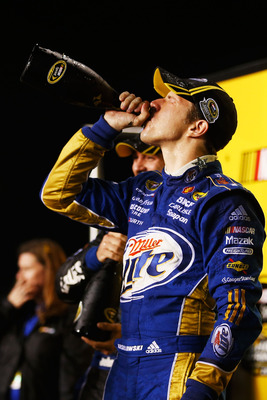 Chris Graythen/Getty Images
Saying that a certain driver or team winning the championship is "bad" for the sport is to play favorites, to an extent. And yet that may very well be the case if Johnson takes another Chase title, what would be his sixth of nine in the format's history. Were Johnson to win yet another title, it would convince many that we're still in a period of more of the same.
This may be coincidence, but it was during Johnson's unprecedented run of five consecutive titles that fan interest began to wane and sponsorship began to reduce the amount of competitive teams out there. But with a fresh, marketable face like Keselowski on top, maybe both will flow back in, thinking that more new faces are due to run out front. Keselowski is just the first in a long line of young talent coming up as of late; his title could open the door for more of them to advance to Cup more quickly.
For more from Christopher Leone, follow @christopherlion on Twitter.
Keep Reading