Miami Heat Can't Forget NBA Finals Blueprint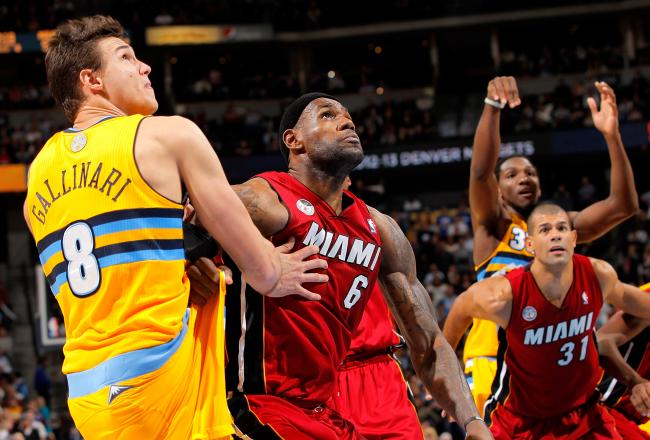 Doug Pensinger/Getty Images
The Miami Heat have seen tougher times.
Fourth game in five nights? After a late-night flight? Playing in altitude? Against a young, athletic team that likes to push the pace? Missing one of their Big Three?
Been there. Done that.
The Heat looked every bit the battle-tested, championship-caliber squad that gutted its way to the NBA title during their 98-93 win over the Denver Nuggets on Thursday night.
And not just because LeBron played like an MVP, though that certainly helped. He took turns scoring (game-high 27 points) and dishing (game-high 12 assists) on offense while playing his particularly stellar brand of defense—quantified by seven rebounds, three blocks, a steal and poor shooting nights for Andre Iguodala and Danilo Gallinari—on the other end.
All without the aide of Dwyane Wade, his superstar sidekick, the Robin to his Batman. Wade showed up to the Pepsi Center in street clothes on account of a sprained left foot, one with which he struggled on Wednesday night in a 107-100 loss to the Los Angeles Clippers.
And, for most of the evening, without the helping hand of Mario Chalmers at the point.
This was just the sort of game that most teams (even good ones) tend to lose, and for which the basketball world would forgive them for doing so.
Two starters out? A tired squad? Against a well-rested team enjoying a full house at home?
As it happens, Miami wasn't ready to give in to the excuses and call it a night. Not with LeBron taking over again. Not with Mike Miller, Wade's replacement, and Shane Battier turning outlets from James, Ray Allen and (gulp!) Norris Cole into a barrage of three-pointers. All told, Miller and Battier combined to knock down 12-of-15 from distance.
Still, the Heat could've taken a pass on this one and gotten off scot-free. I mean, three rebounds from Chris Bosh? A 29-48 deficit on the boards, including a 5-21 hole in offensive caroms? Kenneth Faried gobbling up 20 of 'em total? A bench that was badly outscored by Denver's, 50-27?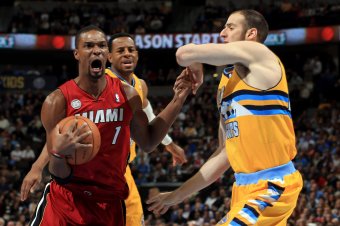 Doug Pensinger/Getty Images
No problem. All the Heat did was sprint out to a 19-point advantage in the third quarter and, when the Nuggets made their inevitable run, clamp down on defense.
Granted, Denver isn't exactly a scoring machine at the moment. If anything, the Nuggets are patently pedestrian per most offensive metrics. They push the pace, but they don't shoot well from the perimeter and have had some difficulty getting to the charity stripe.
Nonetheless, the Heat didn't make things any easier for their opponents on this night. These two teams last met in Miami on Nov. 3, with the visiting Nuggets sprinting their way to 116 points (on 51.6 percent shooting) and Bosh bailing out the home team with a 40-point explosion.
This time around, the Nuggets fell short of 100 and converted just 42 percent of their attempts along the way.
The Heat's weaknesses are already all too evident. They're vulnerable at the point and even more so in the middle, where their small-ball arrangement can't handle opponents with legitimate size (see: the Nuggets, the Clippers, the Memphis Grizzlies).
Is Miami still the team to beat?
And without bigs who can hold their own on the interior, the Heat are forced to pack in their defense, leaving three-point shooters open more often than head coach Erik Spoelstra would care to recall.
But Miami knows its strengths and, more importantly, understands how to play to them. The Heat can spread the floor and shoot. They're versatile and willing to share the ball. They come equipped with chemistry. They can apply pressure at the point of attack and force turnovers thereabouts.
And they have LeBron on their side...so there's that.
The Heat have plenty of issues to address, but when have they not? They've never been a "perfect" team, but do they really need to be?
True, they've been trounced by the New York Knicks, gouged by the Grizzlies and the Clippers, and have yet to measure themselves against the teams that were picked to challenge the Heat for the title prior to the start of the season (i.e. the Oklahoma City Thunder, the San Antonio Spurs and the Los Angeles Lakers).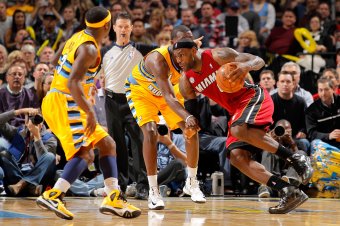 Doug Pensinger/Getty Images
Tougher times lie ahead for these Heat, tougher even than a visit to the Mile High City toward the end of a long and exhausting Western Conference road trip.
Not that the Heat need be too concerned just yet. They still have the confidence of a King and a ring to keep them afloat through good days and bad.
Been there. Done that.
This article is
What is the duplicate article?
Why is this article offensive?
Where is this article plagiarized from?
Why is this article poorly edited?

Miami Heat: Like this team?