Giants vs. Bengals: 10 Keys to the Game for Cincinnati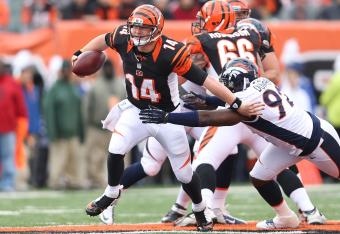 Andy Lyons/Getty Images
Cincinnati's' losing streak has reached four games, and the Bengals have reached near must-win mode. A loss this weekend will force Cincinnati to win-out if it wants to have a realistic chance at making the playoffs.
Of course, a win this week is much easier said than done. All the New York Giants, the Bengals' next opponent, have done in the past 12 months is win the Super Bowl and get off to a start this season worthy of another championship run.
To pick up a win, the Bengals will have to play much better than they have over the past five weeks. Let's take a look at the 10 keys to a victory.
1. Get off to a better start
The Bengals trailed Denver 10-3 at halftime last week and 17-3 after the opening kickoff in the third.
Slow starts have been the norm for Cincinnati during their losing streak. Even when the Bengals were winning, they still seemed to take a few possessions to get going.
Against the world champs, the Bengals will have to do better.
2. Channel their inner Mariano Rivera
As bad as the Bengals start was against Denver, they still held the lead in the fourth quarter, albeit briefly.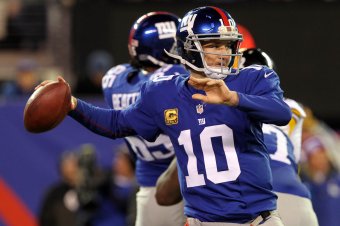 Brad Penner-US PRESSWIRE
In fact, the Bengals have held fourth-quarter leads in three of their four games during the losing streak—a disturbing trend. Close out those games, and Cincinnati could realistically be 6-2.
3. Pressure Eli Manning
The Bengals get their second shot at a Manning brother in as many weeks, and unfortunately for them, it isn't Cooper.
Eli Manning is just as accomplished as big brother Peyton, and he's equally capable of shredding a defense. The Bengals failed to put any heat on Peyton last week and will need to do so this week against Eli if they want to have a chance.
4. The secondary must come up big
Manning is one of the best quarterbacks in the league at picking up a blitz. As a result, the secondary must be on its game.
Terrence Newman intercepted Peyton Manning twice last week, but when it counted, Peyton torched the beleaguered Bengals secondary to pull out the win. They cannot have a repeat this week.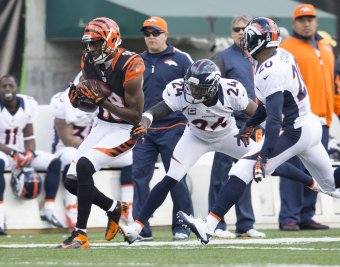 Greg Bartram-US PRESSWIRE
5. Protect Andy Dalton
On the other side of the ball, the Bengals will need to keep their own quarterback upright against a vicious Giants pass rush.
The offensive line has actually done a decent job this season of protecting Dalton, but it will have to up its game against New York. Dalton has struggled enough without having to run for his life.
6. Andy Dalton must play better
Of course, Dalton still needs to make better decisions and be more patient in the pocket.
One of Dalton's strengths is his ability to get rid of the football, but it has been somewhat of a detriment this season. He's getting rid of the ball too soon and not giving his receivers a chance.
7. Somebody, anybody, has to step up at receiver
A.J. Green has been fantastic this season, even more so when you consider that he has had virtually no help.
Jermaine Gresham, Andrew Hawkins, Armon Binns, Brandon Tate, Eddie Brown, Cris Collinsworth, Pete Johnson, somebody needs to step up to take the heat off Green. Without it, the Bengals have little chance.
8. Control the tempo
The NFL is now a passing league, but you still need to be able to run the ball occasionally.
The Bengals have struggled all year with the run. But not all of the blame can be placed on BenJarvus Green-Ellis; the offensive line has struggled in run-blocking. But if Cincinnati is able to get the lead late, the ability to salt away the win on the ground will be huge.
9. The linebackers must perform
Rey Maualuga has taken much of the heat—and for good reason—but the rest of the linebackers have not exactly dominated games.
The Bengals linebackers are in for a bruising game against the Giants and will be called upon to cover tight ends, stop the run and pressure the quarterback. If they fail in any area, it could be a long day.
10. Take advantage of opportunities
The Bengals picked off Peyton Manning twice yet still allowed the game to get away from them.
When you play an elite quarterback, you must seize any opportunity that comes your way. There won't be many against Eli, but when they come, be ready to pounce.
This article is
What is the duplicate article?
Why is this article offensive?
Where is this article plagiarized from?
Why is this article poorly edited?

Cincinnati Bengals: Like this team?