NASCAR: 5 Drivers Who Are Ready to Breakout in 2013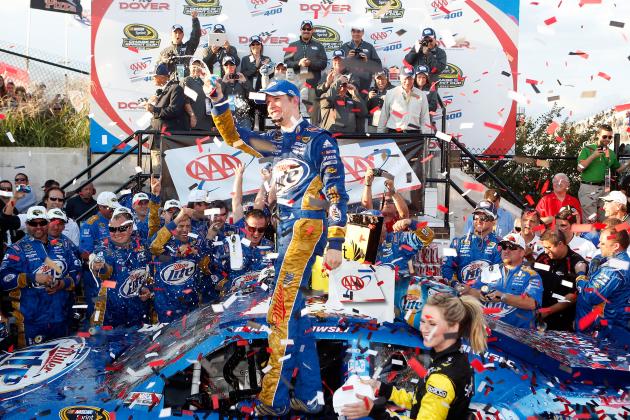 Chris Graythen/Getty Images
It's been a break out season for Brad Keselowski in 2012. What drivers may have break out years in 2013?
The 2012 season marked the breakout year for Brad Keselowski. Not only has he won a career-high five races, he has been No. 1 in the standings for five of the first six races in the Chase for the Sprint Cup.
And if Keselowski can continue to hold off Jimmie Johnson and Denny Hamlin—barring any surprises from guys like Clint Bowyer and Kasey Kahne—in the remaining four races, the Polish Rocket's breakout season will be complete with the biggest prize of all: the Sprint Cup championship.
But given that many teams have already begun preparations for next season, those of us at Bleacher Report thought we'd take a look at who could potentially become the next Keselowski—in other words, which drivers have the best shot of having their own breakout year in 2013.
Do you think anyone else may be on the horizon to break out, as well? Leave us a comment afterward with your thoughts.
Follow me on Twitter @JerryBonkowski
Begin Slideshow

»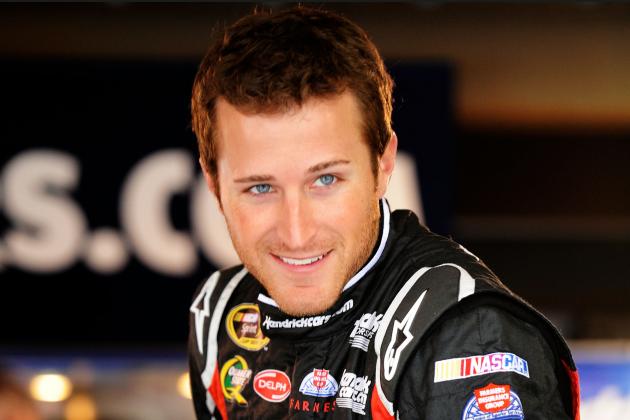 John Harrelson/Getty Images
You can see the new-found confidence Kahne has since joining Hendrick Motorsports.
Some might say that 2012 has been Kasey Kahne's breakout season.
Not only is he with the best team he has ever been, having joined Hendrick Motorsports, he's had an outstanding campaign in his first year at HMS, currently sitting fifth in the Chase for the Sprint Cup standings with four races to go.
While he's still mathematically within reach of winning the Chase, the odds aren't exactly with him given the performance in the first six races by Brad Keselowski, Jimmie Johnson and Denny Hamlin.
Also, don't forget that Kahne struggled in the first six races of this season, with finishes of 29th (Daytona 500), followed by 34th, 19th, 37th, 14th and 38th before he finally earned his first top-10 finish of the season.
Much of those struggles could be tied to a new team, new crew members and both Kahne and longtime crew chief Kenny Francis getting acclimated to their new surroundings.
But come 2013, the No. 5 team and its driver are due to become one of the biggest stories in NASCAR, mark my word. In fact, we wouldn't be surprised if he starts out the season with a win in the Daytona 500.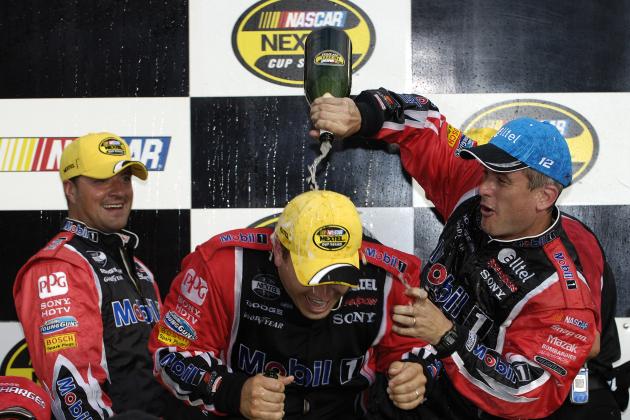 Rusty Jarrett/Getty Images
Look for scenes like this from 2005 to happen again in 2013 with Matt Borland and Ryan Newman together again.
Team co-owner Tony Stewart has gotten most of the attention and accolades since Stewart-Haas Racing was formed in 2009. And while he's been a loyal teammate, Ryan Newman has at times gotten lost in the attention shuffle.
That's not going to be the case in 2013.
We expect Newman to have one of the best seasons he's ever had in Sprint Cup racing. And one of the primary reasons is his new crew chief.
While Tony Gibson has done a good job with Newman since 2009, Matt Borland will be Newman's crew chief in 2013 (while Gibson shifts to become Danica Patrick's crew chief in her first full-time season in Sprint Cup).
Borland, who has spent much of this season as vice president of competition at SHR, will be going back to his first love—and where he gained much of his success—atop the pit box.
And not coincidentally, much of Borland's success was as Newman's crew chief earlier in their respective careers.
Borland and Newman spent 2001 to 2006 together at Penske Racing, earning 12 wins and 37 poles together.
By marked contrast, since the pair went in different directions after 2006, Newman has won just four races and 12 poles (and unless he earns at least one pole in the remaining four races, Newman is on track to mark his first Sprint Cup season without even one pole in 2012).
With Newman having failed to make the Chase for the fifth time in the last seven years, he and Borland will get a head start on trying to regain their old magic together this weekend at Martinsville as Borland takes over for Gibson.
What kind of season can we expect from the pair in 2013?
It may not be as good as their best year together in 2003 (8 wins, 17 top fives, 22 top 10s and 11 poles), but it sure as heck should be better than this season's showing to date (1 win, four top fives, 12 top 10s and zero poles).
Welcome back, Matt. Ryan's been anxiously awaiting your return—and for good reason.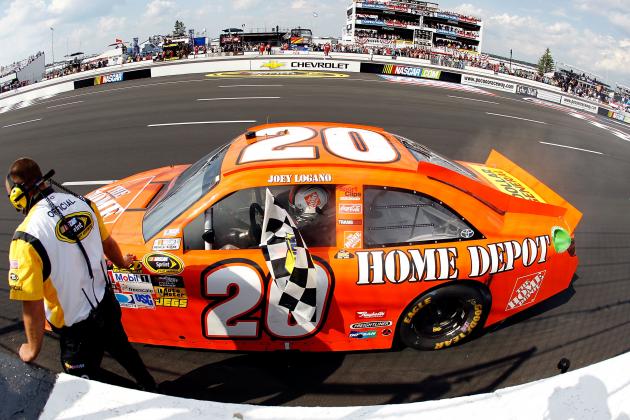 Streeter Lecka/Getty Images
Expect Joey Logano to take a lot more checkered flags in his upcoming move to Penske racing.
While some critics have questioned the wisdom of team owner Roger Penske signing Logano to drive the No. 22 Ford next season, there is no question that the 22-year-old Logano has barely scratched the surface of the talent he possesses.
Sure, he has two Cup wins to date—including one this season—but he has been literally lost in the shadows of his soon-to-be former teammates at Joe Gibbs Racing, namely Kyle Busch and Denny Hamlin.
The move to Penske, and being paired with both Brad Keselowski and Sam Hornish Jr., should help Logano's wealth of talent come more to the forefront.
We can easily envision him and Keselowski becoming one of the best 1-2 punches in the sport next season. Plus, we can also see Logano winning at least two or three races with his new team.
Oh yes, and we're also predicting he finally makes the Chase for the Sprint Cup for the first time—and the first of many more seasons to come.
Also, we've said it before, but it merits saying again: Logano should consider changing his name from Joey to his initials J.T. (for Joseph Thomas). Just the sound of it even makes him sound faster and more like a NASCAR driver.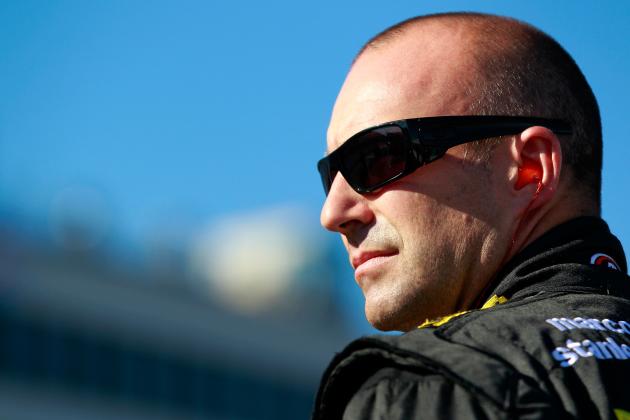 Geoff Burke/Getty Images
Look for Marcos Ambrose to have his best season ever in 2013.
In our minds, Marcos Ambrose is one of the most underrated drivers in the Sprint Cup Series.
The problem is he's with a team, Richard Petty Motorsports, that falls short of the better organizations in the sport when it comes to equipment, funding and personnel.
Still, there's no denying the talent that Ambrose has. The Australian native had a great season in 2011 with one win, three top fives and 12 top 10s.
Unfortunately, his performance has trailed off slightly in 2012 (one win, three top fives, eight top 10s), but we firmly believe that he's due for the biggest year of his career in 2013.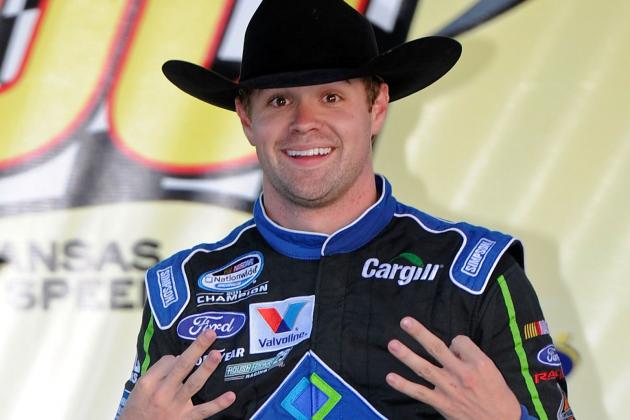 John Harrelson/Getty Images
Welcome to the Sprint Cup Series in 2013, partner!
Some observers may say this is a stretch, that Stenhouse will only be a rookie in Sprint Cup, taking over for the departing Matt Kenseth in the No. 17 Roush Fenway Racing Ford in 2013.
Stenhouse has only made four Cup starts to date—but two of those wound up respectable finishes of 11th and 12th place.
And Stenhouse's Nationwide Series success has laid a great foundation for success on the Cup level, including winning last year's Nationwide championship, and he's in a neck-and-neck battle with Elliott Sadler for this year's crown.
What's more, in 30 races to date this season, Stenhouse has career highs in wins (6), top fives (17) and poles (4).
He's learned his lessons well in the Nationwide Series, and he's more than ready to not only make the jump to the Sprint Cup tour but also to make a huge impact upon it in just his first full season.
In fact, we wouldn't be surprised that, with a little luck, Stenhouse may even make the Chase in his first full-time Cup season.