5 Predictions for Carmelo Anthony and Amar'e Stoudemire's First Full Season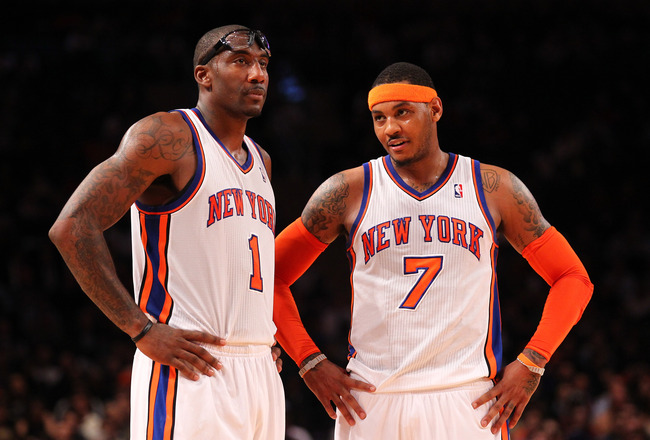 Al Bello/Getty Images
At long last, Carmelo Anthony and Amar'e Stoudemire are about to play a full season together.
It's certainly going to be an exciting one as the New York Knicks had a busy offseason and now have one of the deepest rosters in the NBA, one that brings high expectations for success both during the regular season and the playoffs.
Yet, the question still remains: Can 'Melo and Amar'e play together? The two have their fair share of critics but also don't have to worry about playing in a predictable system in 2012-13, so it's a tough question to answer.
Yet, given the Knicks' new isolation system under coach Mike Woodson and renewed commitment to defense, having Anthony and Stoudemire play together on the floor can only spell good things for the upcoming season.
Sure, they are only two players, but their combined talents will help New York stay in the hunt from start to finish and keep the fans cheering passionately. On the backs of these two men, the Knicks will finally become a playoff powerhouse.
But, just how far will the Knicks get in the playoffs and how will Anthony and Stoudemire do during their first full season? Well, dear readers, allow me to present my bold predictions for the Knicks' 2012-13 campaign, whose success will be thanks to these two superstars.
The Knicks Will Win the Season Opener at Brooklyn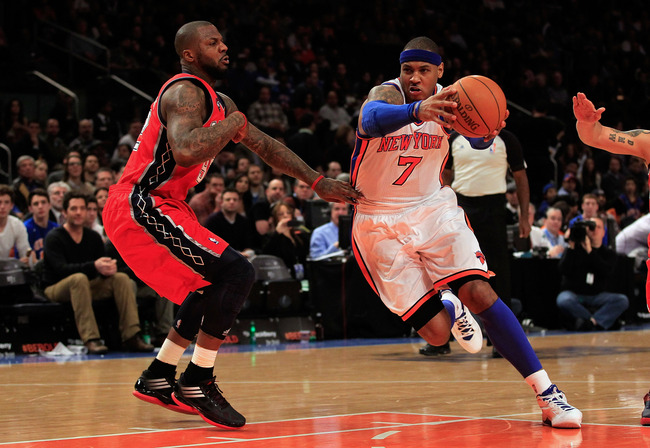 Chris Trotman/Getty Images
The new-look Knicks open the season on November 1 against another revamped team, the Brooklyn Nets.
This squad also had a busy offseason and not only re-signed star point guard Deron Williams, but also essentially traded its entire second unit to the Atlanta Hawks for shooting guard Joe Johnson.
Needless to say, this game is not just going to be a fiery season opener but also a battle for New York City. The fact that the game is being played in the new Barclays Center in Brooklyn will only add fuel to the fire.
However, though the Nets are going to give the Knicks a hard time in the Atlantic Division and in the Eastern Conference standings, New York will still walk away with the victory in this game.
Nothing against Brooklyn, but owner Mikhail Prokhorov is almost trying too hard to put together a winning team, and the way the Nets' roster looks right now, he's banking on his starting five of Williams, Johnson, Kris Humphries, Gerald Wallace and Brook Lopez to shoulder most of the load.
Save for sixth man Marshon Brooks and rookie Mirza Teletovic, who now looks like little more than a shooter, depth isn't something that the Nets have.
Seeing as how the Knicks have a second unit more than capable of playing significant minutes, Mike Woodson will use tough defense from Marcus Camby and hot shooting from J.R. Smith and Steve Novak, not to mention great performances by Anthony and Stoudemire, to have the Knicks open the season with a win.
Anthony and Stoudemire Will Both Be All-Stars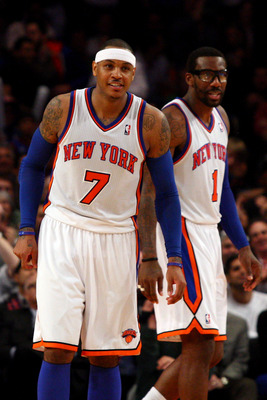 Chris Chambers/Getty Images
Mike Woodson runs an isolation game that features some tough-as-nails defense. That means that on offense, Stoudemire and Anthony will be getting a majority of the touches as they are the two best scorers on the team.
Given how the Knicks went 18-6 under Woodson last year and how these two stars flourished in that system, they will only continue to get better playing in it together this season.
Thus, assuming that both men are able to stay healthy and hold up their ends of the bargain on both sides of the hardwood, both will have no problem ending up all-stars come midseason. It will be the sixth for Anthony and the seventh for Stoudemire.
Even better, having the team's two best players represent the Knicks at the All-Star game will completely energize the fans as they will cheer even harder during the second half of the season.
Stoudemire Will Average 20 and 10 a Game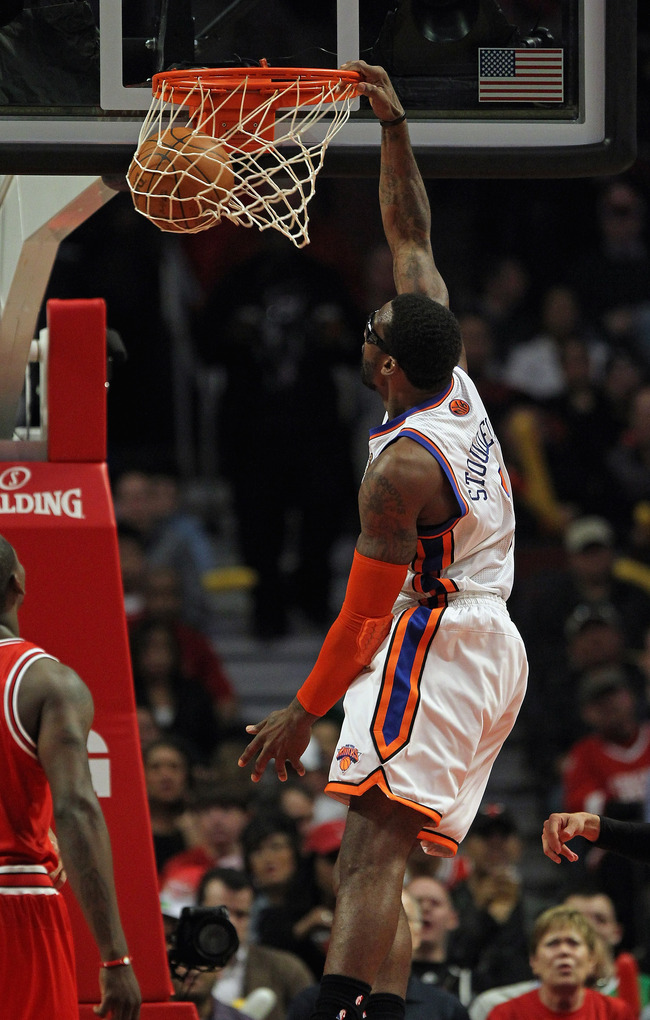 Jonathan Daniel/Getty Images
For virtually his entire career, Stoudemire has played in a run-and-gun offense that allowed him to utilize his jump shot more often than driving hard to the basket, and most rebounds that he pulled down came to him by luck of the draw.
In terms of playing tough defense and being a force under the basket, Stoudemire only did that when absolutely necessary.
However, the 6'11", 245-pound forward/center is now playing in Woodson's system rather than the fast-paced, pick-and-roll heavy style of Mike D'Antoni. This means that while Stoudemire's jump shot will still be a part of his game, he'll be doing a lot more work in the paint on both offense and defense.
As a result, so long as he can stick to Woodson's approach and stay healthy while doing so, Stoudemire will average 20 points (or more) and 10 rebounds for a season for the very first time in his career.
Sure, the presence of reigning Defensive Player of the Year Tyson Chandler at center doesn't make it absolutely essential that Stoudemire be a rebounding beast in 2012-13, but it is still important for him to play hard on both sides this year.
The Knicks are headed in a new direction, and in order for the team to be successful, Stoudemire has to be committed to going after every rebound whether Chandler is on the floor with him or not.
Carmelo Anthony Will Finish in the Top 5 in Scoring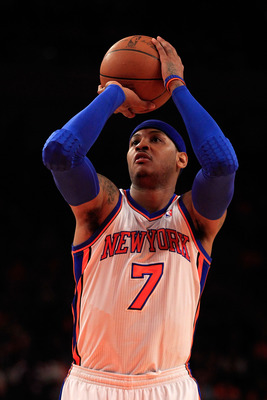 Chris Trotman/Getty Images
Last season, Carmelo Anthony averaged 22.6 points per game, his lowest posting for a season since 2004-2005, his second year in the NBA.
That number is unlike what fans have grown used to seeing from him and can be attributed to his struggling in Mike D'Antoni's offense over the first half of the season. Naturally, he is going to be playing with an extra bounce in his step this season and will surely revert to his former self.
Now, that being said, the top five leading scorers in the NBA in 2011-12 were as follows: Kevin Durant, Kobe Bryant, LeBron James, Kevin Love and Russell Westbrook.
Bryant's scoring is surely going to drop at least a little bit now that he has a pass-first guard in Steve Nash feeding him the ball, not to mention All-Star center Dwight Howard.
The same can be said for Love, who has plenty of people to help him shoulder the scoring load in Minnesota, and for all we know Westbrook could either have an off year or just let Durant have more scoring opportunities.
Thus, with Woodson's isolation game allowing him to do what he does best in creating his own shot on the wing, Anthony will ride his success in the new system to a great season that sees him not finish as the league's top scorer, but definitely in the top five.
He is finally in a system that will allow him to be himself and just play the game the way he knows how, and that means lots of points being scored.
The Knicks Will Make the Eastern Conference Finals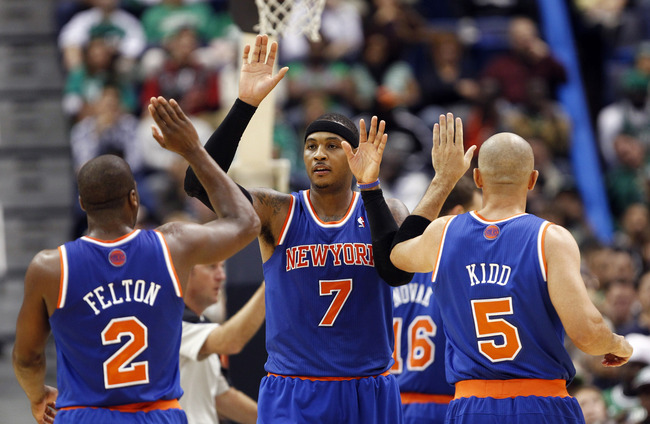 Mark L. Baer-US PRESSWIRE
Simply put, the Knicks have one of the best rosters on paper in the NBA this year. Should one starter go down with an injury, there is a player on the bench who can step right in and pick up the slack.
More importantly, Woodson's system allows for there to be multiple threats at any given point during the game, be it Carmelo Anthony and Amar'e Stoudemire or J.R. Smith and Steve Novak.
That being said, the Knicks will fight and claw their way to a decent playoff seeding and, for the first time since 2000, win a playoff series.
Given how well the players adjusted to Woodson's style last year, New York's 2013 postseason will give fans many reasons to smile and bring them to within one series win of the NBA Finals.
Will they win the East Finals and advance to the big dance? Well, that depends on what team they face in this round. Still, the Knicks are one of the deepest teams in basketball, and with their balance of youth and experience, they can easily get this far.
Keep Reading

New York Knicks: Like this team?