Danica Patrick: 7 Reasons Her Move to NASCAR Has Been a Huge Disappointment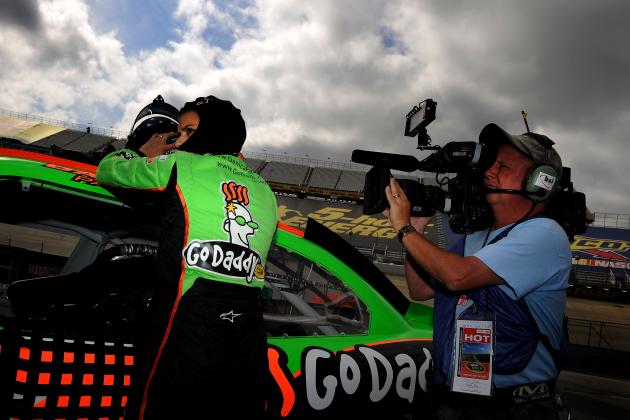 Patrick Smith/Getty Images

We're almost three years into Danica Patrick's NASCAR experiment, although this is only the first year she's been focusing on stock cars full-time after primarily running IndyCar in 2010 and 2011.
This was supposed to be the breakout year, the year that Patrick finally showed us all the great runs that we'd been waiting for, the year that she finally got a grip on what it takes to wheel a car twice as heavy as her former IndyCar.
We're still waiting.
While Patrick's adjustment hasn't exactly been made easier by excessive media coverage, her struggles provide fascinating fodder for analysis. There are plenty of reasons that her move has left her fanbase unsatisfied, but the truth is it takes a perfect storm of factors to create a sense of disappointment this acute.
So why has Patrick struggled in her move from IndyCar to NASCAR? Here are seven reasons why the transition hasn't been so smooth:
Begin Slideshow

»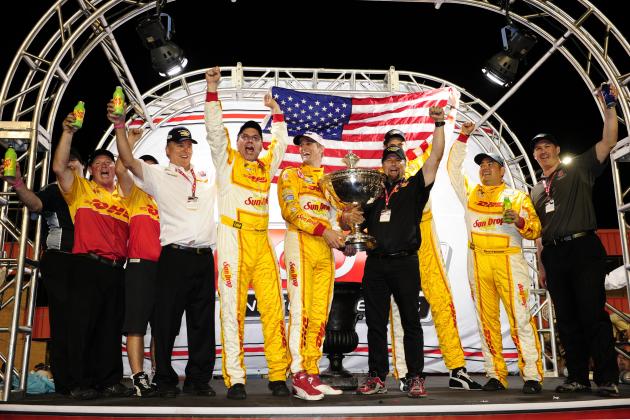 Robert Laberge/Getty Images

Andretti Autosport's last IndyCar title came in 2007, when Dario Franchitti won the championship after winning the Indianapolis 500 that year. They didn't win one again until this year, when Ryan Hunter-Reay stole the title from Will Power in the season finale at Fontana.
Patrick joined the team in 2007 and stayed through last year; with her gone, it was abundantly clear throughout the season that AA was working together better than they had in the past few years.
That's likely indicative of something going on within the NASCAR garage as well. Teams have an incredible amount of pressure on them to give Danica the best cars and do their part to help her put together strong runs, and no crew member wants to be the reason why she posts a disappointing finish lest they hear her criticism.
Remove the pressure (and maybe resentment) from the equation, and the teams she works with may be front-runners.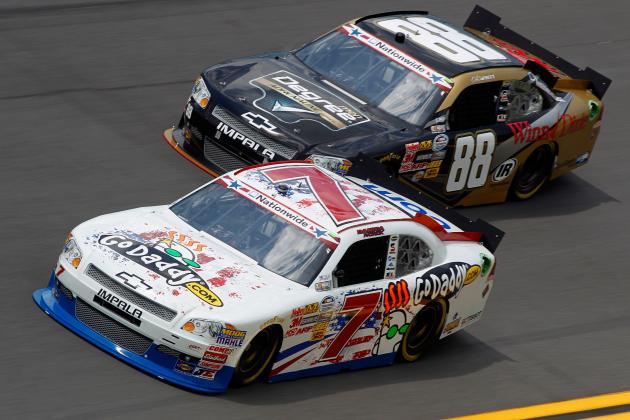 Todd Warshaw/Getty Images

Not since Brad Keselowski has JR Motorsports truly produced a quality Nationwide Series driver, and Patrick's inability to break out has played a part. In fact, in more than twice as many races as she ran last season, Patrick has only two top 10s compared to three last season, and has not cracked the top five yet.
Worse, Patrick's runs have been disappointing in comparison to her teammates.
Josh Wise, now a start-and-park driver in Sprint Cup, shared her car last year, and posted the same amount of top fives and top 10s in only two more races. This year, teammate Cole Whitt has been significantly better, posting three top fives, 12 top 10s, and an average finish of 14.1, a full six places better than Patrick.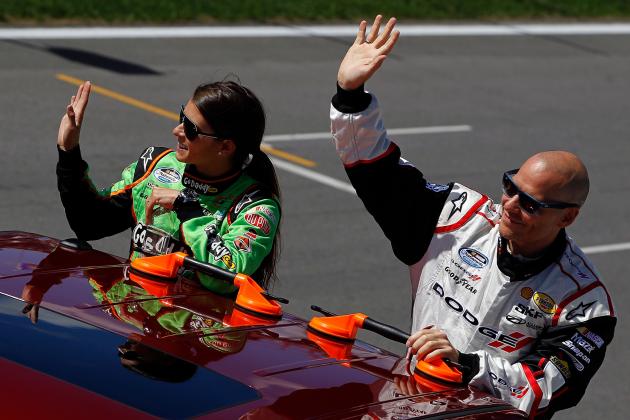 Tom Pennington/Getty Images

Yes, Patrick has had plenty of fair excuses for on-track issues this season. Getting wrecked by teammate Cole Whitt in the season opener at Daytona, getting punted by Jacques Villeneuve on the last lap at Road America, and running over a shoe thrown on track while leading at Montreal are all examples of her bad luck this year.
But that can only go so far. Sometimes drivers have to make their own luck, and Patrick hasn't done that at all this year. A driver can only be in the wrong place at the wrong time so many times before the benefit of the doubt erodes away. Simply put, maybe Patrick is struggling to race the folks around her the right way.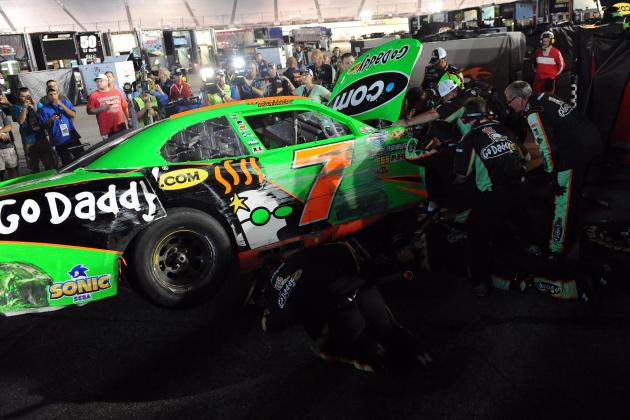 Patrick Smith/Getty Images

Of Patrick's six DNFs this Nationwide season, five have been due to crashes. That number actually ignores her accident-related issues at Daytona, Road America, Michigan, and Montreal. She also had issues in her Sprint Cup events at Daytona and Bristol, the latter coming as she was running on the lead lap late in the race.
That's a mental roadblock for a driver who's used to keeping a car relatively clean, as Patrick did so well in IndyCar. In fact, her last DNF in that series came in the season-opening race at St. Petersburg in 2009.
For someone to switch series and take so many hard hits in the transition has to be at least somewhat discouraging.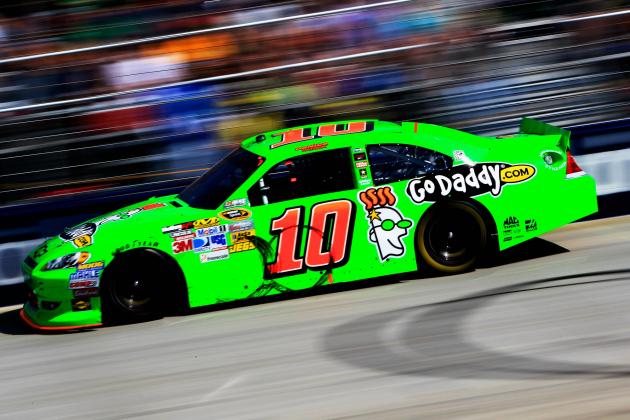 Sean Gardner/Getty Images

In preparation for a full season of Sprint Cup racing in 2013, Patrick has run seven races so far for Stewart-Haas Racing, in a car prepared by Tommy Baldwin Racing.
She has yet to complete every lap in any of the races, coming closest at Chicago in September when she finished two laps off the pace in 25th. Patrick's best run was spoiled at Bristol when Regan Smith spun her on the lead lap with 68 laps to go.
All told, her finishes have added up to a dismal average of 30.0, not exactly inspiring to folks who expect her to be competitive in next year's Sprint Cup season.
Though they have the full support of Stewart-Haas, TBR is a fringe team whose most notable achievement was holding the lead during the pothole delay in this year's Daytona 500. The equipment in question just may not be good enough to help Patrick make any progress.
Todd Warshaw/Getty Images

Greg Zipadelli and Tony Eury Jr. are two of the best-known crew chiefs in the NASCAR garage for their respective work with Tony Stewart and Dale Earnhardt Jr., particularly in the early 2000s when both drivers were first blossoming into perennial championship contenders.
But since moving to the teams owned by their former drivers, neither has been quite the same crew chief as they were in years past.
Zipadelli, as Stewart-Haas Racing's competition director, has a lot more on his plate than simply getting Patrick to run faster; as such, he's been working with Tommy Baldwin Jr. during Patrick's Sprint Cup events.
But Eury Jr. found himself replaced by Ryan Pemberton at Kentucky in September when JR Motorsports finally had enough of this year's mediocre performance. Plenty of successful double-duty drivers work well with multiple crew chiefs, but for a still-transitioning driver like Patrick, too many voices in her headset, especially with different styles, could be a problem.
Andy Lyons/Getty Images

The million-dollar question throughout Patrick's transition to stock car racing is if she's an overrated driver.
With only one win in her IndyCar career—one that came down to fuel mileage on a split-series weekend, no less—her greatest critics said that it was absolutely the case. At this point, those critics have plenty more ammunition to work with.
Sure, the Danica brand is as strong as ever, with GoDaddy, Sega, and Hot Wheels just three of the many well-known brands to attach themselves to one of racing's most popular drivers.
But having the deepest pockets doesn't make a driver the best, or even guarantee decent finishes. And even with all of the other things working against her, it's about time that Patrick start scoring better finishes, or else those checks might stop coming one of these days.