New York Knicks: How Rasheed Wallace Will Make the Knicks a Title Contender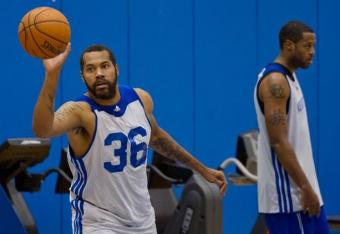 Sheed is Back - HOWARD SIMMONS/NEW YORK DAILY NEWS

Much has been said about the New York Knicks' advanced age going into the upcoming 2012-2013 season. Some have even called the team 'geriatric'.
And with the recent acquisition of savvy veteran Rasheed Wallace, the Knicks have officially become the oldest team in NBA history with an average age of 32 years and 240 days old.
Yes, that does make the team older than most, but the addition of Wallace also gives the Knicks something they've craved for ages -- a combination of veteran leadership, championship pedigree, great post defense (especially considering Amar'e Stoudemire's inability to do so) and the ability to spread the floor and create space.
His acquisition, along with that of Jason Kidd, fan favorite Raymond Felton, shot-block machine Marcus Camby and resident tough guy Kurt Thomas will make the Knicks the favorite to win the Atlantic Division, and will also push them to the next level—title contenders.
The pessimistic (and foolish) fan will point to the losses of Jeremy Lin and Landry Fields and simply contend that the Knicks lost too much. But why?
Landry Fields was terrific his rookie year. He started 81 out of a possible 82 games, shot 39 percent from three-point land, was steady at the free throw line and added a new level of complexity to the Knicks' overall scheme.
But last season he saw all of his numbers drop, and saw his standing with the fans drop even further. The addition of Carmelo Anthony struck Fields in an unfathomable way. He was, more or less, skating on thin ice with the fans and the owners. They decided they'd be better without the ex-"Hottest rookie in the game".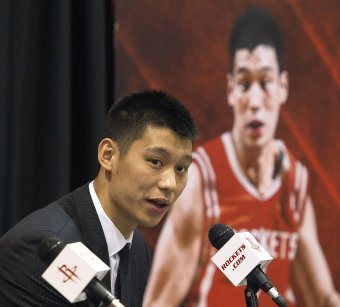 Bob Levey/Getty Images
Then there is Jeremy Lin, the one-year wonder. He had Knicks fans on their feet with false delusions of grandeur as he won game after game before being silenced due to a season-ending knee injury.
Let's get this straight, Knicks fans.
Yes, he is a good point guard. No, he will not be an All-Star. No, he will not lead his new team (the Houston Rockets) to the playoffs next year.
Yes, we are better off without him, especially considering the money he greedily asked for and his inability to drive left. Ray Ray is back and ready to create pick-and-roll opportunities for not only Amar'e, but for 'Sheed as well.
Rasheed Wallace brings a new element to the 2012-2013 New York Knicks.
He brings consistency, flair and unrivaled composure in crunch time, something the Knicks had a hard time producing last season.
The last time we saw the skilled, multi-positional player was in the 2009-2010 season, when he played for the Eastern Conference champion Boston Celtics. He played in 79 games that season, averaging nine points and four rebounds, while receiving only 23 minutes per game.
He'll play a similar role for the Knicks.
He won't be asked to shoot the way he did during his glory days with the Detroit Pistons, where he averaged 13 points per game in six seasons, one of which turned into an NBA title run (2004). But he will be asked to spell Amar'e Stoudemire for 15-20 minutes a game, as well as put up defensive stop after defensive stop alongside Marcus Camby and (occasionally) Kurt Thomas.
But the most important thing he'll bring to this Knicks team? Chemistry.
And while that is strange for some to hear, considering his tendency to be a bit volatile, Wallace was the team leader every stretch of the way with the Pistons, and he mentored a number of players on both Detroit and Boston. He exhibited the toughness needed to perform at an NBA level year-in and year-out. And the young players were vastly influenced by that.
The second team for the Knicks will have a nice, even-keeled way about it. They'll be defensively proficient in the post and gather obscene amounts of rebounds and blocked shots, while having the knack to open up space and knock down wing-three's on the offensive side of things.
Offensively, the combination of Rasheed Wallace and Steve Novak foul-line extended on the wings is scary. Jason Kidd will play the 'pick n' pop' or 'drive and dish"' incessantly and terrorize the opponents' defense. Then 'Sheed, Camby and Thomas, although not as fast nor possessing the lift they once had, will still have the ability to hunker down on defense to slow down the talented post players of the East.
It is time to put the geriatric jokes aside. Glen Grunwald and James Dolan put this team together with thoughts of championships in mind. The New York Knicks are in "Win Now" mode, and with the amount of toughness, leadership and tenacity each player brings, I can see no reason why they cannot bring a title back to the Big Apple.
Rasheed is just icing on the cake.
This article is
What is the duplicate article?
Why is this article offensive?
Where is this article plagiarized from?
Why is this article poorly edited?

New York Knicks: Like this team?