LSU vs. Florida: Complete Game Preview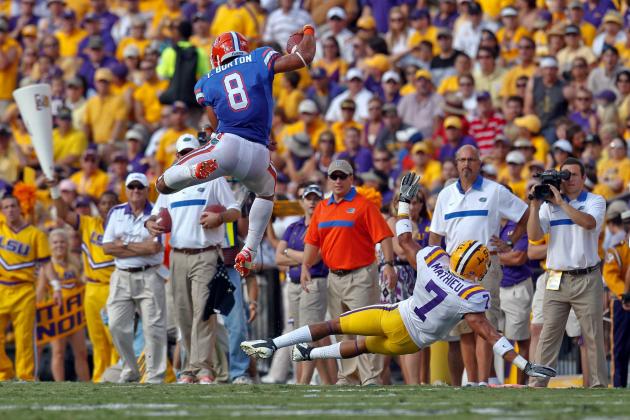 Derick E. Hingle-US PRESSWIRE

Florida and LSU meet as undefeated teams for the first time since 2009.
Florida has gotten off to a fast start this season and were the beneficiaries of a well-timed bye week. The Gators had been struggling with several injuries and surely welcomed the bye week with open arms. Florida already has secured three conference wins and will be looking to upset LSU and earn their fourth conference win on Saturday.
LSU makes the trip to Gainesville after two lackluster performances. The Bayou Bengals were just able to escape with a 12-10 victory and got more than they bargained for from an FCS opponent last week. LSU wasn't able to put Towson away until the fourth quarter last week, and the game should come as a wake up call for LSU.
Both teams will be facing their stiffest competition of the season this Saturday. Jeff Driskel has yet to play against a defensive front seven like the one Les Miles will bring into the Swamp on Saturday, and Zach Mettenberger has yet to face a defense as good as Florida's.
This game will be very telling for both teams. Florida is trying to prove to the world that they have what it takes to compete with the heavyweights in the SEC. Beating LSU would go a long way towards proving the Gators are back. After gutting out wins the past two weeks, LSU needs to prove that they are worthy of the preseason hype and show that they are still in the class of the SEC.
No matter who wins this game it will tell us a lot about the future landscape of the SEC.
Let's take a look at everything you need to know as we head into this matchup of top 10 teams.
Begin Slideshow

»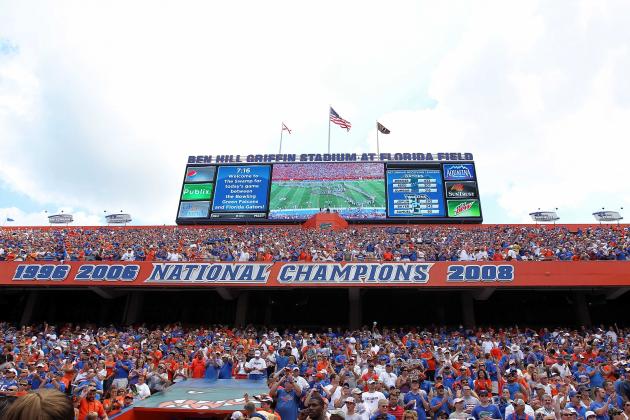 Kim Klement-US PRESSWIRE

Who: LSU at Florida
When: Saturday, Oct. 6, 3:30 p.m EST
Where: Gainesville, FL
Stadium: Ben Hill Griffin Stadium (88,548)
TV: CBS
Radio: WRUF 850 AM (Gainesville), WNXX-FM 104.5 (Baton Rouge)
Internet Stream: CBSSports.com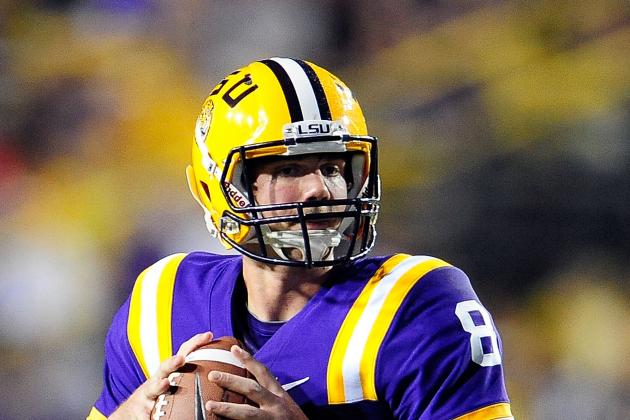 Stacy Revere/Getty Images

Offense
QB: Zach Mettenberger, Steven Rivers
RB: Kenny Hilliard, Michael Ford, Spencer Ware
FB: Connor Neighbors, Kenny Hilliard or Jeremy Hill
WR (X): James Wright, Kadron Boone
WR (Z): Odell Beckham Jr., Russell Shepard
3-Wide: Jarvis Landry
TE: Chase Clement, Nic Jacobs
LT: Josh Dworaczyk, Chris Davenport
LG: La'el Collins, Josh Dworaczyk
C: P.J. Lonergan, Elliot Porter
RG: Josh Williford, Trai Turner
RT: Alex Hurst, Vadal Alexander
Defense
DE: Barkevious Mingo, Jermauria Rasco
DT: Josh Downs, Ego Ferguson
DT: Bennie Logan, Anthony Johnson
DE: Sam Montgomery, Lavar Edwards
Will LB: Lamin Barrow, Deion Jones
Mike LB: Kevin Minter, Ronnie Feist
Sam LB: Luke Muncie, Kwon Alexander
CB: Tharold Simon, Dwayne Thomas
CB: Jalen Mills, Jalen Collins
FS: Eric Reid, Ronald Martin
SS: Craig Loston, Ronald Martin
Special Teams
K: Drew Alleman, James Hariston
P: Brad Wing, Jamie Keehn
KR: Odell Beckham Jr., Michael Ford
PR: Odell Beckham Jr., Jarvis Landry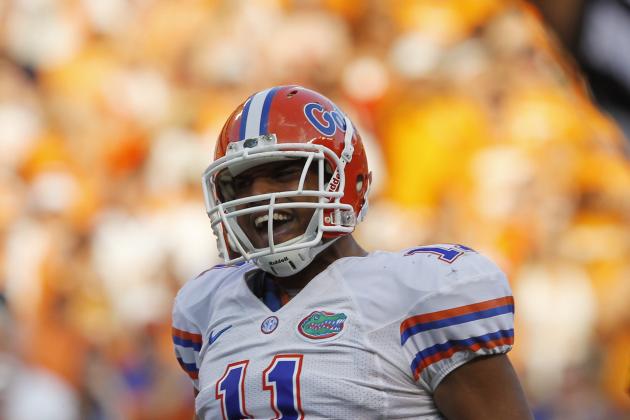 John Sommers II/Getty Images

Offense
QB: Jeff Driskel, Jacoby Brissett
RB: Mike Gillislee, Matt Jones or Mack Brown
FB: Hunter Joyer, Trey Burton
TE: Jordan Reed, Clay Burton
F: Trey Burton, Omarius Hines
WR (X): Frankie Hammond Jr., Latroy Pittman
WR (Z): Quinton Dunbar, Solomon Patton
LT: D.J. Humphries or Xavier Nixon
LG: James Wilson, Ian SIlberman
C: Jonotthan Harrison, Sam Robey
RG: Jon Halapio, Jessamen Dunker
RT: Chaz Green, Kyle Koehne
Defense
DE: Dominique Easley, Earl Okine or Jonathan Bullard
DT: Sharrif Floyd, Damien Jacobs
NT: Omar Hunter, Leon Orr
Buck LB: Lerentee McCray, Dante Fowler Jr.
Will LB: Antonio Morrison, Michael Taylor
Mike LB: Jon Bostic, Michael Taylor
Sam LB: Neiron Ball, Darrin Kitchens
CB: Marcus Roberson, Jeremy Brown
CB: Jaylen Watkins or Loucheiz Purifoy
FS: Josh Evans, Jabari Gorman
SS: Matt Elam, Valdez Showers or De'Ante Saunders
Nickel: Jaylen Watkins, De'Ante Saunders
Dime: Matt Elam, Brian Poole
Special Teams
K: Caleb Sturgis, Brad Phillips
P: Kyle Christy, Todd Fennell
KR: Andre Debose, Solomon Patton
PR: Marcus Roberson, Andre Debose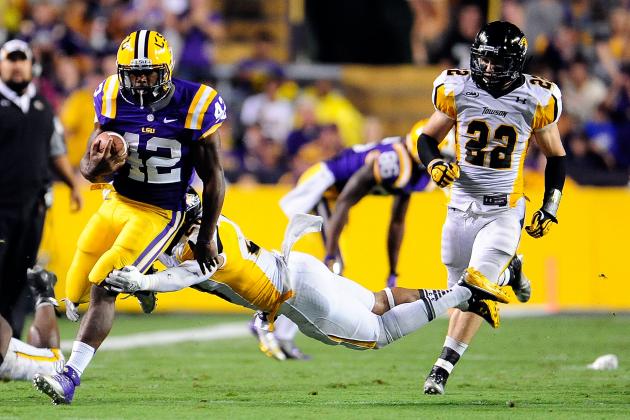 Stacy Revere/Getty Images

Last week was supposed to be as good as an open week for the Bayou Bengals. Instead of an easy week, the Tigers found themselves trailing late in the second quarter. LSU played uninspired football for the second straight week but came away with a win against Towson, 38-22.
The Tigers looked sloppy and out of sync against their FCS opponent, so much so that Les Miles felt inclined to tell the media that his team needs to "clean it up."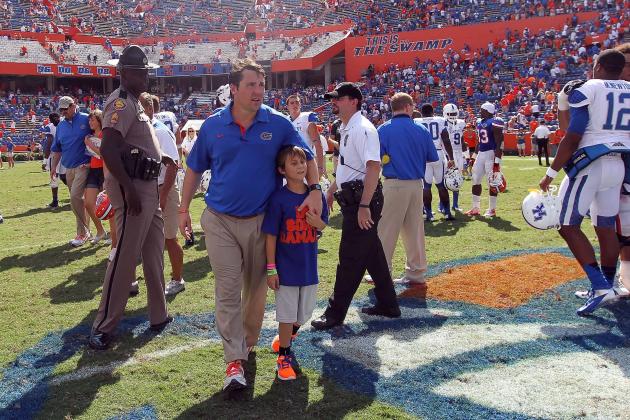 Kim Klement-US PRESSWIRE

Florida had an open date last weekend.
Having two weeks to rest injuries and prepare for LSU will benefit the Gators going into their matchup Saturday.
The Gators are dealing with a number of injuries most notably Jelani Jenkins, Dominique Easley and Chaz Green. Getting a week of rest looks like it will allow all three players to play this weekend.
The bye week also allowed Florida an extra week to watch film and prepare for the Tigers.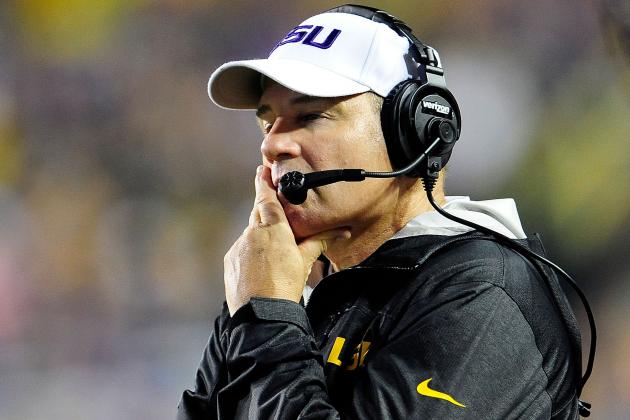 Stacy Revere/Getty Images

After surviving a scare against Auburn and then coming out flat against Towson the Tigers will face the best team they have played this season and will have to do it on the road.
Getting an extra week to heal up and study film is a big advantage for the Gators coming into the game. Their 4-0 start has renewed the passion of Gator Nation, and the Swamp should be rocking Saturday afternoon.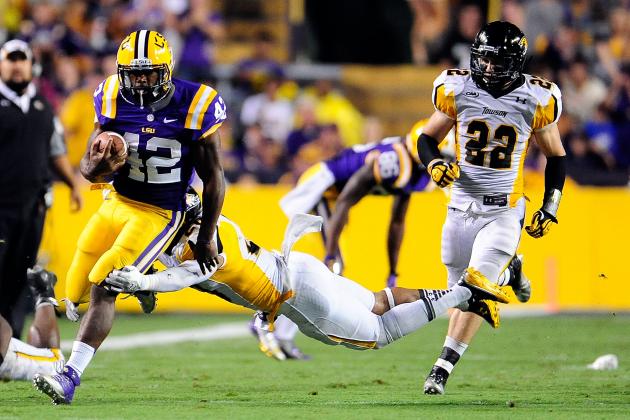 Stacy Revere/Getty Images

I can't pick just one key player for LSU because they have a three headed monster at running back, and they will need all of them to play well against the Gators.
LSU makes no attempt to disguise their offensive plan. They are going to try to run the ball down your throat and throw the ball when they need to. The stable of running backs that LSU has allows them to keep all three players fresh throughout the game. The trio have combined for 754 yards and eight touchdowns. Their 6.2 yards per carry average is also very impressive.
Despite losing their starting running back, Alfred Blue, the Tigers have gotten good production from Kenny Hilliard, Michael Ford and Spencer Ware. Those three are all capable of running over defenders and will challenge the Gators to make tackles, something Florida has struggled with at times this season.
It's not clear if J.C. Copeland will be able to play this week after sustaining a knee injury last week. Copeland is not only a bruising runner but a pivotal player for the Tigers. Copeland is a bruising blocker in the run game and very good in pass protection.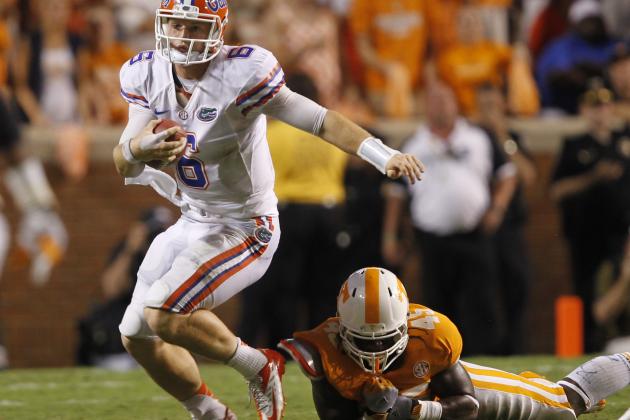 John Sommers II/Getty Images

Like LSU, Florida has made it abundantly clear that they want to be a run first team.
The difference in this game, and why Jeff Driskel is the key player for the Gators this week, is the style of defense LSU plays.
Texas A&M, Tennessee and Kentucky played a lot of zone coverage against the Gators. LSU trusts their secondary more than the other teams Florida has played, and the Tigers will play a lot of man coverage with a single safety over the top. This allows them to put eight players in the box, something the Gators should expect a lot of on Saturday, which can neutralize the running game.
LSU will key in on Mike Gillislee and try to shut down the Gators running attack and force Driskel to throw the ball to win the game.
This is by far the best defense Driskel will face up to this point of the season, and he will need to use his mobility to avoid being sacked.
Ultimately, LSU should be able to slow Florida's running game down enough that Driskel will need to make plays with both his arm and legs for the Gators to come away with the victory.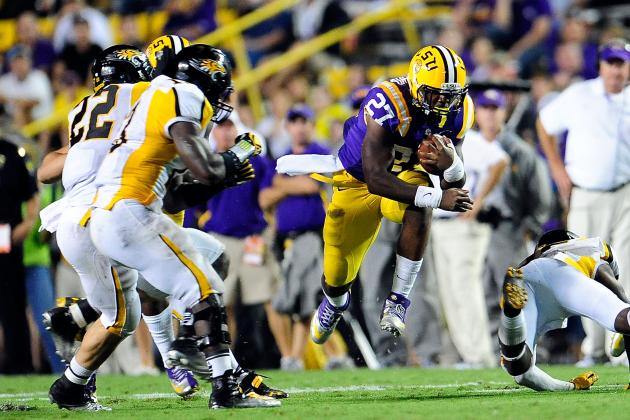 Stacy Revere/Getty Images

They shut down Mike Gillislee and run the ball effectively.
LSU brings in a potent rushing attack. Their rotation of running backs allows all three players to remain fresh and can wear defenses down late in games.
LSU is averaging a staggering 229.6 yards per game on the ground and have scored 16 rushing touchdowns. Florida has the SEC's sixth best rushing defense giving up 119.25 yards a game. Despite having a good rush defense, Florida allowed Kentucky to run for 159 yards at almost five yards per carry their last time out.
The second thing the Tigers must do to win is stop Mike Gillislee. LSU is giving up just 83 rushing yards a game, third best in the SEC.
If LSU can force Florida to be one dimensional on offense the Gators will struggle to move the ball against the Tigers.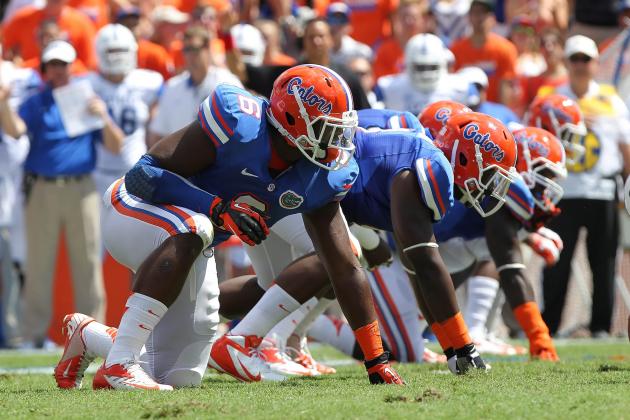 Kim Klement-US PRESSWIRE

They can stop the Tiger's rushing attack and get pressure on Zach Mettenberger.
Les Miles has done everything he can to try to hide Mettenberger in this offense. After going on offseason crusade against LSU de-commit Gunnar Kiel, it shouldn't come as a surprise that Miles doesn't completely trust his quarterback. A coach who has faith in his quarterback doesn't berate a high school kid for changing his mind during the recruiting process.
Luckily for Miles and the Tigers, they have a stable of running backs who are more than capable of carrying the offense. If Florida can slow down LSU's running attack and force Mettenberger to win the game with his arm, it will be a long day for LSU.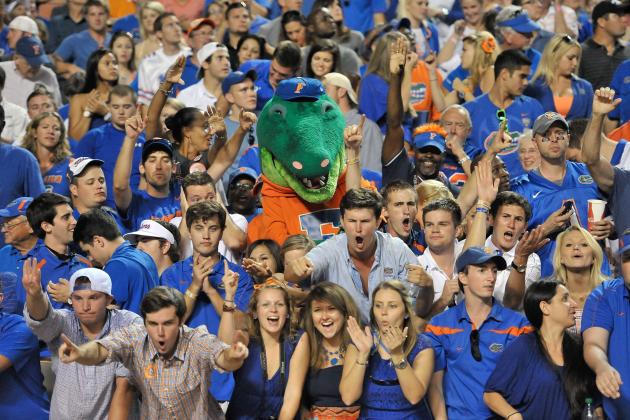 Jim Brown-US PRESSWIRE

Florida and LSU bring in two of the toughest defenses the SEC has to offer, and this game should be a defensive battle from start to finish.
LSU has arguably the best front four in the country. All four starters are destined for the NFL, and the Tigers will rotate up to eight defensive linemen throughout the game, which keeps their linemen fresh. Florida uses a similar strategy, but the Gators' defensive line hasn't played up to their potential this season.
Neither team has tried to hide the fact that they want to be a power running team. Both John Chavis of LSU and Dan Quinn of Florida will try to take away the running game for their opponent. With the type of defenses these two teams have they will both be able to slow down the opposing rushing attack.
That puts pressure on the quarterbacks to make game-changing plays. Driskel has made those plays this year. Mettenberger's only game-changing play was a long touchdown that sealed the win against Towson last week.
Driskel is riding off of a four-game winning streak where he played a pivotal role in each of those games. He continues to get better every game whereas Mettenberger has played his two worst games of the season the last two weeks.
Florida also enjoyed an open week, which gave them two weeks to prepare for the Tigers. With two weeks to prepare and the game being played in The Swamp, it's hard to pick against these Gators.
After going back and forth trying to predict a winner in the game, I have to give the edge to Florida based on home field advantage, quarterback play and the benefit of having a bye last week.
Florida wins
23-17