NFL Picks Week 3: 5 Defenses That Will Stifle Their Opponents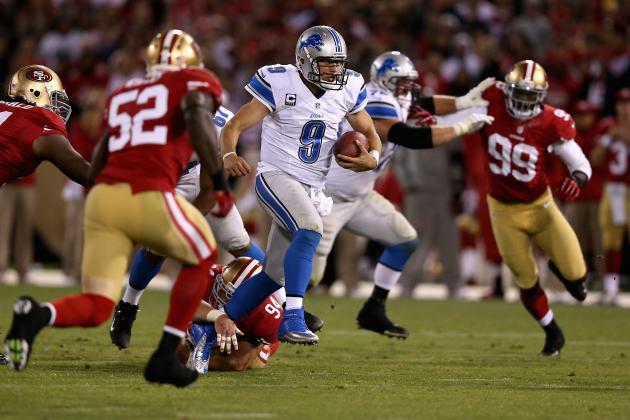 Ezra Shaw/Getty Images
After holding Matthew Stafford and the Detroit Lions offense in check, the 49ers will have a much easier time shutting down the Minnesota Vikings.
Fans of hard-hitting, lockdown defense have a lot to look forward to in Week 3 of the NFL season. Prolific offenses have been on full display early on, but this is the week that suffocating defense takes center stage.
Through two weeks, NFL games has seen enough points scored to put a pinball machine on tilt. Only two of the first 32 games featured a team that failed to reach double digits, while 18 teams have surpassed the 30-point mark already.
Week 3 will put some of the league's most feared defenses on center stage, proving, yet again, that defense still wins championships (or at least saves seasons).
Here are five NFL games in Week 3 that will showcase stifling defensive performances and possibly deliver the season's first shutout.
Begin Slideshow

»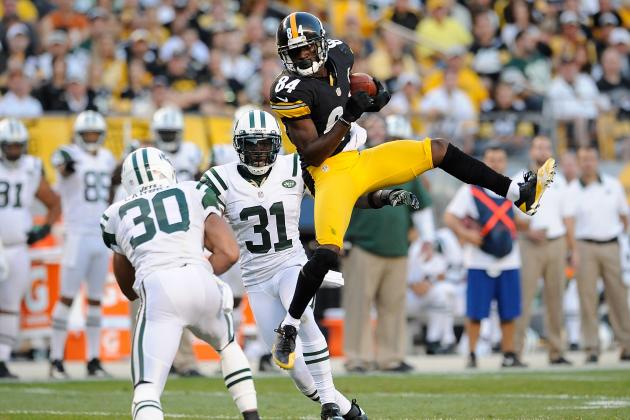 Joe Sargent/Getty Images
The New York Jets will have a much easier time facing a Miami Dolphins team without the deep threats and championship pedigree of the Pittsburgh Steelers.
The New York Jets haven't looked like one of the NFL's best defenses in either of their first two games (against the Buffalo Bills and Pittsburgh Steelers), but don't let the statistics fool you. Rex Ryan's Gang Green can still make life miserable for NFL offenses.
This is particularly true when the offense in question traded away its best wide receiver (Brandon Marshall) in the offseason, cut potential Hall of Famer Chad Johnson in the preseason and features a rookie quarterback (Ryan Tannehill) making his 22nd start at the position, including college.
After a disastrous 30-10 road loss against the Houston Texans in Week 1, the Miami Dolphins looked like a decent NFL team in a 35-13 demolition of the Oakland Raiders last Sunday. The Jets are not the Raiders.
Like Houston, New York features a top five NFL defense (fifth in total defense in 2011). Miami's lack of weapons in the passing game will allow Ryan to devise a defensive scheme focused on shutting down Dolphins running back Reggie Bush—the NFL's second-leading rusher this season—forcing Tannehill to make plays against Jets corners Antonio Cromartie and Darrelle Revis.
Revis is expected to return for this contest after a Week 1 concussion forced him to miss the Pittsburgh game.
With Revis and Cromartie blanketing the Dolphins wide receivers in man-to-man coverage, Tannehill can expect to see a heavy dosage of blitzes. That will lead to a performance closer to his three-interception debut versus Houston than the turnover-free performance against Oakland.
Prediction: Jets 20, Dolphins 6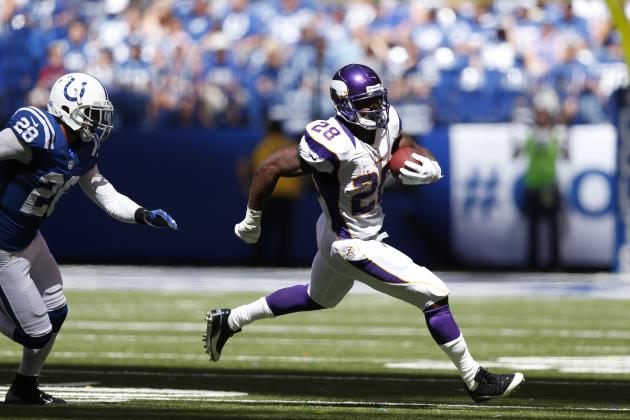 Joe Robbins/Getty Images
The Vikings shouldn't expect this separation from defenders when the San Francisco 49ers come to town this weekend.
Second-year head coach Jim Harbaugh has the San Francisco 49ers playing a brand of football reminiscent of the Mike Ditka-led Chicago Bears teams he played for in the late '80s and early '90s.
Led by All-Pro linebackers Patrick Willis and Navarro Bowman, the 49ers play a fast and physical style of defense previously reserved for AFC stalwarts Baltimore and Pittsburgh.
San Francisco finished fourth in total defense in 2011 and was second to the Steelers in scoring defense, surrendering a mere 14.3 points per game.
Dominant performances against the Green Bay Packers and Detroit Lions to open the 2012 season put the league on notice that last season was the beginning of a new era of 49ers football.
The Packers and Lions feature two of the NFL's most potent offenses, led by a pair of outstanding quarterbacks. The Minnesota Vikings, San Francisco's Week 3 opponent, have neither.
To be fair, second-year quarterback Christian Ponder has shown promise, and Adrian Petersen is one of the league's premier running backs. Opposing defenses must also account for wide receiver Percy Harvin, but those three won't keep the 49ers' defenders awake at night.
The Vikings needed overtime to defeat the Jacksonville Jaguars in Week 1. They were on the losing side of Indianapolis Colts quarterback Andrew Luck's first NFL victory last week.
Even the home crowd won't be enough to keep Minnesota in this contest. Remember that shutout I mentioned in the intro? This is it.
Prediction: San Francisco 27, Minnesota 0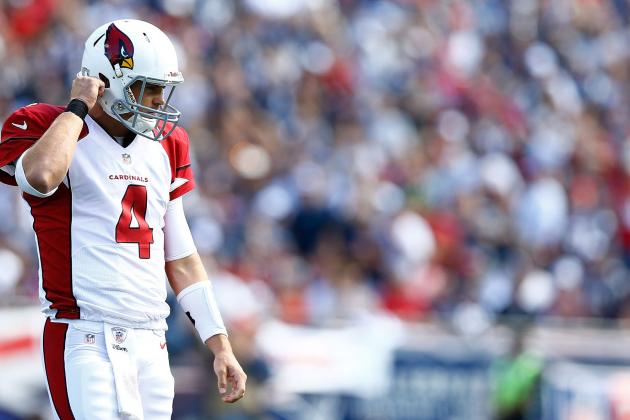 Jared Wickerham/Getty Images
Arizona Cardinals quarterback Kevin Kolb won't be as happy to see his former Eagles teammates once the game begins.
How have the Philadelphia Eagles gone 2-0 while turning the ball over at least four times in each game? By creating six takeaways of their own while leading the NFC in total defense.
The Eagles will take that defense (ranked fourth overall) to the desert this Sunday as they prepare to face former Philadelphia quarterback Kevin Kolb and the Arizona Cardinals in a battle of undefeated teams.
The Cardinals opened the season with two impressive wins including last week's shocker over the Patriots in New England. They'll struggle to get to 3-0 unless they can quickly fix the league's 30th-ranked offense.
Arizona entered the season with a precarious quarterback situation. Head coach Ken Whisenhunt waited until the 11th hour before finally naming John Skelton the Cardinals starter. Skelton lasted less than one full game before suffering a high ankle sprain that gave the job back to Kolb, at least for the next few weeks.
The instability at quarterback makes it difficult for the Cardinals to get the most out of All-Pro wide receiver Larry Fitzgerald.
The running game hasn't been any better for Arizona. Beanie Wells has yet to get on track after a breakout 1,000-yard performance in 2011. Second-year back Ryan Williams has fumbled in each of the first two games as he struggles to work his way back from a ruptured patellar tendon that cost him his entire rookie season.
This all adds up to a nightmarish scenario for Arizona as the Eagles come calling on Sunday. The Cardinals have plenty to fix on offense, but Philadelphia is hardly the team to try to get well against.
Prediction: Philadelphia 20, Arizona 6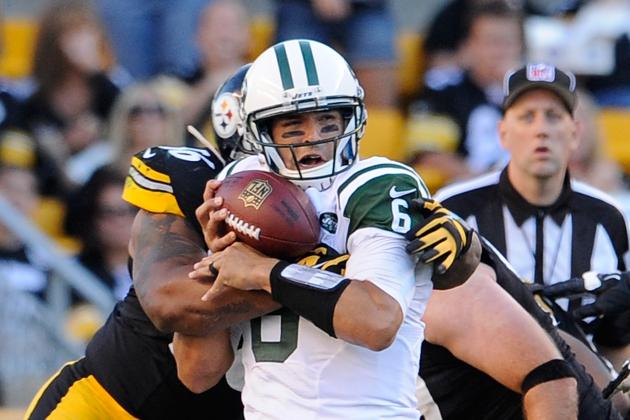 Joe Sargent/Getty Images
Mark Sanchez and the New York Jets offense reverted to their preseason form against a desperate Steelers D.
Injuries have forced the Pittsburgh Steelers' offense to rely more heavily on the passing game, but its identity on the defensive side of the ball hasn't changed a bit. It held the Jets to a mere 10 points just a week after New York put up 48 in a Week 1 victory over the Buffalo Bills.
Now that the Steelers have their swagger back, they'll head to Oakland looking to build a modest two-game winning streak before their Week 4 bye. A confident Pittsburgh defense is the last thing the Raiders' struggling offense needs to see right now.
Oakland, under first-year head coach Dennis Allen, planned to lean on dynamic running back Darren McFadden after installing a zone blocking scheme this offseason. Instead, Carson Palmer has been forced to throw the ball 94 times in two games, while McFadden has been limited to just 54 yards on 26 carries.
That type of pass-to-run ratio suits New Orleans Saints quarterback Drew Brees—the only QB with more attempts than Palmer through two games—just fine. That's not a blueprint for success for the Raiders, though.
Unfortunately for Oakland fans, that ratio may not change anytime soon. The Steelers come to town ranked seventh in the NFL in total defense and they give up less than 93 yards per game on the ground.
The Raiders will rack up passing yards while playing catch up late in the game. The Steelers defense will put its stamp on the game early, however, as they keep Oakland winless on the season.
Prediction: Pittsburgh 27, Oakland 16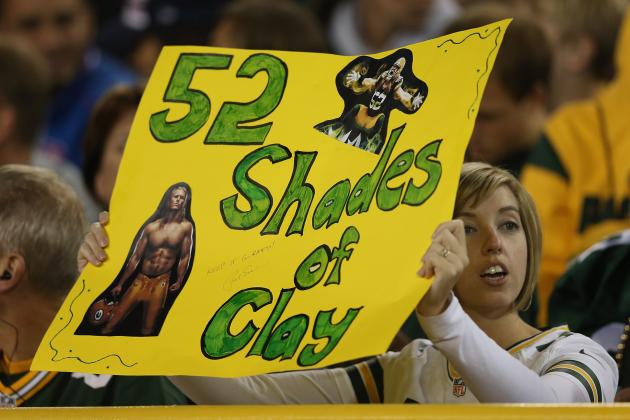 Jonathan Daniel/Getty Images
Clay Matthews and the Green Bay Packers will look to build on an impressive defensive effort again against the Bears as they travel to Seattle for a stiff road test.
Didn't expect to see this game on the list did you? If you did, then you must be thinking that I'm all in on the Packers D after they embarrassed Jay Cutler and the Chicago Bears last Thursday night.
You'd be half right too. I'm actually picking next week's Monday Night Football tilt, featuring the Packers at the Seattle Seahawks, to be a defensive struggle.
After struggling in a Week 1 loss to the 49ers, the Packers' victory over Chicago proved that Green Bay is serious about improving a unit that was the NFL's worst in 2011. It recorded seven sacks against the Bears, including three by NFL sack-leader Clay Mathews who ran his total to six on the year.
Green Bay enters Week 3 ranked fifth in the league in total defense. Right behind the Pack sit the Seahawks, who are fresh off a dominant defensive performance of their own.
Seattle shut down a Dallas Cowboys offense that's loaded with talent at the skilled positions. Tony Romo and Co. managed only seven points against an underrated defense spurred on by one of the league best home crowds, and Aaron Rodgers and the Packers won't find the going any easier.
Seattle will struggle to move the ball themselves as rookie quarterback Russell Wilson continues to adjust to the NFL game.
The Seahawks don't have many explosive playmakers on the NFL's 28th-ranked offense. They instead ask Wilson to be an effective game manager while depending on a methodical running game led by Marshawn Lynch.
If you enjoyed last Thursday's Packers-Bears affair, be prepared to see more of the same next Monday night. Look for the Packers to escape with a narrow victory as the more experienced Rodgers proves to be the difference.
Prediction: Green Bay 20, Seattle 13