NASCAR's 20 Wackiest Soundbites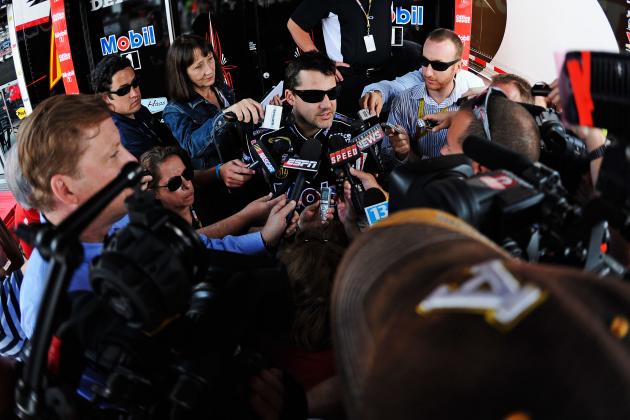 Jared C. Tilton/Getty Images

NASCAR drivers frequently have to watch what they say in order to protect their public images and always-sensitive sponsor relationships. That doesn't mean they always do, though.
Whether it's losing their cool and cursing out another driver, criticizing the equipment they're racing with, or even poking some fun at members of the media or fellow racers, there's more than enough personality to go around the NASCAR garage on any given race day. Don't be shocked if, by the end of tonight's Federated Auto Parts 400 at Richmond, we hear some more fantastic sound bites.
Here are some of the most memorable interviews given by NASCAR drivers in recent memory:
Begin Slideshow

»
The first race of the Car of Tomorrow era came at Bristol in March 2007— an event won by Kyle Busch. Just because Busch took the victory, however, it doesn't mean he liked the cars at the time; in fact he thought they "sucked." (Somewhere, older brother Kurt is wondering why Kyle is the tame one in the family.)
Logano threw out insults beyond his years at Pocono two years ago when he insinuated that Kevin Harvick wrecking him "wasn't his fault" because wife DeLana "wears the fire suit in the family." Of course, that struck plenty of folks as funny, given Logano's father Tom's omnipresence in the garage during the early years of his son's career.
Kevin Harvick posits that Jimmie Johnson may have had some extra aid to give him such good luck during his first four championship seasons. Specifically, Harvick referred to a certain lucky object wedged into a particular orifice.
Robby Gordon must not be a fan of South Park, because if he was, he would know that the thing he called Michael Waltrip is actually a sign of Christmas joy and cheer to the children on the show.
As an Indiana native and former open-wheel racer, Tony Stewart likely has a bias towards Indiana-based tire companies Hoosier and Firestone over Ohio-based Goodyear. Whether or not that's the case, the man they call "Smoke" probably wouldn't have trusted his Goodyear tires to do any burnouts after this race at Atlanta, noting how many different racing series the company has already pulled out of.
I would be willing to bet large sums of money on the assumption that Stewart and Goodyear are never going to sign a personal services contract with one another.
Stewart said his points money from finishing second in points in 2001 was going to his "retirement fund, so I can get out of this series." From there, he criticized Sterling Marlin's driving before he challenges NBC pit reporter Matt Yocum in a race to proposing to their girlfriends.
"I'm sorry we couldn't crash more cars today," Stewart apologized after racing at Talladega earlier this year. He continued to lament that more than half of the field was still running at the end of the race, expressing his concern for the fans who were deprived of accidents. Stewart went on to suggest that it would be "perfect" if NASCAR could make the 2.66-mile superspeedway a figure eight.
Smoke finally got fed up with FOX's broadcast booth making a big deal of his on-track incidents from the previous few races, accusing the network of "blowing things out of proportion." When Darrell Waltrip attempted to defend himself, Stewart made sure to remind Waltrip of his, er, qualifying issues in 1999 and 2000.
Dale Earnhardt Jr. has a hard time containing his laughter as Stewart wonders aloud what ESPN.com's David Newton thinks about during a race. Newton had asked Stewart about the fact that three consecutive races had gone accident-free. "Glad to see you're back in form," Stewart says.
"Good to hash it out now, might as well," Busch said about getting called to the NASCAR hauler after last year's Darlington incident with Kevin Harvick. Busch didn't like the way that Harvick was racing him late in the event, and after a chain reaction spun out Clint Bowyer, Busch decided to dump Harvick as well. After the race, when Harvick stopped his car in front of Busch's and got out to confront him, Busch pushed the unmanned car into the inside pit wall.
If you thought Matt Kenseth was mad at Brian Vickers late last year, you should see Kyle Busch talking about Vickers after this Nationwide Series race at Michigan. "Unfortunately, you race with idiots, and you'll have that sometimes," Busch said, after Vickers ran him to the apron on the last lap and allowed Brad Keselowski to pass both for the victory.
Amber Cope cut off Kevin Harvick's line late in a Nationwide race at New Hampshire earlier this year, allowing Brad Keselowski to take the lead and eventually the win, before dissing Harvick on Twitter and demanding an apology for his post-race comments. Harvick's bemused response the next day? "Pick some boots and your favorite song and find a new job."
"Coward" and "bitch" were two words that crew chief Dave Rogers had for Greg Biffle after Biffle put driver Joey Logano into the wall in a Nationwide Series race at Auto Club Speedway. It doesn't sound like these two will be exchanging Christmas cards anytime soon.
Marlin famously claimed, "I got run over by a bug-eyed dummy," after this accident with Greg Biffle at Watkins Glen. Biffle, of course, is not known for his prowess at the New York track, where he holds his worst average finish of any circuit on the Sprint Cup schedule.
Biffle's Watkins Glen struggles continued last year. "I'm real upset with (him)," Said told reporters after an incident. "He's the most unprofessional little scaredy-cat I've ever seen in my life... he needs a whooping'." To this day, Biffle has never shown up to the track with a black eye.
"I can't believe I'm actually getting an interview for the day," the ornery Stewart told ESPN during Nationwide Series practice at Daytona in 2010, as Patrick prepared to make her first NASCAR start. On another note, his defense of ESPN's saturated Patrick coverage is part of the reason why some people don't like Marty Reid.
Busch was totally taken aback by this question about Danica Patrick in 2010. "Thanks..." he replied, somewhat bemused. To his credit, Busch gave an excellent answer to the question after the laughter died down a bit.
"Somebody better keep me away from Denny Hamlin after this race," Busch radioed to his crew after the two teammates battled in the Sprint All-Star Race. Hamlin put Busch into the wall and went on to win the race, racing with an "every man for himself" mentality in the final few laps of the non-points event.
We saved the best for last. Here's the funniest of the many "Radio Sweetheart" segments that SPEED likes to air with Kurt Busch's in-race radio chatter. This isn't really an interview, but the whole "more beeps than words" thing is pretty high-quality. Just look at Jimmy Spencer's reaction... then remember how Busch and Spencer feuded during the end of Spencer's career and realize just how great this segment actually is.