Oakland Athletics' Biggest Offensive Contributors After All-Star Break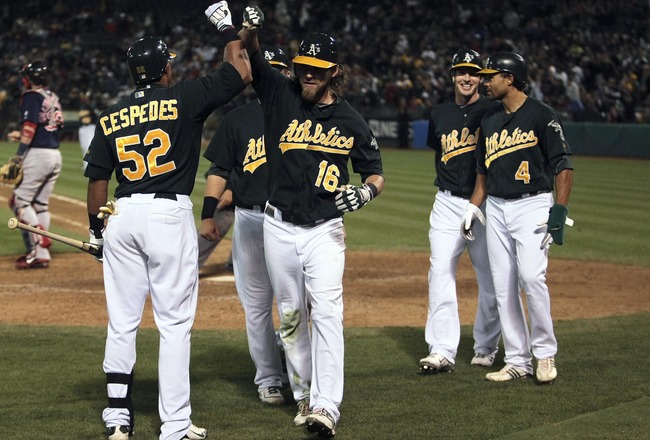 Kelley L Cox-US PRESSWIRE
As the 2012 MLB season trickles down to the final stretch, a handful of teams are seeking playoff berths, while others seek vacation destinations following game 162.
For the first time since 2006, the Oakland Athletics are putting their postseason paradises on hold.
Oakland's midseason surge peaked in July during the 19-5 stint and has yet to fully subside.
Boasting a 31-14 record since the All-Star Break break, Bob Melvin's Athletics have patched up their 2012 season quilt with variations of miscellaneous fabrics—and boy, is it warm.
Following the series-opening 20-2 demolition of the Boston Red Sox, the A's preserve the top spot in the AL wild card race in front of the Baltimore Orioles on the shoulders of these second-half standouts.
Cuban Crusher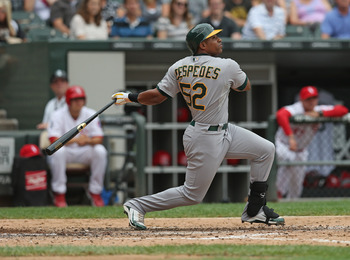 Jonathan Daniel/Getty Images
Yoenis Cespedes has proven to be a second-half stud in the Athletics' lineup.
Hitting only .263 in the first half, the Cuban native stands by a .347 post All-Star Break average with 59 hits, 27 RBI and 32 runs.
While one would expect Cespedes to fade while enduring his first 162-game season (vs. 90-game Cuban season), the utility outfielder remains a threat in the batter's box and in the base paths.
Cespedes' speed adds to his productivity and ultimately, Oakland's success.
Accounting for six stolen bases in the bottom half of the season (12 total), Cespedes' combination of power and speed make him a key component to Oakland's postseason shot.
Coocoo for Coco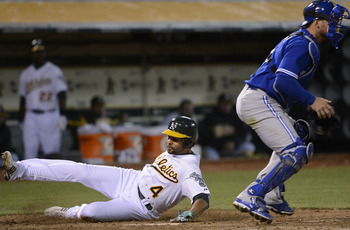 Thearon W. Henderson/Getty Images
Bob Melvin can feel at ease assigning Coco Crisp to the leadoff role.
Crisp has bumped up his second-half average to .281 while stringing together 43 hits, 20 RBI. He has even supplied some power with six home runs.
As a constant base-stealing threat, Crisp has accumulated 13 second-half stolen bases and has walked 14 times in 153 at-bats.
Crisp's ability to reach base (.339 OBP post All-Star break) and utilize his speed has complimented the Athletics' production of hits.
Can I Get Extra Bacon?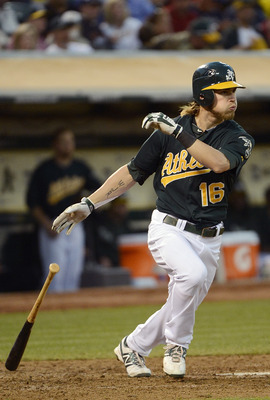 Thearon W. Henderson/Getty Images
Josh Reddick has taken on many roles while under contract with Oakland.
When he isn't Spiderman, protecting the walls that threaten the outfield bleachers from home runs, he can be seen conjuring up walk-off whipped cream pies.
Oh, he also hits a few home runs.
Reddick leads the Athletics by a landslide with 28 home runs, eight of which came after the All-Star Break, including the grand slam against his former Boston Red Sox club.
Though the A's right-fielder hit a mid-season slump, he and Athletics' hitting coach Chili Davis have appeared to override the skid.
Reddick is averaging .251 at the plate with 44 hits and 30 RBI's, and leads the league in pounds of bacon gifted to right-field spectators (20).
Get Him a Cab, He's Walkin'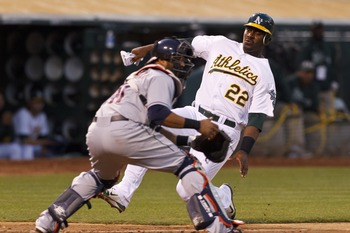 Jason O. Watson/Getty Images
Chris Carter's cool demeanor style and leadership has contributed highly to Oakland's success.
The first baseman has charged up the A's lineup with home run power, complementing Cespedes and Reddick's deep-ball potential quite nicely.
Carter sports a .375 OBP, a figure that corresponds with his team-leading 26 second-half walks.
He's knocked in 26 RBI on 37 hits and leads the A's in second-half home runs (9).
Carter proves to be yet another one of GM Billy Beane's diamonds in the rough.
Pride of Petaluma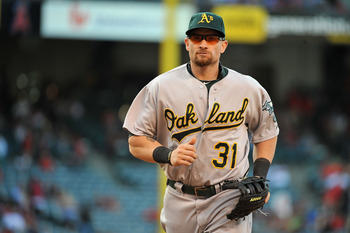 Jonathan Moore/Getty Images
The Athletics have utilized Jonny Gomes effectively as a game-changing DH and pinch-hitter.
Gomes has made 83 plate appearances, manufactured 24 hits and blasted the long ball seven times as he holds a .289 average.
He's accounted for 16 runs, 18 RBI, and reaches base often (.385 OBP).
Melvin's strategic use of Gomes has provided dividends for Oakland and will continue to do so.
I'm Just Joshin'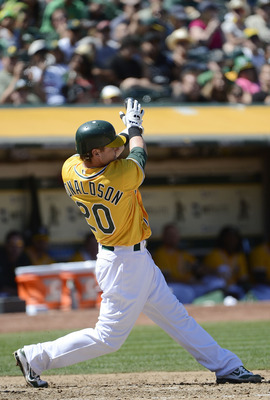 Thearon W. Henderson/Getty Images
Josh Donaldson's recent call-up to The Show has A's fans wondering why it wasn't sooner.
Donaldson played in 17 second-half games with the Athletics and is 22-64 at the plate, bringing his average up to .344.
The Athletics have benefited from Donaldson's timely promotion, reaping the benefits of his 14 RBI and four home runs–not to mention his .408 OBP.
Donaldson added support to a struggling infield where it was needed and is far from wearing out his welcome.
Steady Mossin'
Jason Miller/Getty Images
Brandon Moss has remained a consistent contributor throughout the duration of the year.
Moss' 24 hits and 16 RBI parallel his 22 hits and 18 first-half RBI.
He has gone deep five times in the second half, opposing the 10 long-balls he produced in the first. Where Moss lacks in early season power, he makes up in timely hitting.
Keep Reading

Oakland Athletics: Like this team?