With only three races left before this year's Chase for the Sprint Cup, points leader Greg Biffle is hoping that the momentum from last weekend's victory at Michigan will lead to a strong enough result this weekend at Bristol to clinch his playoff spot.
"The guys are sure excited about it—we've worked really, really hard to get to this position," Biffle said in an interview on Thursday. "We know we've been pretty tough over the past four races and we're continuing to get better as we approach this Chase."
Biffle regained the points lead for the first time since June after then-leader Jimmie Johnson blew an engine in front of him in the Pure Michigan 400's final laps.
"I was catching him," Biffle recalled, "and I knew I had six laps to go. Then when I saw him slowing and pulling over, I (had) at that point kind of a rush of adrenaline, that I wasn't going to have to race him for the win anymore.
"But now, all of a sudden, it's handed to me a lot easier, I didn't have to work nearly as hard for it. We had to do the final restart there, a little bit of a shootout for the win. But it was a great win for us.
"We had the fastest car. Normally the fastest car doesn't win, but it did this weekend."
Biffle now has two wins on the season, good enough for six bonus points in the Chase. However, three drivers—Johnson, Brad Keselowski and Tony Stewart—have three wins apiece, meaning Biffle could lose the points lead on the standings reset after Richmond if he doesn't win again.
"Really going for wins and bonus points in the next few races is the key," he admitted. "That's all we care about. We feel like we've got (the Chase spot) kind of handled. But we just want to get on a level playing field if we can with the bonus points."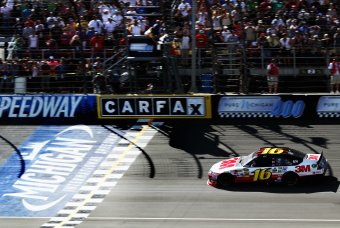 Jerry Markland/Getty Images
The only challenge for Biffle is the lack of reward for leading the standings through the regular season, if he's able to maintain the lead. Such a bonus would likely give him at least a share of the lead going into the first race, instead of dropping him back to fourth as would be the case now.
"That's kind of been a topic of discussion amongst the drivers," Biffle admitted. "You had Jimmie Johnson talking about it last week. One guy's not going to be better than the next when we start the Chase out. I thought that was a little bit odd.
"I'm surprised that one, they don't give the leader going into the Chase a three point bonus, like what a win would be, to reward the guy that's won the points for the first 26 weeks of the season. And I'm surprised that you don't get a one through ten point layout compared to where you're running, and then really the wins would still seed throughout the thing.
"It would benefit a guy that has run better in the prior bit of the season, moving into the Chase. But that's the way they want to do it, they want to put the emphasis on wins, and we're all trying to win every race. It doesn't matter whether it gives us bonus points or not."