Fantasy Football 2012: Is Andrew Luck Deserving of an Early Round Pick?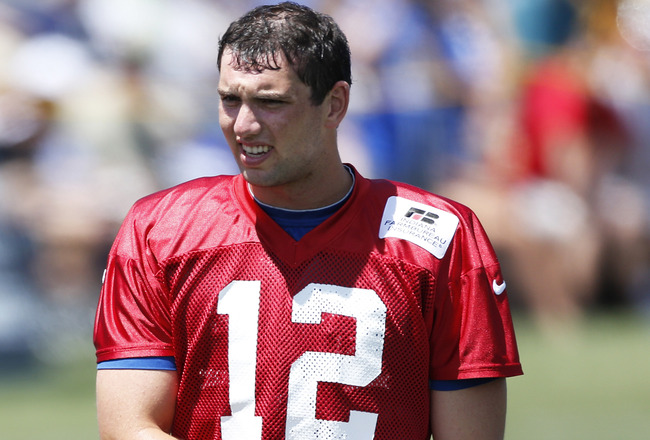 Joe Robbins/Getty Images
American journalist Heywood Broun once wrote that, "God, as some cynic has said, is always on the side which has the best football coach."
Broun was, of course, being famously ironic, but his words can nevertheless be applied to the frustratingly brilliant world of fantasy football; the dimension of the sport that every wannabe coach loves to hate.
Quarterback always has, and always will be a vital pick for any side. This year it's Andrew Luck of whom many will ask, "Is he worth the punt?"
The 2012 NFL draft first overall selection has a lot riding on his rookie season, as does any aspiring athlete who performs wonders in their youth.
After Indianapolis endured a dreadful 2011-12 campaign that saw them win just two games, it's with the 22-year-old that seemingly lies the hopes of the entire team's revival.
Depending on the character of the young prospect, Luck will either thrive or thrash in the waters of his first NFL season.
With that in mind, here's a pro/con breakdown to see if it's worth the Colt ranking highly on your fantasy football radars.
Pro: Element of Surprise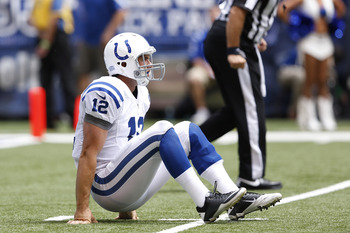 Joe Robbins/Getty Images
Football is a game of numbers and statistics, of which everyone knows just about everything they need to know about everyone else.
For the past three years, the game's community has been fascinated by boy wonder Andrew Luck, the messiah being touted by some as the most promising QB for years upon years.
That said, for all of this fascination and analysis, Luck is still an untested quality in the NFL and will undoubtedly prove to be a conundrum for defences to pin down at times.
While that inexperience will be seen by some as weakness, the prodigy can certainly make it work in his favour, taking advantage of those who may underestimate him.
In these first few months of treading the elite waters, Luck has already shown signs that he could be hard to figure out at times, and his mercurial nature has allowed him to rack up massive passing records in the past.
Whether or not he'll match his college numbers post-draft, the enigmatic conductor can make every use of the most significant benefit that comes with a rookie season.
Con: Manning-Size Shoes to Fill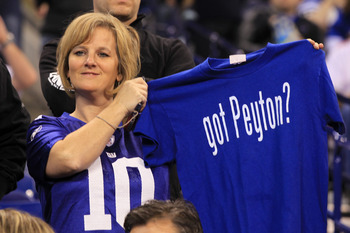 Scott Halleran/Getty Images
One of the greatest passers to toss a pigskin, Peyton Manning has left a considerable imprint on the minds of all those who see the Lucas Oil Stadium as home turf.
The Denver Bronco spent 14 years as an Indiana hero, breaking records by the shedload as he went.
To list the achievements that Manning achieved as a Colt would be folly, but to say that Luck has a considerable reputation to live up to wouldn't.
It takes a substantial ego to ignore that kind of predecessor, and unless Andrew Luck has been living a secret double life for the past decade-and-a-half, he'll know all but too well just whose example he's following.
It's hard to see a way in which that could work in Luck's favour, and the starlet will need to pray that supporters don't pay as much attention to the past as what they do to the future.
Pro: Preseason Debuts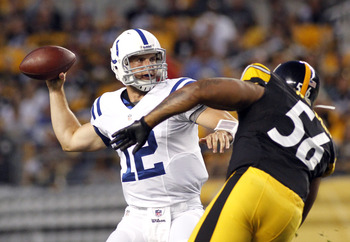 Justin K. Aller/Getty Images
Of course, it's early doors yet, but with a couple of hours of professional football officially under his belt, Andrew Luck is looking good.
In fact, he looks really good.
The 22-year-old threw 10-of-16 with two touchdowns in a 38-3 victory over the St.Louis Rams last Sunday.
The game was Luck's first taste of what he could be in for during the next 15 years or so, and while it may have just been preseason, the Washington native was impressive.
Luck wasn't as eager to go toe-for-toe with defensive backs as he had been in the Pac-12 on occasion, and he showed maturity to preserve himself for the long run.
The youngster's first pass eventually finished as a 63-yard TD, and if that was anything to go by for what's to come, then sign this guy up.
A less inspiring performance came in this weekend's 26-24 loss to Pittsburgh, but there were still plenty of positives to take away from the game.
Pro and Con: Youth
Al Bello/Getty Images
Andrew Luck was being forecasted as 2011's first overall NFL draft pick, but after choosing to stay at Stanford for another year, the QB finally fulfilled the prophecy anyway.
Regardless of the delay, Luck is still a baby in the grand scheme of things, and at 22 years of age is still one of the youngest starters in his position.
In one way, this youth will inhibit the No. 12.
He's likely to be intimidated by the challenge in front of him, and if he isn't, the youngster is truly of remarkable resolve.
On the other hand, Luck's youth is bound to invigorate him, and the giddiness that comes with your first season in the NFL can be a power all on its own.
This year will be an internal battle of pressure versus energy within Luck himself, and the player's age can either work for or against him.
Con: Cam Newton Legacy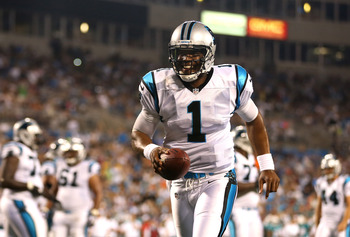 Streeter Lecka/Getty Images
Almost every season we see a young quarterback handed their chance at the big shot—unfortunately for Andrew Luck, 2011 was one of those years.
Cam Newton lit up the league as Carolina's leading man, setting a precedent that Luck will need to beat in some aspect if he is to truly be seen as "the new kid on the block."
The Panther threw 4,051 yards for 21 touchdowns and also lived up to his other attacking potential, rushing for 706 yards and scoring 14 rush TDs.
Even if Luck performs better than Newton did last season, all he'll have done is what everyone is expecting him to do.
However, if he falls short of the Newton standard, it can only work against him in the eye of many, and that could be a telling pressure.
I don't really want to risk cursing Luck before he's even begun, but any fantasy coach risks getting their hands on a choker if they put their faith in the QB.
Pro and Con: Colts Start Fresh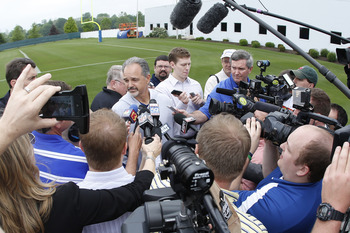 Joe Robbins/Getty Images
Apart from the stadium, there isn't much about the Indianapolis Colts that isn't new this season.
From the head coach to the general manager, the defensive coordinator to the offensive coordinator, the franchise certainly look set on putting 2011 behind them and turning a new page.
Andrew Luck was always going to have to work incredibly hard to mould comfortably into his new side, but the task is made substantially more difficult when considering that most of the squad and coaching staff must pull off the same feat.
While it may not be directly his fault, Luck's success might suffer as a result of the fact that everyone is still getting to know each other. That state of transition doesn't bode entirely well.
Pro: Colts' Offensive Tendencies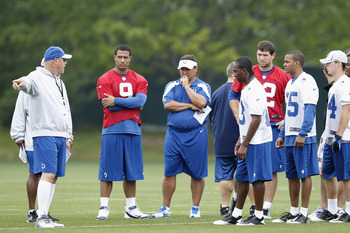 Joe Robbins/Getty Images
"No one man is an island."
Fortunately for Andrew Luck, his new side's tactics will help him in his quest for glory, as the Indianapolis Colts have developed a penchant for the offensive.
In the last two NFL drafts, the team has made just four defensive picks, and the rest of their selections appear to be offense prospects who could feature alongside Luck for years to come.
Luck has targets in the shape of veteran wide receivers Donnie Avery, Reggie Wayne and Austin Collie, but also some more burly backup, with tight ends Coby Fleener and Dwayne Allen.
The investment has been made for the 22-year-old to do well in his new surroundings, and fantasy points could be high, albeit at the sacrifice of conceding on a regular basis.
Con: Saturday Blues

The tenuous relationship of Saturday/Manning

Finally, how could we not mention that Andrew Luck will go through life in Indiana without Jeff Saturday, who formed such a steady bond with Peyton Manning over the years?
The 37-year-old has moved on to pastures Green at Lambeau Field and will no longer be the rock of Lucas Oil Stadium.
Instead, Luck will have replacement center Samson Satele providing him with cover.
The ex-Oakland Raider is also a new talent with the Colts, and if it isn't bad enough that your starting QB has to learn the offence, Satele will need time also.
Luck and Satele may yet go on to form a beautiful partnership and one even stronger than Manning had with Saturday.
That said, for now at least, it's going to work against the pair of them.
Keep Reading

Indianapolis Colts: Like this team?