Will L.A. Lakers' Princeton Offense Tear the Team Apart?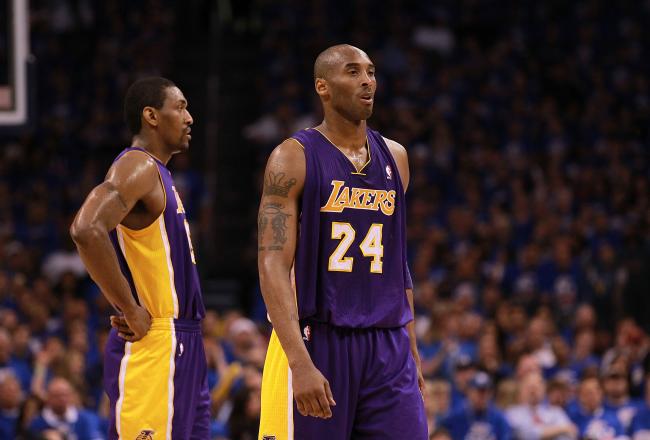 Ronald Martinez/Getty Images
There's been a lot of talk on either side of the coin about the Los Angeles Lakers and their switch to the Princeton Offense. Some say it's a great switch for this team, others think it's not an offense that will be able to keep Kobe Bryant happy.
There are, however, some interesting things to think about basketball and the Princeton Offense in general that need to be taken into account.
Basketball is a much more volatile sport than either of the other two popular American sports.
Baseball is a constant ebb and flow of pitching versus hitting with speed and defense coming in and out of the forefront periodically. Football changes for sure, but the hierarchy of importance is always topped by a quarterback, which is almost always a constant.
The NBA game, however, constantly evolves around what works in the moment, whether it be a team built around a single superstar, a group of above-average guys all chipping in together or a bunch of extremely athletic guys running and jumping all over an arena for 48 minutes a night.
That's the direction in which the NBA is headed (and perhaps we're already there), where athleticism is capable of trumping skill if it's suffocating and coached well enough.
With that in mind, it seems almost foolish that the Lakers have gone in the direction that they did in the past few months. Steve Nash and Antawn Jamison are the opposite of dominant athletes, both guys sitting north of 36 years old (of course, trading for Dwight Howard would give them all the athleticism they need).
Will the Princeton Offense benefit the Los Angeles Lakers?
Los Angeles is putting together a team of highly-skilled basketball players, but the age and the lack of athleticism of the team has to be concerning, considering the state of the NBA.
However, the Princeton Offense is going to trump all, working to negate other teams' athleticism to a degree and even keep Kobe Bryant happy. He has been advocating the offense from Day One, after all.
Even still, there are arguments abound that the Princeton Offense will not work out for the Lakers, as our very own Adam Fromal explains.
First, there are some concessions to be made. The Princeton Offense will under-utilize Steve Nash, it takes the one-on-one game away from Kobe Bryant to an extent and it won't do much in terms of making Andrew Bynum better.
It's true that Steve Nash won't be maximized as a ball-handler, as assists seem to spread out across the team in a Princeton Offense, but it also takes the burden of constantly running the offense off the 38-year-old point guard.
Kobe Bryant isn't going to be playing the way he has for the past...well, forever, but the offense doesn't take away his one-on-one game.
There are plenty of ways in the Princeton Offense that a superstar can hold on to that one-on-one game; just take a look at Gilbert Arenas in his days with Eddie Jordan (LA's newest assistant coach) or Kyrie Irving with Cleveland last season.
The key with Kobe and the Princeton Offense is that there's going to be more space for him at times, giving him an even better move to the basket, allowing him to attack the rim and draw the foul or stop and bust out one of those wicked pull-up jumpers.
The Princeton Offense creating space for the shooter, in this case, Mike Bibby.
Mainly, the Princeton Offense is going to allow the Lakers to lessen the effect of athleticism of other team's defense. The movement of the ball and endless screens keep opponents from staying too close to their men or utilizing weak-side defenders as often as they'd like.
Every defender is going to have to constantly follow his man and worry about getting screened, regardless of the side of the floor the ball is on. This almost completely gets rid of an stagnant offensive player, meaning there aren't going to be free-floating defenders as often as other offensive sets.
In a way it actually makes more sense for the Lakers to go against the grain with their team. They are an older group of guys compared to the rest of the league and adding one or two younger, more athletic guys won't turn them into the Oklahoma City Thunder any more than having Antawn Jamison hang out with Metta World Peace would turn him into a defensive stopper.
It may seem like the Lakers are trying to live in the past with the team they've assembled, but sometimes the simplest solution is the best solution. After all, you can get a strike bowling granny-style if you know how to do it right.
This article is
What is the duplicate article?
Why is this article offensive?
Where is this article plagiarized from?
Why is this article poorly edited?

Los Angeles Lakers: Like this team?