One Advantage the Buffalo Bills Have over Each Division Foe in 2012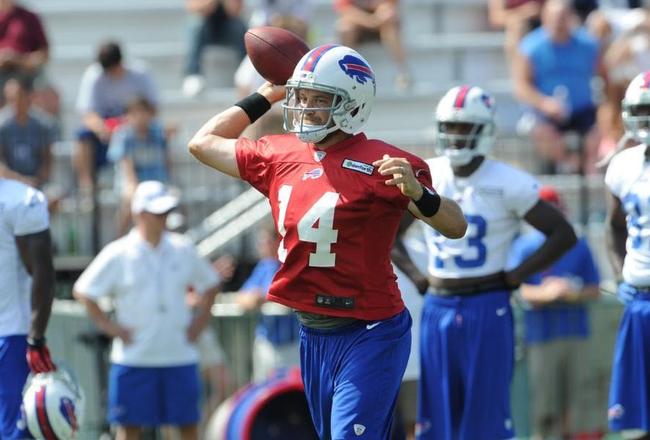 Ryan Fitzpatrick is set up for success in 2012 (photo courtesy of BuffaloBills.com)

The NFL's AFC East division has been a tough one in recent years. But even though the Buffalo Bills have struggled to keep pace with their division rivals for over a decade, the Bills hope to buck that trend in 2012.
The Bills have a lot of promise and positive momentum heading into the regular season. With improvements on defense and consistency on offense, they clearly have the ability to compete with the Miami Dolphins, New York Jets and New England Patriots.
In order to rule the league, teams have to rule their divisions first. The Bills haven't been able to do that in recent years. Over the past three seasons, Buffalo is a combined 4-14 against division opponents.
However, with a refreshingly deep roster, that could all start to change starting with this season.
While there are many reasons for Bills fans to be excited, this article discusses one advantage the Bills have over each of their division rivals heading into the upcoming 2012 campaign.
Miami Dolphins: Continuity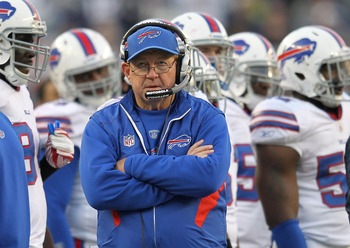 Head coach Chan Gailey enters his third season with the Bills.
Jim Rogash/Getty Images
The Miami Dolphins enter the 2012 season with some important changes to the staff. Joe Philbin takes over as the new head coach, while Mike Sherman and Kevin Coyle will serve as the new offensive and defensive coordinators, respectively.
Not only will this be Philbin's first year as Miami's new head coach, but it will also be his first stint as a head coach ever. Though he has over 20 years of coaching experience on his resume and comes from a prestigious organization in Green Bay, he's never been the head man in charge at any level.
This is not to suggest that these coaching changes will be negative for the Fins. But any time a team makes sweeping changes to these three critical positions, there's bound to be a learning curve for everyone involved in year one.
To make matters worse, the Dolphins still don't know who their starting quarterback will be for the regular season. Rookie Ryan Tannehill is not in the running, which means veterans David Garrard and Matt Moore are battling for the No. 1 job. Uncertainty at some positions is a common theme at this point of the offseason for NFL clubs. However, uncertainty at quarterback is a much more glaring issue.
To summarize, Miami has a new head coach, a new offensive coordinator, a new defensive coordinator and a big question mark at quarterback.
The Buffalo Bills, on the other hand, enter 2012 with much more continuity at these important spots. Ryan Fitzpatrick is entrenched as the starting signal-caller, and he enters his third season in head coach Chan Gailey's offense. Although Dave Wannstedt is the new defensive coordinator and will switch to a 4-3, he's already spent a year with Gailey in Buffalo.
Continuity is such a huge part of success in the NFL, and establishing it is hard to do. Buffalo has made strides the past few seasons and finally looks ready to capitalize. In this regard, the Bills certainly have an advantage over the Dolphins.
New York Jets: Quarterback Controversy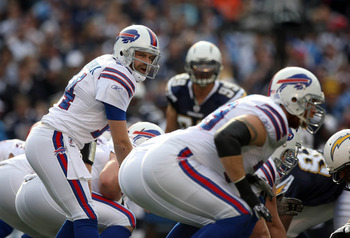 Fitz is the unquestioned leader of the Bills' offense.
Donald Miralle/Getty Images
There's a lot of mystique that comes with quarterback Tim Tebow, but with that mystique comes quite a bit of controversy.
When the Denver Broncos traded Tebow to the New York Jets for a fourth-round draft pick this offseason, that controversy immediately took the NFL world by storm. The spotlight burned even brighter on an already scrutinized Mark Sanchez, and the Jets' fanbase became split on the suddenly new quarterback battle.
That's good news for the Bills, who hope to capitalize on the chaos of their division foes.
According to Rich Cimini of ESPNNewYork.com, "Sanchez has outplayed Tebow after three practices, but that shouldn't come as a big surprise."
What also shouldn't come as a big surprise is that Tebow is quickly winning over his teammates, according to Cimini's report, as "he has impressed his new team with his work ethic and humble approach."
And therein lies the potential trouble for the Jets.
Tebow is indeed a polarizing figure, and the fact that he's now in New York puts even more attention on him. Fans witnessed his magic last season in Denver, and he essentially ran Kyle Orton out of town.
With the Jets, Tebow will similarly have his moments. And when he does, fans are going to chant his name. The result will not be a good one for Mark Sanchez, who now seems to be in a "can't win" situation.
Per FoxSports.com, Bills legend Jim Kelly addressed this issue in hopes of a New York meltdown, saying "he is wishing for 'so much turmoil in training camp' that all of a sudden the Jets' locker room 'is coming apart.'"
It's very probable that Tebow's presence will cause a major distraction for the Jets' entire organization. In fact, it pretty much already has.
The Bills and Jets square off in their season openers in the Meadowlands. For Buffalo, there would be no better time to see this quarterback controversy explode than in Week 1, as it hopes to bypass New York for good in the AFC East.
New England Patriots: Pass Defense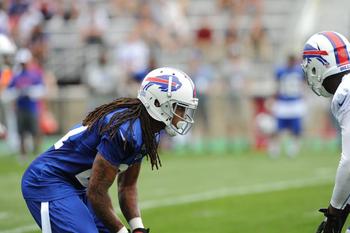 Rookie Stephon Gilmore at training camp (photo courtesy of BuffaloBills.com)
The New England Patriots will undoubtedly be better in the secondary in 2012 after allowing nearly 300 passing yards per game in 2011. But on the same note, so will the Bills.
Last season, the Pats struggled to defend the pass, finishing the year 31st in the league in passing yards allowed. To be fair, they were ahead in many ballgames, meaning other teams were forced to throw the ball more frequently. Nevertheless, New England still gave up a lot of yards through the air.
To correct this area, they added a couple of players to the secondary during the NFL draft in Tavon Wilson and Alfonzo Dennard. They also attempted to beef up their edge rush by drafting pass-rushing specialist Chandler Jones, linebacker Dont'a Hightower and defensive end Jake Bequette.
But Buffalo planned similarly.
Though the Bills finished the 2011 season a respectable 19th in the league with 232.1 passing yards allowed per game, they did so despite ever putting any pressure on opposing quarterbacks.
After finishing 2011 tied for 27th in the league with only 29 team sacks, the Bills made it clear they were going to strengthen their stagnant pass rush in 2012. Not only did they land pass-rushing monster Mario Williams, but they also signed away defensive end Mark Anderson from the Pats. That means New England loses his production (10 sacks, two forced fumbles last year) while Buffalo gains it.
The Bills also selected cornerback Stephon Gilmore in Round 1 of the 2012 NFL draft, who is reportedly earning "rave reviews" in camp, per ESPN's James Walker. With a strong pair of starting safeties and some quality depth taking root at corner, Buffalo's secondary is taking shape.
As evidenced by last season, this year's matchups between these two teams have the potential to be high-scoring affairs of the shootout variety. Having a dependable pass defense will be a major key in winning those games.
Now that Buffalo has a respectable pass rush, the secondary figures to make even more plays and allow fewer yards. If the Bills can utilize their newfound defensive strengths toward shutting down the Patriots' high-powered offense, the Bills may finally be able to take the division crown away from the defending AFC champs.
Keep Reading

Buffalo Bills: Like this team?