Penn State Penalties: Breaking Down the NCAA Sanctions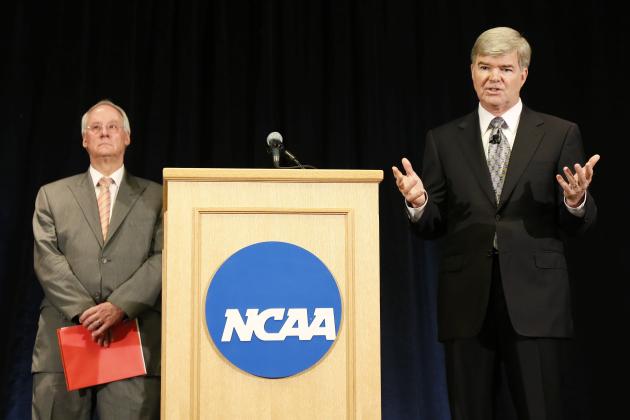 Joe Robbins/Getty Images

The worst NCAA punishment to ever befall a Big Ten football program—repeat: the worst ever for a Big Ten football program—was levied at Penn State this morning, with the NCAA announcing numerous sanctions against Penn State as a result of the Jerry Sandusky scandal and subsequent cover-up.
The one punishment not involved was the so-called "death penalty," which would have created a logistical nightmare for Penn State's scheduled opponents in case of a full-on suspension of Penn State's football program. That's not happening, and all of Penn State's scheduled games will be played.
That's the best news for Penn State: The football program survived. The condition of the program, however, is going to be terribly damaged for years to come.
Here's a breakdown of what the NCAA has imposed on Penn State.
Begin Slideshow

»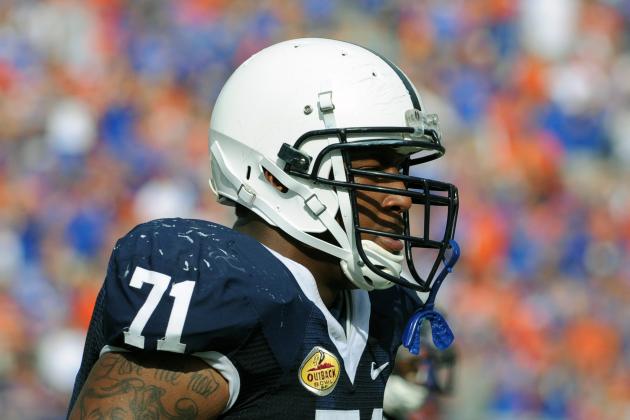 Al Messerschmidt/Getty Images

Nothing grabs attention quite like a large sum of money, and the NCAA dropped a bomb on Penn State in the form of a $60 million fine for Penn State's role in the cover-up, payable over five years.
The fine itself isn't completely ruinous—Penn State made $18 million in profits last season—but for the years ahead, Penn State's football program isn't going to be nearly the cash cow it used to be. This sanction could turn the athletic program into a money loser for years to come. And that's before the Big Ten takes any action toward the TV revenue.
The good news, at the very least, is that, according to the NCAA, the money is going "into an endowment for programs preventing child sexual abuse and/or assisting the victims of child sexual abuse."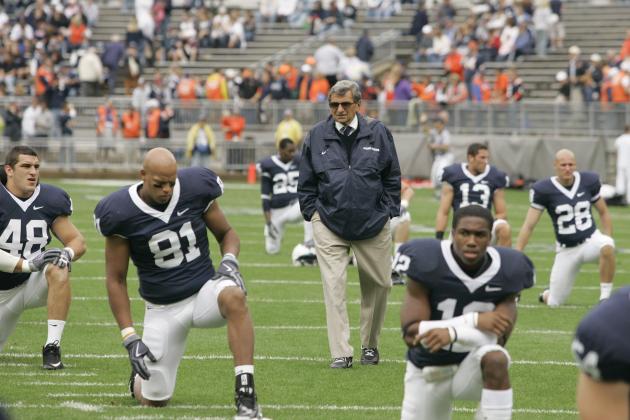 Chris Gardner/Getty Images

From a competitive standpoint, Penn State's football program is going to be crushed by a four-year ban on postseason play, which means no conference championships, no bowls, no bowl practices and certainly no eligibility for the championship playoff.
Essentially, Penn State's season is capped at 12 games no matter what, and while that type of sanction didn't cripple USC last year and doesn't figure to cripple Ohio State this year, the fact that this penalty will affect some players' entire careers of eligibility will probably affect numerous transfers—more on that in a bit.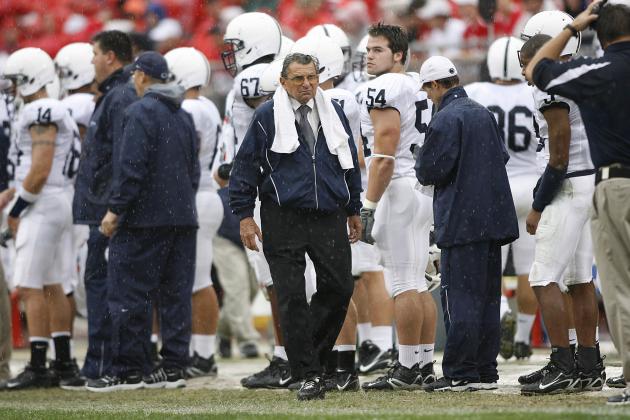 G. N. Lowrance/Getty Images

Compounding Penn State's misery over the next four years is the fact that the football program will be severely limited in its level of scholarship talent.
Here's how the NCAA describes this punishment:
For a period of four years commencing with the 2013-2014 academic year and expiring at the conclusion of the 2016-2017 academic year, the NCAA imposes a limit of 15 initial grants-in-aid (from a maximum of 25 allowed) and for a period of four years commencing with the 2014-2015 academic year and expiring at the conclusion of the 2017-2018 academic year a limit of 65 total grants-in-aid (from a maximum of 85 allowed) for football during each of those specified years. In the event the total number of grants-in-aid drops below 65, the University may award grants-in-aid to non-scholarship student-athletes who have been members of the football program as allowed under Bylaw 15.5.6.3.6.
Essentially what this means is that starting with the upcoming recruiting class, Penn State is limited to 15 scholarships a year. Starting with the year after that, Penn State can only have 65 scholarship players on its entire roster, and each of those sanctions lasts for four years.
Yes, we see you doing the math in your head—four years of 15-player classes means 60 scholarships, not 65. So the NCAA is allowing scholarships for walk-ons to help get PSU up to 65.
Yep. Games against a team like that could get ugly.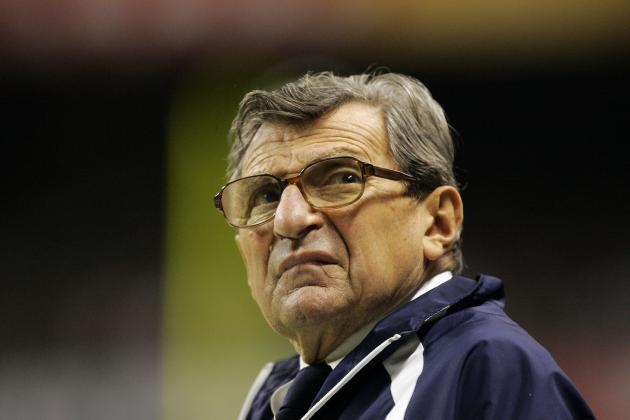 Brian Bahr/Getty Images

It's extremely unlikely that Penn State's athletic department is going to run afoul of NCAA regulations in the near future. But just to make sure everything's up to par in Happy Valley, the NCAA has imposed a five-year probation on Penn State.
This isn't a passive punishment. As the NCAA notes, it includes "an on-campus, independent Integrity Monitor and periodic reporting as detailed in the Corrective Component of this Consent Decree."
The NCAA also warns of "additional, more severe sanctions" if this probation is violated. The mind shudders at what that could entail short of the death penalty.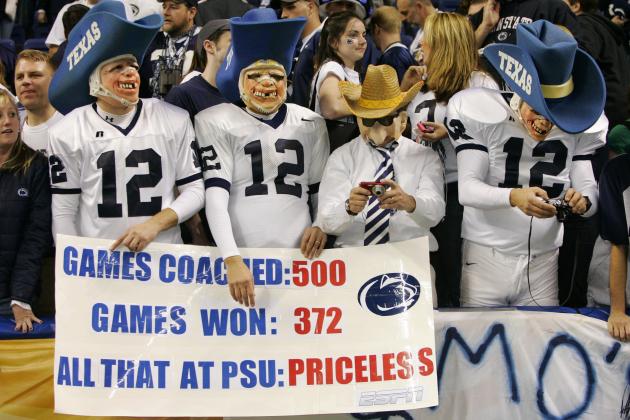 Brian Bahr/Getty Images

Penn State will vacate all wins since the first allegation of misconduct by the athletic department in 1998. This means Joe Paterno is no longer anywhere near the all-time Division I wins record, now held once again by Grambling's Eddie Robinson.
All in all, Penn State vacates a whopping 112 wins in this scenario, 111 of which belong to Paterno.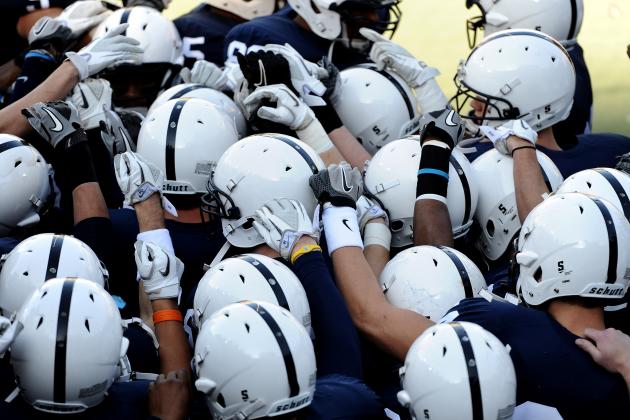 Patrick Smith/Getty Images

One of the most potentially ruinous sanctions is a waiver of transfer rules, which means the usual one-year penalty of eligibility whenever someone transfers within the FBS is now no longer applied.
Essentially, scholarship athletes are now allowed to flee Penn State with impunity, and as soon as those athletes declare their intent to transfer, it is open season.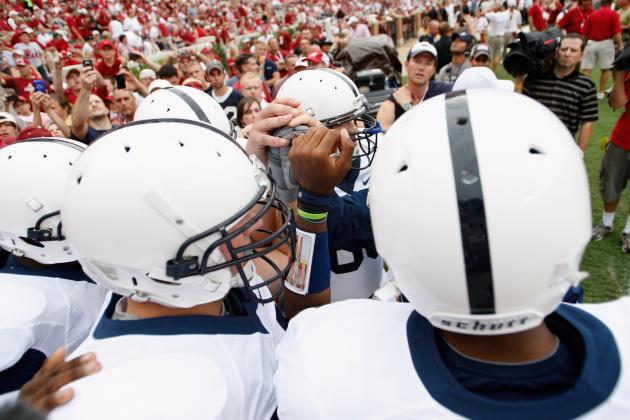 Kevin C. Cox/Getty Images

The Penn State athletic program now has a narrow line to toe for the next few years in terms of integrity and NCAA compliance, and failure to toe that line carries massive consequences.
We'll let the NCAA describe the full extent of its corrective measures in the Athletics Integrity Agreement (what it calls the AIA) that Penn State has agreed to:
Compliance Officer for Athletics. Establish and select an individual for a position of a compliance officer or equivalent who is, at a minimum, responsible for the ethical and compliance obligations of the athletics department.
Compliance Council. Create a Compliance Council (or Council Subcommittee) composed of faculty, senior university administrators and the compliance officer for athletics, which shall be responsible for review and oversight of matters related to ethical, legal and compliance obligations of the athletics department.
Disclosure Program. Create a reporting mechanism, including a hotline, for named or anonymous individuals to disclose, report or request advice on any identified issues or questions regarding compliance with (i) the AIA; (ii) the athletics department's policies, conduct, practices or procedures or (iii) the NCAA Constitution, bylaws or the principles regarding institutional control, responsibility, ethical conduct and integrity reflected in the Constitution and bylaws.
Internal Accountability and Certifications. Appoint a named coach, manager or administrator for each of the university's NCAA-sanctioned intercollegiate athletics teams who shall be assigned to monitor and oversee activities within his or her team and shall annually certify to the Compliance Council that his or her team is compliant with all relevant ethical, legal, compliance and university standards and obligations.
External Compliance Review/Certification Process. The athletics director shall annually certify to the Compliance Council, the board of trustees and the NCAA that the athletics department is in compliance with all ethical, compliance, legal and university obligations. If the department fails to earn a certification, the board of trustees ( or subcommittee thereof) or an appropriate university administrator shall take appropriate action against the athletics department, including the possibility of reduction in athletics funding.
Athletics Code of Conduct. Create or update any code of conduct or the athletics department to codify the values of honesty, integrity and civility.
Training and Education. In addition to Chapter 10, Section 5.5 of the Freeh Report, require all student-athletes and university employees associated with the athletics department, including faculty and staff to complete a yearly training course that addresses issues of ethics, integrity, civility, standards of conduct and reporting of violations. Each person who is required to complete training shall certify, in writing, that he or she has received such training. All training shall be overseen by the Compliance Council. The board of trustees also should receive training and education on these issues, including its relationship, role and responsibilities regarding the athletics program.