Ricardo Williams Jr. and Boxing's Biggest Prospect Flops of All Time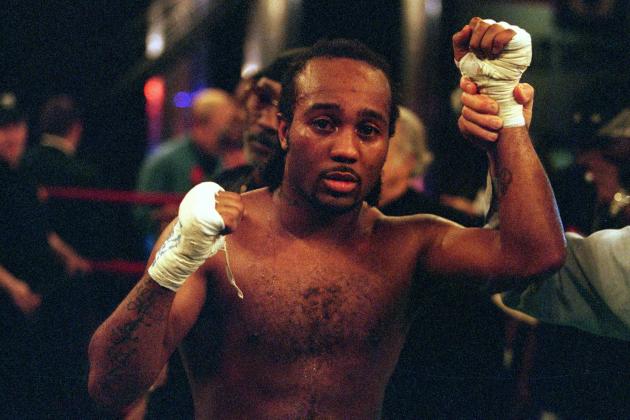 Al Bello/Getty Images

The sporting public's fascination with busts is disturbing but understandable. To magnify and constantly remind a "bust" of his/her failures seems like slow and meticulous torture, and there is no shortage of lists, rankings and message boards that debate who the biggest busts are in every conceivable sport.
The interest in prospect flops does make sense. How can an athlete who was once so heralded and dominant not excel at the professional level (or, in some cases, even in college)?
Busts can derail a franchise's rebuilding process and break the hearts of fans, and that's without even delving into the personal psychological damage to the prospect in question.
Boxing, however, is somewhat unique in how prospects are developed. Given the scope of amateur boxing, fans will generally not see a prospect fight until they have turned professional, unless they have participated in the Olympics (and even catching televised Olympic boxing has become increasingly difficult).
While an NFL fan will generally have three to four years to form a well-founded personal assessment of an NCAA draft hopeful, boxing fans and writers are often subjected to the dubious salesmanship of promoters regarding who the top amateur prospects are.
Also, the current disconnect between amateur and professional boxing does not guarantee that an Olympic or World Amateur Champion will have success in the paid ranks. Much has to do with a fighter's style, how they are matched and whether they have the genuine dedication and focus to succeed.
Oh, and don't forget about the fact that any fighter is at the mercy of that one potentially fight-altering punch. The variables for success in boxing are so extreme that nearly every fighter's career hangs in the balance from fight to fight.
With that, let's look at a list of some memorable boxing prospect flops. Some were downright disappointing, while others simply did not/have not achieved the success imagined for them after turning pro; nevertheless, all of them carry their own unique stories of hope and frustration.
Begin Slideshow

»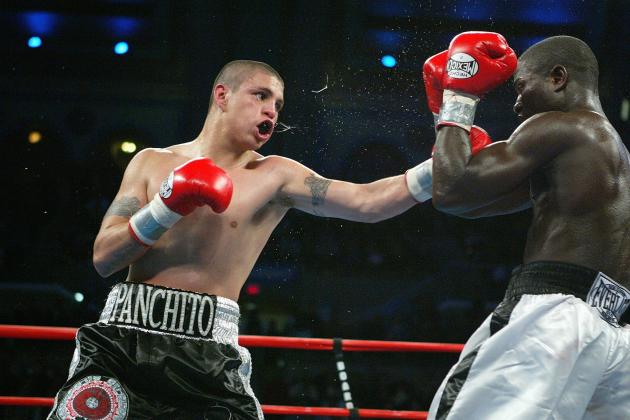 Al Bello/Getty Images

No list of boxing prospect busts is complete without mentioning Francisco Bojado (18-3, 12 KO). As a 2000 Mexican Olympian, Bojado turned pro under the guidance of Shelly Finkel and signed a multi-fight deal with Showtime.
Bojado's sensational amateur career, however, did not translate to expected professional success. Despite possessing quality power in both hands and an aggressive, crowd-pleasing style, Bojado's lackluster training habits and fluctuating weight led to a series of underwhelming performances.
Despite his ultimate failure to achieve professional success, Bojado started his career with nine consecutive knockouts, all of which came inside of three rounds. In his 10th pro fight, Bojado stumbled in losing to veteran Juan Carlos Rubio.
After winning seven consecutive fights, including a rematch against Rubio, Bojado lost a split decision to an aging Jesse James Leija.
Bojado's career, up to that point, had been nothing short of underwhelming, despite flashes of power and brief moments of brilliance. Two consecutive non-descript wins would follow after Bojado's lame-duck performance against Leija, but the third act of Bojado's career tragedy would be even shorter lived.
In 2007, Bojado lost to former titlist and current gatekeeper Steve Forbes in what has thus far been the last fight of his career. Since then, Bojado has dealt with a slew of legal problems, and his career seems all but finished. That said, Bojado is still only 29, so who knows?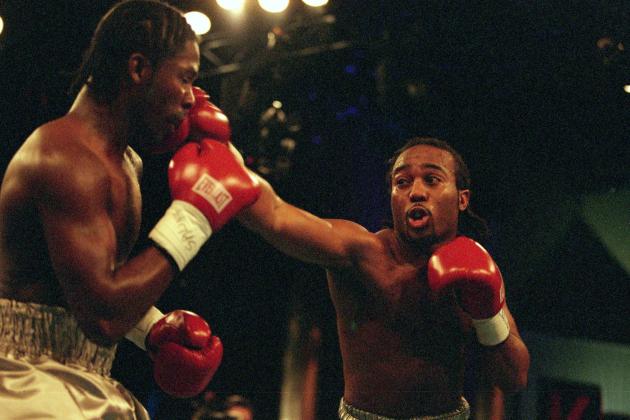 Al Bello/Getty Images

Ricardo Williams Jr. (19-3, 10 KO) was thought to be the best U.S. prospect to come out of the 2000 Olympics, where he won a silver medal as a light welterweight. In fact, Williams' blue-chip, championship potential seemed so pre-ordained that promoter Lou DiBella prematurely rewarded him with a $1.4 million professional signing bonus.
Williams won his first eight fights (with one no-contest) before stunningly losing to journeyman Juan Valenzuela. After a non-descript comeback win, Williams was again shockingly defeated when he lost a lackluster split decision to Manning Galloway, whose reign as a welterweight titlist had ended in 1993, nearly seven years before Williams won his Olympic silver medal.
After winning another comeback fight to run his bitterly disappointing professional record to 11-2 in nearly five years since the Sydney Olympics, Williams' real problems began.
In 2005, Williams was convicted of conspiracy to distribute cocaine in his native Cincinnati, and he was sentenced to three years in prison, of which he served 31 months. With such an extended incarceration, Williams' chance at stardom, or even relevance, seemed to have vanished.
However, upon his release, the then-27-year-old Williams still had relative youth on side, as well as an abundance of thus-far-squandered natural gifts lurking somewhere within his soft midsection.
Williams won nine fights in a row against limited opposition before getting knocked down three times on route to being stopped by Carson Jones in the fourth round of a clash for the USBA welterweight title in his last bout.
Williams has not fought since, and his fluctuating weight and poor work ethic serve as a cautionary tale to all heralded boxing prospects.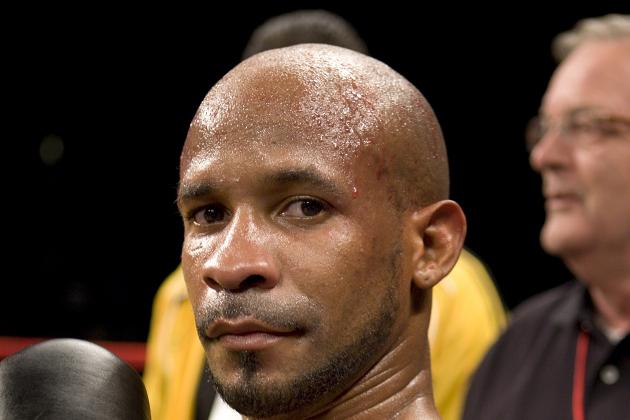 Image courtesy of starboxing.com
In 2006, Yan Barthelemy (12-3, 4 KO) defected from Cuba alongside teammates and current pros Yuriorkis Gamboa and Odlanier Solis during a training camp in Venezuela. The high-profile trio fled to Germany, where they signed with Arena Box-Promotions.
Before defecting, Barthelemy had been part of the powerhouse Cuban amateur boxing squad, where he won gold medals at the 2001 World Amateur Boxing Championships and 2004 Olympics. As a skilled and standout amateur, Barthelemy, because he turned pro at 27, was expected to move quickly.
Barthelemy, however, has been middling at best, especially when compared to the teammates he defected with. For instance, despite putting on excessive weight and suffering a severe knee injury in losing to Vitali Klitschko in a title fight, Solis has had some success as a heavyweight, and Gamboa, of course, is poised to become one of boxing's biggest stars in the smaller weight classes once his promotional dispute is resolved.
Barthelemy won his first six fights against limited opposition, and he was unable to record a stoppage during that stretch. In his seventh pro fight, Barthelemy lost to Ernie Marquez, who sported a 6-4 record at the time.
After two consecutive wins, Barthelemy was iced in the sixth round by prospect Jorge Diaz, and he recently had a modest four-fight winning streak halted by the undefeated Sahib Usarov.
While Barthelemy has improved, his best hope, at 32, is to become a viable gatekeeper.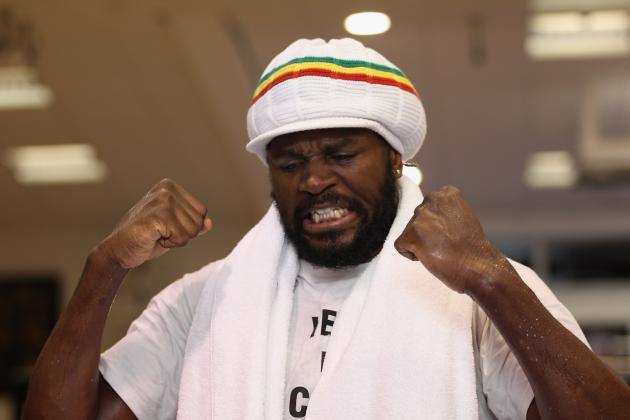 Alex Livesey/Getty Images

At one point, for reasons that outrun rationality, I rooted for Audley Harrison (28-5, 21 KO) to prove his abundance of critics wrong. The man who has been called "Fraudley" and "A-Farce" often because of his unflinching self-belief and boisterous proclamations, has drawn the ire and disdain of both fans and writers.
Still, one has to admire Harrison's willingness to expose himself—flaws and all. Before Harrison became the object of public derision, he was exalted for winning the super heavyweight gold medal when he represented Great Britain at the 2000 Olympics.
As the UK's first gold medalist at that marquee weight, Harrison, at 6'5.5 and weighing in at around 255 pounds was pegged as a future star and potential heir apparent to Lennox Lewis. Harrison signed a high-profile deal with the BBC to televise his bouts, but his progress waned and the network eventually dropped boxing.
Harrison's first defeat came via split decision to Danny Williams in a Commonwealth title fight, and this setback was followed by a unanimous decision loss to the also-underwhelming Dominick Guinn.
After winning two comeback fights, Harrison was pole-axed and stretched by Michael Sprott, and everyone but Harrison assumed that his career was over.
Harrison would again mount a comeback and lose to taxi driver/boxer Martin Rogan, before parlaying a miraculous, final round, come-from-behind left hook knockout of Michael Sprott for the European strap into a title shot against then-WBA titlist David Haye.
In one of the most embarrassing performances in a heavyweight title fight in the history of boxing, Harrison landed nary a jab before being stopped in the third round in what amounted to a joke of a fight.
Harrison, however, is again on the comeback trail, and he was last seen defeating Ali Adams in four rounds.
At 40 but still carrying name recognition, look for Harrison to become cannon fodder for David Price or Tyson Fury.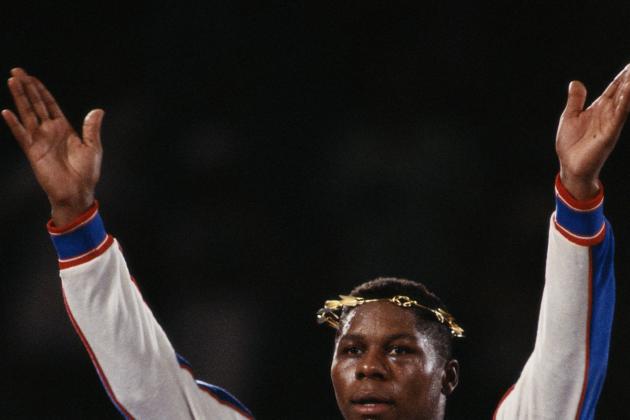 Getty Images/Getty Images

Tyrell Biggs (30-10, 20 KO) won the 1982 World Amateur Championships, a feat that propelled him to super heavyweight gold at the 1984 Olympics in Los Angeles. Biggs was part of a stacked U.S. team that included Pernell Whitaker, Evander Holyfield and Meldrick Taylor.
Biggs won his first 15 professional fights, and at 6'5 with a strong amateur background, appeared poised to win a title at some point.
Of course, Biggs' 16th professional fight was a high-profile heavyweight championship bout against Mike Tyson for the WBA, WBC and IBF titles. Biggs was stopped in the seventh round and never again challenged for a major title.
Despite remaining a contender, Biggs was later stopped in consecutive fights by Riddick Bowe and Lennox Lewis. As an amateur, Biggs had defeated Lewis in the quarterfinals of the 1984 Olympics, and this trend of unpaid success never quite translated to his 14-year career as a professional boxer.
Given his earlier accomplishments, Biggs' inability to capture a title has to be viewed as a disappointment.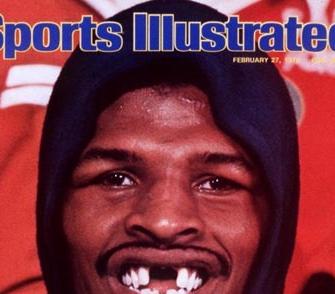 Image courtesy of guyism.com
It is rare to see a former unified heavyweight champion on a list of prospect busts, but Leon Spinks (26-17-3, 14 KO) fits the bill due to his meteoric fall from grace.
Spinks won a bronze medal at the inaugural World Amateur Boxing Championships in Havana in 1974, and he carried this momentum into the 1976 Olympics in Montreal where he was a key member of arguably the greatest boxing team the U.S. has ever fielded.
Spinks won gold as a light heavyweight in '76 alongside the likes of his brother, Michael, Howard Davis Jr. and "Sugar" Ray Leonard.
As a pro, Spinks seemed destined for glory when he upset a 36-year-old Muhammad Ali to capture the WBA and WBC heavyweight titles in what amounted to a significant upset and became Ring magazine's 1978 fight of the year.
However, after his win over Ali, Spinks' career went into a freefall from which he was never able to recover. Spinks lost to Ali in the immediate rematch, and he also lost a bid for the WBA cruiserweight title against Dwight Muhammad Qawi.
Before campaigning as a cruiserweight, Spinks again fought for the heavyweight title in 1981 and was stopped by Larry Holmes.
While he did capture a few regional titles, Spinks lost almost all of his significant fights after the triumph over Ali, which certainly came as a surprise given that he had won the heavyweight title in only his eighth career fight.
While Spinks was homeless for a while, it seems he has gotten his life together, and he can be seen in the corner of his son, Cory, a current fighter and former champion.
This is certainly positive, though given the success of Spinks' brother, Michael, as both an amateur and professional, "Neon Leon" still has to be viewed as a talented boxer who never lived up to his potential.
That said, he did give us that iconic, gap-toothed grin.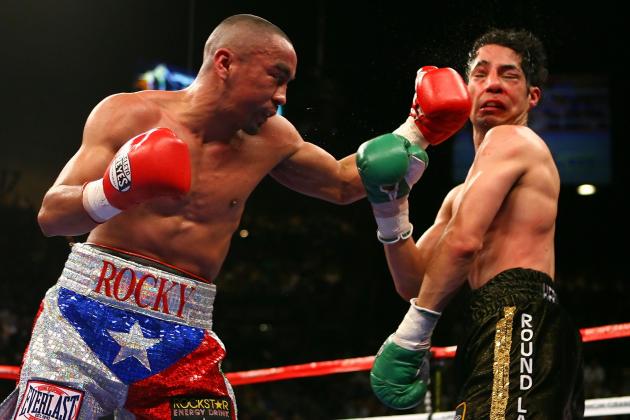 Al Bello/Getty Images

How could you not root for Rocky Juarez (28-10-1, 20 KO)? As a tough and skilled boxer, the compact Juarez won a silver medal as a featherweight for the U.S. at the 2000 Olympics in Sydney.
Before his Olympic success, Juarez had captured gold at the 1999 World Amateur Championships in Houston, and his amateur success seemed to guarantee a long and successful professional career.
Of course, Juarez has been a top contender for most of his career, but he was never able to capitalize on his opportunities. It is hard enough to get a second, let alone third chance in boxing, yet Juarez has defied all conventions and odds by fighting for world titles a miraculous six times!
The problem? Juarez's record in title fights is 0-5-1 (one bout being for an interim title).
For a World Amateur Champion and Olympic runner-up, such a record has to be bitterly disappointing, and while Juarez has lost to some elite fighters—Chris John, Marco Antonio Barrera and Juan Manuel Marquez come to mind—the fact remains that he has not been able to win when it's counted most.
Unfortunately for Juarez—at 32 and having lost his last six fights—he seems to have regressed to gatekeeper status, and given his durability, one can only hope that he doesn't fight for too much longer if he keeps losing.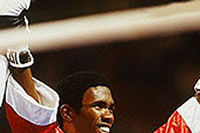 Image courtesy of prlog.org
In the Olympic preview issue of The Ring, the 1976 U.S. Olympic team, which won seven total medals, is ranked as the greatest American squad to ever compete at the Games.
More telling, however, might be the final line of the blurb on the boxers from '76, which reads, "Gold also went to Howard Davis, who at the time was almost as popular as [Sugar Ray] Leonard."
Howard Davis Jr. (36-6-1, 14 KO) won a gold medal at the inaugural World Amateur Championships in Havana, and he also captured top honors at the '76 Olympics in Montreal.
Despite being on the same team as Ray Leonard, it was in fact Davis who won the Val Barker Trophy as the most outstanding boxer at the Games.
Given his success and fanfare, it seemed a foregone conclusion that Davis would go on to have an illustrious professional career. To Davis' credit, he did compile an impressive record, was a long-time top contender and also fought quality opposition.
Still, Davis was unable to get over the hump, and he went 0-3 in world title fights. Davis challenged Jim Watt for the WBC lightweight title in his 14th professional fight and lost a unanimous decision.
After running his record to 26-1, Davis challenged Edwin Rosario for the WBC lightweight title (again), losing via split decision.
Of course, had Davis not been knocked down in the second and, more importantly, in the 12th round, he would have been a world champion.
In Davis' last shot at a world championship, Buddy McGirt stunningly knocked him out in the first round in a bid for the IBF light welterweight title. Davis retired after the fight, and while he did mount a comeback several years later, his days as a relevant fighter were over.
Davis was a good pro, but something akin to greatness was expected.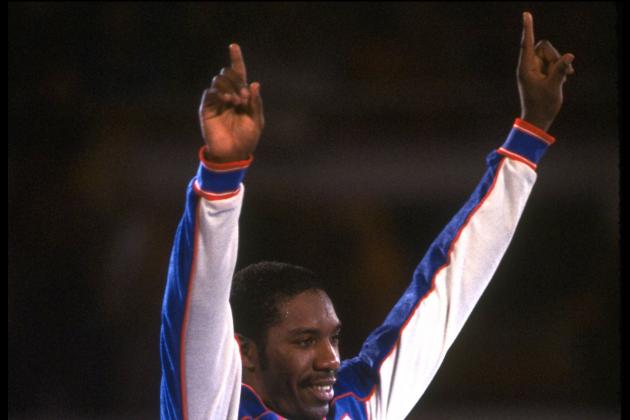 Getty Images/Getty Images

In many high-profile cases, the discrepancy between professional and amateur success is glaring, and such is the case with Henry Tillman (25-6, 16 KO).
As an amateur, Tillman won heavyweight gold at the Los Angeles Olympics in 1984. Perhaps even more impressive is that Tillman twice defeated Mike Tyson as an amateur, which, combined with his Olympic triumph, represents the height of his success as a boxer.
Tillman spent the first part of his professional career campaigning as a cruiserweight, and he was able to capture the NABF title, which he lost in his first defense to Bert Cooper.
Despite the setback, Tillman reeled off four consecutive victories to secure a shot against then-WBA cruiserweight champion Evander Holyfield, who was Tillman's Olympic teammate.
Tillman succumbed to Holyfield via TKO in the seventh round (a three knockdown rule was in effect), and the loss exposed Tillman's fragile chin, which would plague him in most of his subsequent meaningful fights.
Later, Tillman lost to Willie de Witt, whom he had beaten for gold in Los Angeles, and this disappointment—after a modest three fight winning streak—was followed by a first-round knockout loss to Mike Tyson in "Iron" Mike's comeback bout after losing to Buster Douglas.
Ultimately, Tyson had the last word against Tillman, who would go on to fight in relative obscurity until the end of his career in 1992.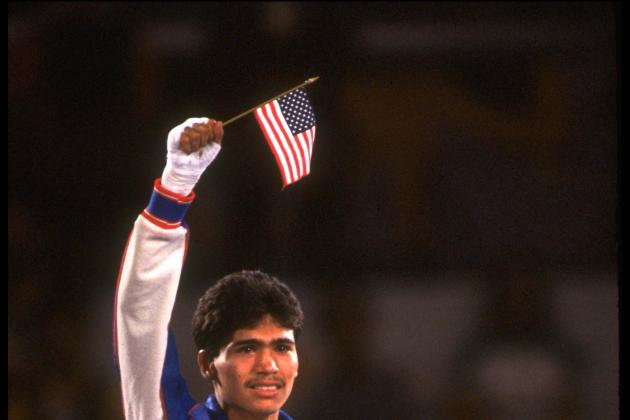 Alvin Chung/Getty Images

The 1984 U.S. Olympic team won 11 medals, and despite the Soviet Union and Cuba's boycott of the Los Angeles Games, the strength of the team was obvious.
Despite all the star power and future professional success from the likes of Pernell Whitaker and Evander Holyfield, it was light flyweight gold medalist Paul Gonzales (16-4, 3 KO) who captured the Val Barker Trophy as the Games' most outstanding boxer.
Gonzales started fast as a professional, and he fought a 12-round bout in only his third professional outing, and it was at this ridiculously early juncture that he captured the NABF flyweight title. After cruising to an 8-0 start to his career, Gonzales was upset in his ninth pro fight by Ray Medel in a bid for the USBA flyweight title.
Gonzales regrouped to win six consecutive fights—including his only three stoppage wins as a pro—which set up an IBF bantamweight title shot against Orlando Canizales. Gonzales was stopped on cuts in only the second round, and he would never challenge for a world title again.
He would finish his underwhelming professional career riding a 2-2 stretch against generally weak opposition.
Perhaps it was a lack of power, or maybe he was moved too quickly; either way, Gonzales, especially when compared to the success of some of his 1984 teammates, never lived up to his promise.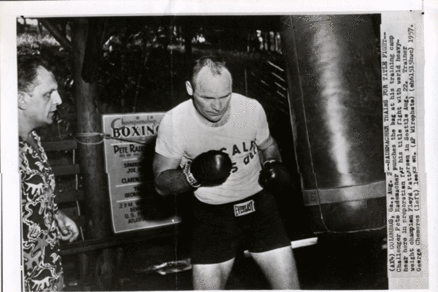 Image courtesy of josportsinc.com
Pete Rademacher (15-7-1, 8 KO) is one of the most curious cases in boxing history. Rademacher had an outstanding amateur career and won heavyweight gold at the 1956 Olympics in Melbourne.
After winning gold, Rademacher boasted that he could win the World Heavyweight Title in his first professional fight, which set the stage for a showdown with 1952 gold medalist and then-heavyweight champion Floyd Patterson after Rademacher had done the necessary legwork.
To this day, Rademacher has the distinction of being the only man to fight for the World Heavyweight Title in his first professional bout. While this is undoubtedly impressive, the result was certainly not what Rademacher had in mind, and despite knocking Patterson down in the second round, Rademacher ended up being stopped in the sixth after being floored six times.
In his second professional fight, Rademacher was knocked out in the fourth round by Zora Folley, who would famously lose to Muhammad Ali before "The Greatest" was sentenced to three years in prison.
Despite starting his career 0-2 against lethal opposition, Rademacher did score quality wins over George Chuvalo and former World Middleweight Champion Carl Bobo Olson.
Still, Rademacher was stopped by the likes of Archie Moore, Karl Mildenberger, Doug Jones and Brian London. Considering he fought for a world title in first professional bout, the fact that Rademacher never again challenged for a title is somewhat disappointing.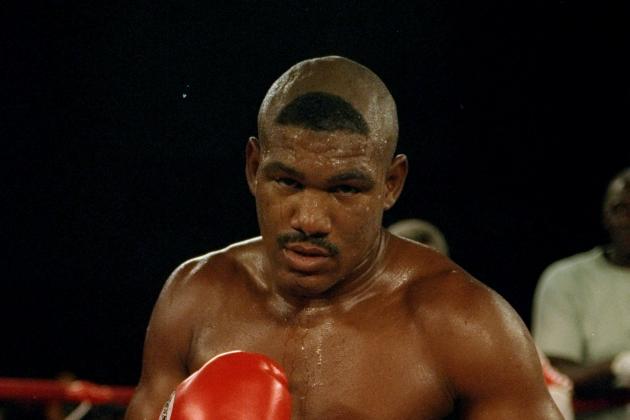 Al Bello/Getty Images

Ramon Garbey (19-4, 13 KO) defected from the Cuban national team with Joel Casamayor on the eve of the 1996 Olympic Games. While Casamayor would go on to have an excellent professional career, it was Garbey who was pegged for stardom, compared to Cuban legend Teofilo Stevenson and first signed by promoter Bob Arum.
Of course, Casamayor and Garbey would embark on wildly different career paths.
Before Garbey floundered as a professional, he was a standout amateur. Garbey won bronze at the World Amateur Championships in 1991, and bested that result by winning gold in 1993. This success, however, did not translate to the pro ranks, and poor training habits, alcohol abuse and womanizing, as alluded to in the above-cited article, plagued Garbey.
Garbey reeled off 14 consecutive wins to start his career, which was disappointingly followed by a three-fight losing streak. During that stretch, Napoleon Tagoe, James Toney and Fres Oquendo all defeated Garbey by decision.
Garbey was able to capture some minor titles during a three-fight winning streak, but whatever momentum he'd established came to a crashing halt when he lost a decision to Kendrick Releford, who was 9-4-1 at the time.
The loss to Releford effectively ended Garbey's career, though he did have two more bouts, the last one being in 2009.
If Garbey's peak years weren't underwhelming enough already, consider that his final bout in 2009 was a four-rounder against an opponent who then sported an 11-8-1 record.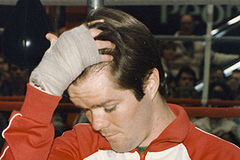 Image of Shawn O'Sullivan courtesy of en.wikipedia.org
While this slideshow has thus far focused on the more high-profile cases of boxing prospect busts, here is a short list of some lesser-known fighters who carried promise but never lived up to their potential.
Michael Bennett (10-4, 8 KO)
Bennett won the World Amateur Championships as a heavyweight in 1999, and he also represented the U.S. at the 2000 Olympics, where he lost to Felix Savon of Cuba. Despite his brilliant amateur career, Bennett's brief run as a professional (2001-2003) was staggeringly awful.
Bennett clearly had a glass jaw, and all four of his losses came via knockout. Furthermore, three of these knockout losses were to opponents who had respective records (at the time) of 3-4-1, 7-2 and 5-1. Strange stuff.
Dante Craig (19-12-1, 14 KO)
The members of the 2000 U.S. Olympic team have not fared well in the professional ranks, and Dante Craig is a prime example of this underachievement. Craig fought in the Olympics as a welterweight, and he also won the 1999 National Golden Gloves.
As a pro, Craig has exhibited little-to-no punch resistance, and of his 12 losses, 10 have come via knockout. Craig has never threatened to challenge for a title, and, at 33, he continues to fight on in obscurity.
Shawn O'Sullivan (23-5, 16 KO)
O'Sullivan won a gold medal for Canada at the 1982 Commonwealth Games, which was followed by a silver medal performance at the 1984 Olympics in Los Angeles. O'Sullivan's light middleweight bout against Frank Tate was seen as controversial, and many thought the Canadian deserved gold.
Still, O'Sullivan was unable to parlay his Olympic success into professional stardom. While he did score some decent wins, he was never able to capture a minor, let alone world title, and he lost to the likes of Alex Hilton, Donovan Boucher and Luis Santana.
Egerton Marcus (17-4-1, 12 KO)
Canada does not often win Olympic boxing medals, so when Egerton Marcus won silver as a middleweight in 1988, it naturally led to expectations of professional success. While Marcus did have a solid run as NABF light heavyweight champion, he was never able to capture a world title.
He challenged Henry Maske for the IBF light heavyweight title in a rematch of the 1988 Olympic final, and after losing, Marcus moved up in weight and was never as effective.
Rock Allen (15-0, 7 KO)
It is certainly rare to find an undefeated boxer on a list of prospect busts, but such is the case with the enigmatic Rock Allen. As a 2004 U.S. Olympian and former National Amateur and Golden Gloves Champion, much was expected from Allen as a professional.
Allen, of course, is the son of renowned trainer Naazim Richardson, but this connection was unable help him progress as a pro.
Despite holding a 15-0 record, Allen never moved past eight-round fights, and he has been inactive since 2009. Allen was involved in a car accident in 2011, and my hope is that he has fully recovered, whether he fights again or not.
The Chin-Checkers: Jaidon Codrington (20-3, 16 KO) and Curtis Stevens (22-3, 16 KO)
Codrington and Stevens were heavily hyped New York prospects who were knocking out foes left and right at the beginning of their professional careers.
In his 10th pro fight, Codrington was brutally knocked out in 18 seconds by Allan Green, though he did gain some measure of redemption by participating in The Contender TV show and losing a thrilling bout in the finals to Sakio Bika.
Codrington has since become a police officer, and he lost his last fight via first-round knockout to Rakhim Chakhkiev.
Stevens has not fared much better as pro. Stevens' first loss came to journeyman Marcos Primera, and while he did avenge the defeat in his next fight, Stevens' career has been marred by underwhelming performances.
His other two losses have come to Andre Dirrell and Jesse Brinkley, the latter occurring in 2010. Stevens returned to action this year and won his comeback bout, but given the hype both he and Codrington received, their careers have left much to be desired.