Dwight Howard Trade Imminent as Suggested by Twitter Rumblings?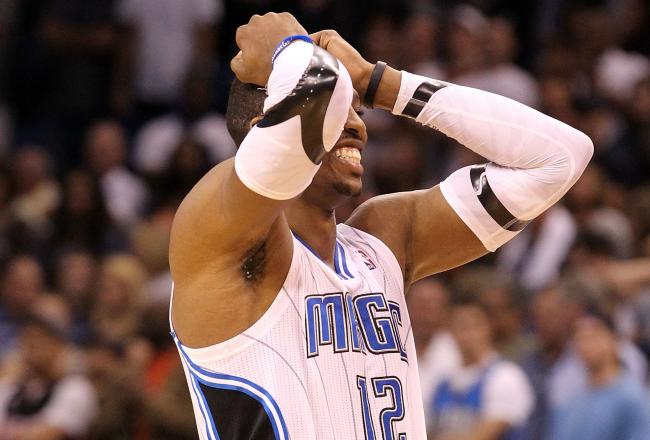 Sam Greenwood/Getty Images
Over the past two days, Dwight Howard trade rumblings have somewhat died down ever since reports surfaced the Brooklyn-Orlando blockbuster deal had collapsed.
But that may have all changed with the most recent observations that are anything but a coincidence.
Eric Pincus of HoopsWorld had this to say via Twitter.
The @HoustonRocketsnow follow @hidoturkoglu15 now as well - all in good fun i'm sure, right?

— Eric Pincus (@EricPincus) July 13, 2012
This was followed by an even more startling observation as noted by RealGM on Twitter.
As has been pointed out by others, the official Twitter feed of the Rockets now follows Dwight Howard, Glen Davis, Chris Duhon and J-Rich.

— RealGM (@RealGM) July 13, 2012
Recently, RealGM also tweeted the following information:
Lakers Willing To Take Jason Richardson In Deal For Dwight Howard -- tinyurl.com/cfobvem

— RealGM (@RealGM) July 11, 2012
Rockets To Amnesty Luis Scola ($21M Over Three Seasons Owed) -- tinyurl.com/c2m6nfh

— RealGM (@RealGM) July 12, 2012
So, what can be concluded from all of this?
It was recently reported by ESPN that the Lakers and Rockets had emerged as suitors to land Howard in Los Angeles as part of a three-team deal.
While the specifics on exact players remain unclear, it is well documented that Andrew Bynum would depart for Houston, Howard would head out to L.A and Orlando would be provided with a cluster of young talent and draft picks, along with salary-cap relief.
The Rockets' reported amnesty of Luis Scola shows their willingness to take back one or more of Orlando's bad contracts.
When will Dwight Howard be traded?
With Andrew Bynum listing Houston as a potential long-term destination, and the Lakers' willingness to take on the risk of acquiring D12, it seems as if these two teams may have the necessary components in place to create an NBA roster shakeup.
Is this trade on the verge of happening? Since when do teams follow players on Twitter that aren't a part of the current roster? Well, maybe teams do follow other players, but to follow a group of players reported in a rumored trade only raises the Dwight Howard trade speculation to new heights.
As basketball fans wait for a resolution to this never-ending Dwight Howard soap opera, the recent Twitter rumblings suggest something may be taking shape.
ESPN reported earlier today that new Orlando Magic General Manager Rob Hennigan pleaded with Howard to stay, arguing the fact that he was ushering in a new era of Magic basketball. But Dwight's stance remained the same: Trade me now.
The signs of the times are here, folks. Howard will be dealt; it is only a matter of when and where.
The Decision II has been the sequel nobody wanted to see. For the sake of basketball's credibility and sanity, let's hope this episode does not have a long list of ending credits. I'm just dying to throw my popcorn in the trash.
This article is
What is the duplicate article?
Why is this article offensive?
Where is this article plagiarized from?
Why is this article poorly edited?