Formula 1: British Grand Prix 2012 Thoughts, Preview and Predictions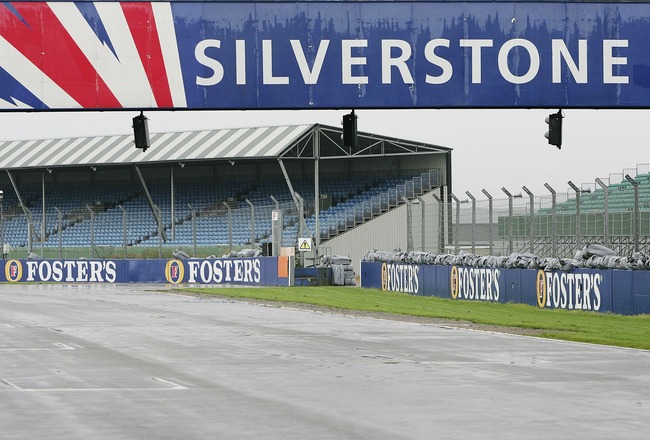 Mark Thompson/Getty Images
After a truly memorable race in Valencia (never thought I'd write that), this weekend sees the Formula 1 circus descend upon Silverstone for the British Grand Prix.

Back in 1950, Silverstone hosted the first race of the very first Formula 1 World Championship. In 2012, it's the ninth round.

Fernando Alonso broke the sequence in Valencia, becoming the first driver to win a second race this season. The Spaniard's home win has given him a handsome cushion in the drivers' championship, as top rivals Lewis Hamilton and Sebastian Vettel failed to score.

Both men will be looking to make amends and start to close the gap on Sunday.

But while there is a race this weekend, the first thoughts of the F1 world are with Maria de Villota and her family, as she begins the road to recovery after suffering horrific injuries during a testing accident earlier in the week.

Get well soon, Maria.
Tyres and DRS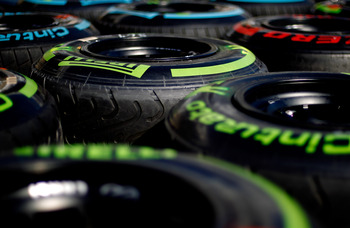 Vladimir Rys/Getty Images
Pirelli will be providing the teams with the yellow-marked soft and silver-marked hard tyres this weekend.
Leaving a space between the two compounds (medium sits between them) should result in a greater difference between the two sets, and could push all the teams down a very similar strategic road.
If it stays dry, that is. This weekend, we should take extra care to look out for the brightly marked green intermediate and blue full wets.
DRS
The single DRS zone will be exactly the same as last year, utilising the newer section of the track. Detection will be just before Village (Turn 3), and activation will be soon after the Loop (Turn 4).
Aintree (Turn 5) will be taken with the DRS flap open, and the zone ends with braking for Brooklands (Turn 6).
Super Bulls?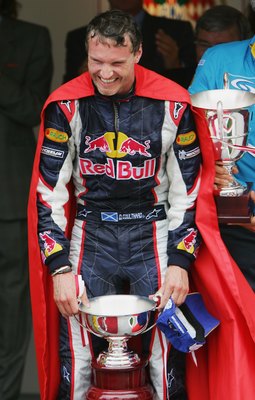 Once upon a time, third was super...
Bryn Lennon/Getty Images
Two weeks ago in Valencia, everything seemed so very close—then along came Sebastian Vettel with a lap four-tenths of a second faster than everyone else.

Putting that into context, four tenths was also the gap between second and ninth on the grid, and contained within that spread were six different cars—McLaren, Williams, Lotus, Mercedes, Sauber and Force India.

The cause of the dominance was probably the rather ingenious "double floor" Adrian Newey and his team created. The innovation improves airflow to the diffuser and provides better rear-end grip.

A little bit like the old blown diffusers which Vettel loved so much.

In the race, the Austrian car made everyone else look somewhat ordinary as Vettel's sailed away into the distance, and Mark Webber began a storming comeback drive from 18th on the grid.

Of course, an alternator failure in Vettel's Renault engine put paid to his race, and the fact he had the pace to win by a country mile was shunted aside as Fernando Alonso grabbed his second win of the year.

Then as the dust settled, everyone remembered. Webber missed by the podium by only the narrowest of margins.

The development could feasibly end the excitement of 2012, if the advantage seen at Valencia plays out elsewhere. And it could.

But I think (or maybe hope) the difference will be reduced at fast, sweeping Silverstone. McLaren and (as usual) Lotus will be strong. Probably not as strong as the Bulls, but only time will tell.

No dominant performances please, we're British.
Top Midfielders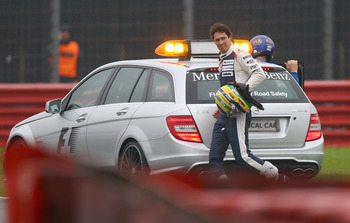 Clive Mason/Getty Images
For ease of thought, I currently consider Williams, Sauber, Force India and Toro Rosso to be the midfield.

And I think the best performer this weekend could well be Williams.

Silverstone has plenty of quick corners—not unlike the Circuit de Catalunya, scene of Pastor Maldonado's excellent victory back in May.

Maldonado also performed well in Valencia and was looking at a certain podium with only a few laps to go. Unfortunately a moment of brain fade intervened, and as a result the Venezuelan still has just 29 points.

I can see Pastor finishing in the top five in Silverstone. But I can also see him sat in a gravel trap with a Ferrari rear wing stuck to his nosecone.

Each outcome seems equally likely. But if he finishes, he could be very close to the podium.

Bruno Senna scored a point at the last race despite colliding with Kamui Kobayashi and being handed a drive-through penalty.

The Brazilian has proved a more consistent finisher than his teammate this year. Though he appears to lack the outright pace, a good points finish is perhaps more likely for Bruno than it is for his fellow South American.

Sauber should be strong too, especially if tyre wear becomes an issue. Or if it rains.
Drip Drip Drip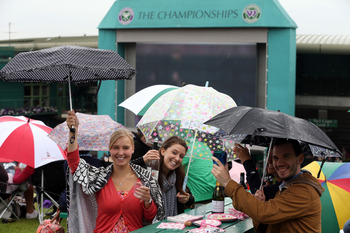 There's a minor tennis game happening on Sunday too, I think
Julian Finney/Getty Images
As I'm British and the race is my home one, I shall indulge in the national pass-time—talking about the weather—and provide dry and wet race predictions.

Thanks to an unusual jet stream configuration over the North Atlantic driving low pressure systems further south than usual, the UK has just experienced its wettest June on record.

July isn't looking much better, and another water-laden weather system arrived in the country over Friday. The bulk of the rain will be gone by the time qualifying kicks off on Saturday, but a lot of showers will remain over the rest of the weekend—and they'll be heavy.

So there's a genuine possibility of qualifying being a bit of a lottery. And better still, it could be a wet-dry race on Sunday.

Few circuits do changeable weather as well as Silverstone, so plenty of fans will be hoping the weather stays true to form this weekend.
Pole: Dry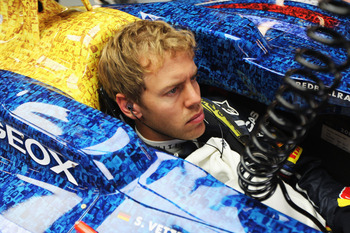 Mark Thompson/Getty Images
Sebastian Vettel has sat on pole for the last three races.

Sounds somewhat familiar, doesn't it?

There's no reason to suppose Red Bull will suddenly lose pace this weekend, especially with their brilliant (if infuriating and fun-killing) new floor.

As I mentioned earlier, Silverstone and Valencia are very different circuits. What is good on one won't necessarily be good on the other, and I believe the benefits of the floor will be less evident this weekend.

That's not to say it won't help here. The Red Bull is probably the best overall car now (sorry Lotus—you snooze, you lose) and it has great pace over a single lap.

So I'll have to go with Vettel for pole if it stays dry.
Pole: Wet
Mark Thompson/Getty Images
Wet qualifying sessions tend to be something of a lottery, as it's more down to timing than speed. In the days of limited lap qualifying, truly bizarre things could, and often would, happen.

With the modern style of qualifying (and especially this year, with multi-lap runs being the order of the day), it's not quite so random. Everyone will be out on track at the same time, probably on the same tyres and with the same weather conditions.

But an odd name on pole is still more likely than it is in the dry, and a blindfolded dart-toss is as good a method as any for predicting who'll come out on top.

So plucking a name out of thin air from those who might be capable of it, I'll give it to Sergio Perez if it rains.
Race Winner: Dry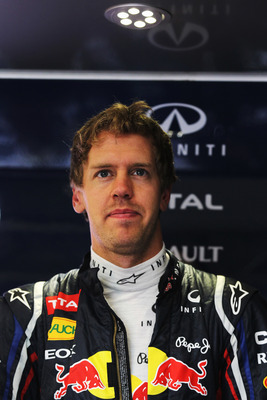 Mark Thompson/Getty Images
In Canada, the Red Bull couldn't sustain its qualifying speed into the race, and on pure pace Sebastian Vettel appeared slower than both Lewis Hamilton and Fernando Alonso.

But on race day in Valencia, the Austrian car was in a class of its own, often a second a lap faster than anyone else. Lewis Hamilton called it ridiculously quick—which is as good a description as any.

The new floor no doubt helped matters, and while I can't see the same advantage carrying over from the European Grand Prix to the British, Red Bull will probably be the team to beat once more.

Lotus should be quick too, and we can't forget McLaren or Ferrari either. But they'll have to do something very special to even keep up.

So if the rain stays away, I'll go with Vettel for the win.
Race Winner: Wet
Downforce-generating umbrellas would be a brilliant invention...
Mark Thompson/Getty Images
There are a lot of men in F1 capable of putting in a top-class drive in the wet. I think some moisture on the track is likely and we'll at the very least see the intermediate Pirelli tyres at some point on Sunday.

Sebastian Vettel and Mark Webber at Red Bull certainly can. Fernando Alonso drove beautifully in Malaysia, as did Sergio Perez. Bruno Senna showed some promise at the same race.

No one is better at picking the right time to change tyres than Jenson Button, and the old Rainmeister Michael Schumacher can never be counted out.

But whenever the heavens open, I find myself backing Lewis Hamilton to come through. In 2008, he won a wet British Grand Prix by over a minute, lapping everyone up to fourth—one of the best wet weather performances in a long time.

So Hamilton for the win if we get some lovely summertime weather.
That means rain, if you're unfamiliar with the British climate.
Enjoy the weekend!
Keep Reading