Jeremy Lin Rumors: Mavericks, Nets, Raptors Reportedly Eyeing Free-Agent PG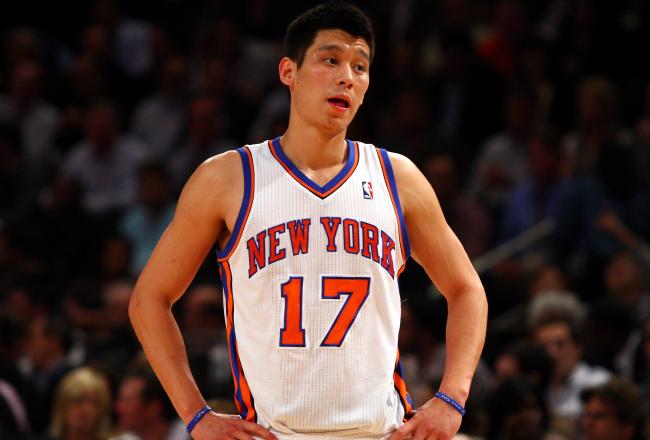 Chris Chambers/Getty Images
The New York Knicks found a breakout star in point guard Jeremy Lin last season, but their string of good luck with the talented prospect could be coming to an end.
The rumors of teams like the Dallas Mavericks, Brooklyn Nets and Toronto Raptors having interest in Linsanity are growing by the day, but the Knicks have still have the ace in the hole; Lin is a restricted free agent.
Lin's contract status leaves New York with the option to match any deal presented to their guard prospect. The problem is, teams have found a way to circumvent that advantage with a back-loaded contract, or "poison pill" deal.
HoopsWorld's Alex Kennedy is reporting about the teams interested in Lin and the possible deal that could pry him from the Knicks:
The restricted free agent received interest from a number of teams including the Toronto Raptors, Dallas Mavericks and Brooklyn Nets. While the New York Knicks can match any offer sheet that Lin signs, one of these interested teams could offer the 23-year-old a backloaded contract that makes the Knicks reconsider. At least one team has considered offering Lin a "poison pill" deal, according to sources close to the situation. The amount of money that Lin can make in the first two years of his new deal is limited to $5,000,000 in year one and $5,225,000 in year two. However, teams can offer Lin up to $15,000,000 in the final two years of his deal.
If the Knicks lost Lin at this point, it would be devastating to their franchise. Judging from the numbers presented by Kennedy, though, they would be even worse off matching an offer and keeping him.
Not an enviable position by any stretch.
What is New York's best option?
With a sheer lack of depth at both guard positions, losing Lin would create a hole too deep for Amar'e Stoudemire and Carmelo Anthony to dig the team out of. The Knicks would have to make major additions through free agency if their young floor general walks.
As for Lin, there is no doubt that the undrafted phenom needs to take the most lucrative offer that he possibly can. The NBA is full of uncertainty, and there is no one who knows that better that Lin himself.
If he takes less money to play in New York and gets hurt, the financial implications over the course of his career could be huge. If Lin takes the best offer available now, he will make much more money.
While fans want to preach loyalty and affirm that it shouldn't be about the money, the reality is that the NBA is a business, and Lin should be looking out for himself.
And there is nothing wrong with that.
This article is
What is the duplicate article?
Why is this article offensive?
Where is this article plagiarized from?
Why is this article poorly edited?