Jim Johnson: Baltimore Orioles All-Star Closer Deserves Big Extension
July 2, 2012

Greg Fiume/Getty Images
Entering the 2012 season, the Baltimore Orioles were committed to solidifying their closer position with an ironclad hurler.
The team found just that in Jim Johnson, and the Orioles would be wise to lock up the 29-year-old righty for the long term.
In January, Johnson signed a one-year contract with Baltimore worth $2.65 million. While Johnson is not set to become a free agent until 2015, the New York native is eligible for arbitration at the end of this season, per baseball salaries.com.  
Locking up Johnson has to be a top priority. Solid closers are a hot commodity, and it would be very difficult to replace his production.
Johnson was used mostly as a middle reliever since debuting with the Orioles in 2006, but he seized the full-time closer role from Kevin Gregg in September 2011.
Since converting on all seven saves in that final month of 2011, Johnson hasn't looked back.
A model of consistency, Johnson's numbers in 2012 are outstanding. Through 34 games, he is 1-0 with a 1.30 ERA and a 0.78 WHIP. Johnson has surrendered just five earned runs in 34.2 innings of work.
More importantly, Johnson has converted 23 of 24 saves. This ties him with Chris Perez of the Cleveland Indians and Craig Kimbrel of the Atlanta Braves for the most saves in baseball.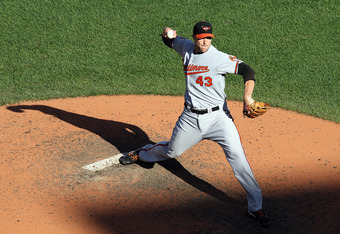 Jim Rogash/Getty Images
Johnson is also seventh in the running for the AL Cy Young, according to ESPN's AL Cy Young Predictor.
In his career, Johnson has a 3.07 ERA with 190 strikeouts and 91 walks in 249 games for the Orioles.
Should Johnson remain healthy, he has potential to become one of the great closers in the game.
To quote Larry the Cable Guy, the Orioles need to "Git-R-Done!"
Appreciate Your Readership. Please follow me on Twitter.
Related Orioles Articles:
3 Starting Pitchers Can Help O's Win AL East
Buck Showalter Deserves Al Manager of Year
5 Ways Jim Thome Can Help Baltimore Orioles