Steve Nash and Brandon Roy Would Make the Mavericks the NBA's Most Likable Team
July 2, 2012

Brian Bahr/Getty Images
Steve Nash and Brandon Roy have both been reported to have interest in signing with the Dallas Mavericks.
Nash was seen as a potential "Plan B" should superstar point guard Deron Williams decide to re-sign with the Brooklyn Nets (via ESPN). News that Dwight Howard has once again requested a trade to Brooklyn makes the possibility of Williams staying there much more plausible.
With that in mind, Nash should now be "Plan A," "Priority No. 1" or whatever else you want to call him in terms of the Mavericks' hunt for a point guard. 
Brandon Roy is another potential addition for the Mavericks this offseason (via ESPN). The former All-Star recently retired due to pressure from the Portland Trailblazers' team doctors. Roy's knees were the source of concern, but he's looking to overcome that by undergoing the procedure popularized among NBA players by Kobe Bryant, known as Orthokine.
If Roy gets back to anywhere near his previous level of play, he's one of the top two or three players on the market right now.
With Jason Kidd and Jason Terry's big contracts coming off the books, and Brendan Haywood's contract potentially gone as well due to the amnesty clause, the Mavericks have the money to sign both Nash and Roy.
All told, if they amnesty Haywood, they'll have nearly $16 million in cap space. According to Marc Stein on ESPN, the Raptors just offered Nash a three-year, $36 million deal. Almost all NBA deals are backloaded, so the first year of Toronto's offer will be at, or a little less than $10 million.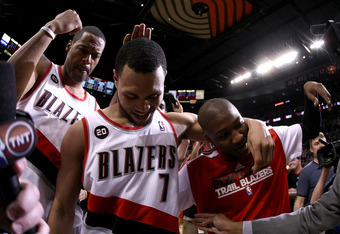 Jonathan Ferrey/Getty Images
The Mavericks can offer similar money, or perhaps a bit less because Nash would actually have a shot at a championship with Dallas (returning to where his career exploded also has sentimental value). That would leave around $6-7 million for Roy: great money for a player returning from a retirement forced by knee injuries.
A potential trio of Nash, Roy and Dirk Nowitzki may not be as glamorous or flashy as Miami or Oklahoma City's, but their likability and skill would be way off the charts.
There aren't many people who don't like Steve Nash and his team-first attitude. He's averaged double-figures for assists in seven of the last eight seasons and he's led the league in that category in five of the last eight. He's also one of the most underrated shooters of all time. He's eighth in NBA history in career three-point percentage and second in career free-throw percentage.
And who doesn't like a good comeback story? Brandon Roy was the Rookie of the Year in 2007 and was well on his way to superstar status (in fact, he may have already reached it) before injuries derailed his career. After sitting out the 2011-12 season, Roy is looking to get back on the floor and hoping the Orthokine therapy will rejuvenate him the way it did Kobe Bryant.
Then, of course, you have Nowitzki. Already a legend in Dallas and one of the most popular players in the league, he reached cult status by carrying the Mavs to a championship over the Miami Heat in 2010. That triumph has lost a bit of its luster as Miami captured the title in 2012. 
Dallas vs. Miami III would be a dream finals matchup in 2013 (I know, I'm getting way ahead of myself). The storylines would be endless: tiebreaker (each team has one against the other), a possible repeat for LeBron, Nash's first title, Roy's comeback, Dirk's second title and on and on. 
Andy Bailey is on Twitter: Follow @ AndrewDBailey