Lakers Trade Rumors: Why L.A. Will Beat Out Rockets for Dwight Howard
June 29, 2012

Sam Greenwood/Getty Images
The Houston Rockets' opportunity to land Dwight Howard may have come and gone.
All the better for the Los Angeles Lakers' chances, according to Fox Sports' Sam Amico:
Source close to situation says if Dwight Howard isn't dealt to Rockets today or tomorrow, Lakers fans may have reason to get excited. "Rockets are exhausting resources. If it's not enough, (Lakers) will likely move in within the next few weeks."
Whereas the Rockets would have relied on an assets-by-committee approach by pooling together draft picks and whatever other pieces it could spare, the Lakers have a couple of seven-foot All-Stars to offer.
Which one L.A. ultimately offers will probably determine whether the Orlando Magic ultimately pull the trigger.
The 31-year-old Pau Gasol isn't going to get it done. We know that much. We also know it's unlikely the Lakers would part with both Gasol and All-Star center Andrew Bynum in exchange for Howard.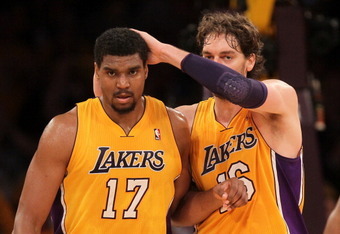 Stephen Dunn/Getty Images
That means Los Angeles will need to build a package around Bynum, which won't be easy with the organization's lack of other young assets.
Re-signing free-agent center Jordan Hill might give the Lakers a piece that would interest the Magic, but there's little doubt Orlando would prefer to have some young perimeter players than Bynum and another center.
But while it may not be easy, the reality remains that Andrew Bynum is the single best player the Magic could get in return for Howard. That fact surely isn't lost on Orlando's new general manager, Rob Hennigan.
Sure, it would be nice if Bynum were a little less immature and a little more coachable.
It would be even nicer if Dwight Howard were content to allow the Magic's new front-office regime to build around him.
Ronald Martinez/Getty Images
Clearly we are far beyond questions about what's ideal. Orlando must choose between the lesser of evils, and Bynum put up 18.7 points, 11.8 rebounds and 1.9 blocks per game last year. 
The Magic are unlikely to find another player capable of such dominant production. Trying to land one in a collection of young prospects is a risky move—even riskier than dealing with Bynum's occasional shenanigans.
The Rockets drafted some nice assets in the first round, including UConn's Jeremy Lamb, Iowa State's Royce White and Kentucky's Terrence Jones. The trio would make a mighty tempting collection of prospects.
Unfortunately, it's entirely possible not one of those prospects will turn into the player Andrew Bynum is. 
That's probably what Orlando is thinking too.