Game 5 NBA Finals 2012: Erik Spoelstra Needs to Win More Than LeBron James
June 21, 2012

Mike Ehrmann/Getty Images
Erik Spoelstra's career hangs in the balance.
What a triumph in the 2012 NBA Finals would do for LeBron James' legacy can't possibly be understated. But as much as LeBron needs a ring, Spoelstra is even more desperate for one.
According to J.A. Adande of ESPN, Chris Bosh talked after Game 4 about how the Miami Heat must maintain their focus to successfully close out the series. He said:
"I'm sure Spo has said it 100,000 times, is staying in the moment. That's what you always have to do. You have to stay in the moment, put everything in the past behind you, don't worry about the future."
But what fun is that? If you look to the future, Spoelstra's career in Miami will take two drastically different turns depending on how the Finals conclude.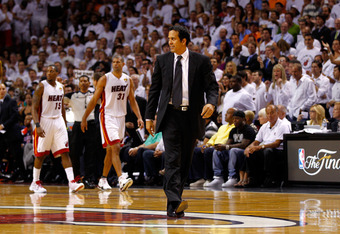 Mike Ehrmann/Getty Images
If the Heat defeat the Thunder in Game 5, the hot seat Spoelstra's been sitting on since the Big Three joined forces in South Beach would cool off for good. Not only would his job finally be secured, but his credibility as a head coach would sky rocket. Miami isn't up 3-1 on the Thunder because of talent alone—Spoelstra is outcoaching Scott Brooks.
Now, if the Heat were to choke away Game 5 and allow the Oklahoma City Thunder to storm back and steal the series, Spoelstra would be done. Pat Riley would fire him on the spot.
Spoelstra entered the series with his job on the line and allowing the biggest collapse in Finals history would be his last gaffe.
And that's why he has so much more riding on the championship than LeBron. If the Heat somehow lose, James' job isn't in danger. He'll simply go into a depression for a few weeks and lace 'em up again next year for another title run.
Spoelstra, on the other hand, will be looking for work.
David Daniels is a featured columnist at Bleacher Report and a syndicated writer.