San Antonio Spurs: How Important Is Manu Ginobili to Team's Future?
June 22, 2012

Tom Pennington/Getty Images
It's easy to underestimate how valuable Manu Ginobili is to the San Antonio Spurs. After all, Ginobili only averaged 12.9 points, 4.4 assists and 3.4 rebounds per game this season. He also only played 23.3 minutes per game and started only seven games. But Ginobili's value to the Spurs doesn't always show up in the box score.
Ginobili brings a chemistry to the Spurs that just wouldn't be there without him. He's played in the same system throughout his 10-year career with Tim Duncan and Tony Parker.
Because of their familiarity with one another, everything comes natural to the Spurs. Everybody knows where each other will be on the court at any given time. It's an advantage that San Antonio usually has over the opposition. It's also probably necessary to San Antonio's success at this point because the Spurs aren't going to be as explosive or athletic as their opponents.
Plus, the chemistry that Ginobili helps provide likely contributed to Tim Duncan's willingness to keep playing. If Duncan was stuck on a team he wasn't familiar with, and with players and coaches that he didn't trust, then he might just hang it up. Instead, he and the Spurs will be getting ready for another run at the Larry O'Brien Trophy that's eluded them of late.
An overlooked part of Ginobili's value is that he regularly comes off the bench. He's the anchor for San Antonio's second unit. Having him in a reserve role takes pressure off of Parker and Duncan, because they can rest assured that the team will stay focused and productive while they're on the bench.
But you can't pigeonhole Ginobili as a bench player. He's spent a little more than half of his career as a starter (he's started 346 of his 667 career games), so he knows how to adapt to whatever role is asked of him. He can come off the bench and provide a spark. He's comfortable starting the game. Truth be told, he's always finishing games for the Spurs, too.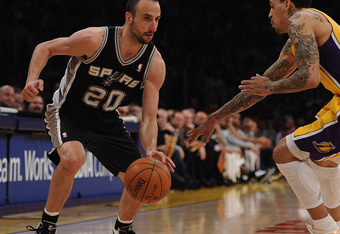 Harry How/Getty Images
The one constant throughout it all, regardless of whether he was a starter or bench player, is that Ginobili and the Spurs have flourished. He's made two All-Star teams in seasons when he was a starter. Then he won the Sixth Man of the Year award in 2007-08, which recognized him as the NBA's best bench player. Not to be ignored is that San Antonio's managed to win three NBA championships and qualify for the playoffs every season of Ginobili's 10-year career.
San Antonio might be able to get a more athletic player than Ginobili at this point, but the team definitely would not be better off. Bringing in someone else would mean starting from scratch, in terms of chemistry.
Not to mention other players might be more selfish with their roles. They might not want to come off the bench, or they might not want to be a second option to Duncan or Parker. But that's why Ginobili is more valuable to the Spurs than he is to any other team. Ginobili's the glue that helps hold it all together. Without him, San Antonio just might fall apart.