Philadelphia Flyers 2012 NHL Draft Picks: Grades, Results and Analysis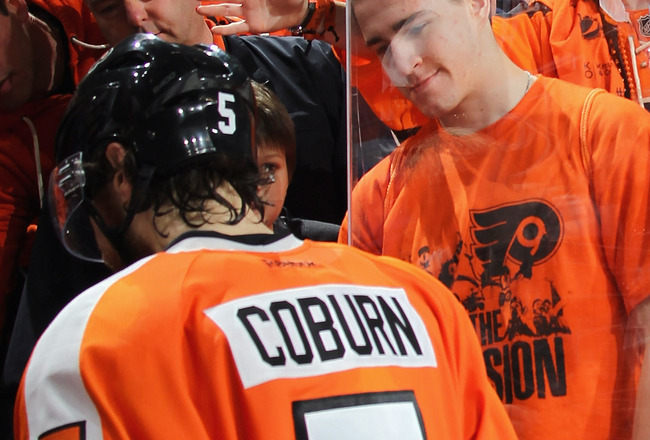 Improving the Philadelphia Flyers' defensive play is a top priority for finding players in the NHL draft.
Bruce Bennett/Getty Images
The Philadelphia Flyers are both an easy and a hard team to figure out.
That has been the case for years.
The Flyers simply need help on defense. It's easy to see that if you look at the Flyers' performance during the regular season and the playoffs. They may have rolled past the Pittsburgh Penguins in the first round, but the back of Ilya Bryzgalov's neck was treated for sunburn because the red goal light was turned on so often.
The only reason why the Flyers got past the Penguins was the high-functioning offense that torched Marc-Andre Fleury and the Pittsburgh defense.
Bryzgalov was supposed to be the goaltender who ended the Flyers' woes at the position. To be kind, he was an up-and-down performer who had a tough time fitting in.
The Flyers are seemingly committed to Bryzgalov for 2012-13, but they need help on defense. That's the direction the team is likely to go with their key draft picks. It's unlikely Chris Pronger will line up on the blue line this season — his career appears to be over — and that makes defense an even greater priority.
The Flyers traded backup goalie Sergei Bobrovsky to Columbus and ended up with seven draft picks. They used four of them on defensemen.
Here's a closer look:
1st Round Pick, Center Scott Laughton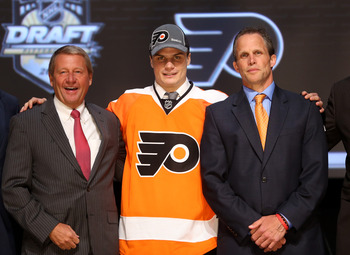 Bruce Bennett/Getty Images
The Flyers think they have selected a potential team leader and all-around performer with the selection of Laughton with the 20th pick in the draft. Laughton is a 6'0", 170-pound center who has an understanding of what his opponents are trying to do and he knows how to counter their moves.
Offensively, Laughton has good instincts when it comes to creating plays and making the pass that gives a teammate a solid scoring opportunity. He needs some work as far as putting the puck in the net is concerned, but he seems to get himself in the right position. Laughton is a solid forechecker who can take the puck away and put opponents on their heels.
Grade: A-minus
2nd Round Pick, Goalie Anthony Stolarz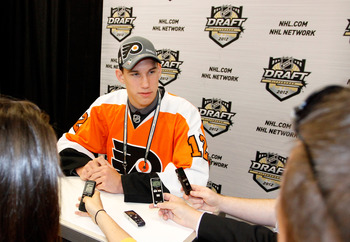 Justin K. Aller/Getty Images
It seems like the Flyers always have a need for an upgrade at the goaltending position and Paul Holmgren used his second-round pick to select Stolarz. He's one of the biggest prospects at the position, checking in at 6'5 and 200 pounds. He showed he understood how to cut off the shooter's angle while playing for the Corpus Christi IceRays of the North American Hockey League. Stolarz is a high-level athlete with good quickness for a player of his size. Stolarz was climbing the goalie rankings rapidly prior to the draft.
Grade: B-plus
3rd Round Pick, Defenseman Shayne Gostisbehere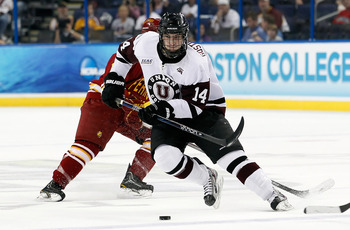 J. Meric/Getty Images
Gostisbehere played for Union (N.Y.) College and was an excellent defenseman for the stingiest college team in the nation. Union College gave up just 1.83 goals per game and the 5'11", 160-pounder showed mobility and instincts to prevent opponents from getting good scoring opportunities.
Gostisbehere scored 22 points in 41 games for Union. He has a good shot from the point and excels at making sharp passes. He's the first defenseman from Union College to be drafted by an NHL team.
Grade: B
4th Round Pick, Defenseman Fredrik Larsson
Fredrik Larsson's shot-blocking ability makes him a solid prospect.
Rick Stewart/Getty Images
Larsson is a solid Swedish prospect who played on his country's Under-18 Junior team in international competition. Larsson is a big and mobile defenseman who knows how to get in the shooting and passing lanes to break up scoring opportunities. He needs quite a bit of work on the offensive end, but he looks like he could develop into a big (6'3") stay-at-home defenseman.
Grade: B
4th Round Pick, Left Wing Taylor Leier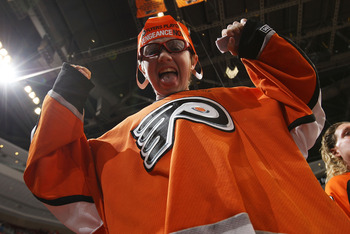 Quick-strike offensive players will bring Flyers' fans to their feet.
Mike Stobe/Getty Images
Leier is the kind of player who can bring the fans to their feet. At 5'10" and 174 pounds, Leier has excellent acceleration and he knows what to do with the puck when he gets in the open. Leier scored 13 goals and 24 assists for the Portland WinterHawks of the Western Hockey League last season. Leier proved quite durable, playing in all 72 games.
Grade: B-minus
5th Round Pick, Defenseman Reece Wilcox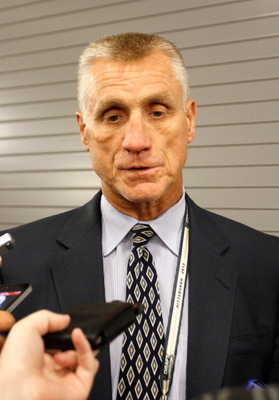 General manager Paul Holmgren wants to upgrade the Flyers defense.
Justin K. Aller/Getty Images
Wilson is a solid defenseman with size (6'3" and 184 pounds) and presence. He has all the skills needed to develop into a top-level player, although he is a bit further ahead on the defensive end at this point in his career. Wilson can carry the puck up the ice and is an excellent passer. He is not afraid to join the rush. If he can improve his ability to put the puck in the net and play with a bit more snarl, he will fulfill his potential.
Grade: C-plus
7th Round Pick, Defenseman Valeri Vasiliyev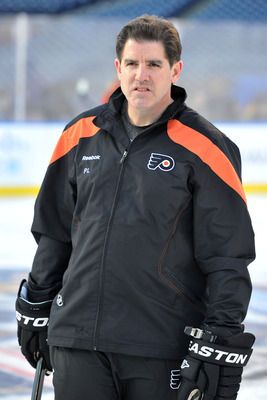 Peter Laviolette likes defensive players with a mean streak.
Christopher Pasatieri/Getty Images
Vasiliyev is a hard-nosed and stockily built defenseman who excels in and enjoys the physical aspects of the game. There is nothing Vasiliyev likes better than tracking down an opponent on the boards and hitting him hard. However, the technical aspects of the game like spacing and carrying the puck out of the zone give him trouble. If he can hone those instinctsand develop his skills he has a chance to move up.
Grade: C-minus
Keep Reading

Philadelphia Flyers: Like this team?