Pittsburgh Penguins 2012 NHL Draft Picks: Grades, Results and Analysis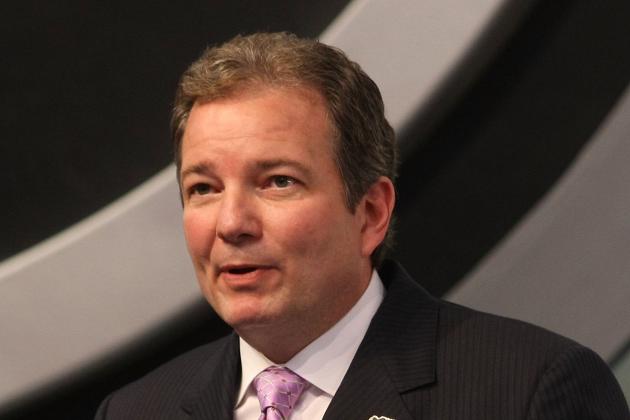 Bruce Bennett/Getty Images
Pittsburgh Penguins general manager Ray Shero is looking for depth in this year's draft.
As the 2011-12 regular season was coming to a close, many around the NHL thought the Pittsburgh Penguins were peaking at the right time.
They had endured an injury-plagued season in which the team had remained secure in its playoff position. Once the playoffs were within sight, the team started to get healthy again. Sidney Crosby returned from concussion-related problems, and any time you get the best player in hockey back in your lineup, that's a huge addition to your roster.
Star defenseman Kris Letang was also rounding into top form, and Evgeni Malkin was having an MVP-type season. While the Penguins could not overtake the Rangers in the Atlantic Division and they finished as the No. 4 seed in the Eastern Conference, it seemed like the Penguins had the most talented roster in the East and that it would be very difficult to beat them in the playoffs.
They may have been talented, but the team concept seemed to go wanting once the playoffs started. The offense was productive, goalie Marc-Andre Fleury picked the wrong time to go on his walkabout, and the Penguins were shockingly eliminated in the first round by the Philadelphia Flyers.
The Penguins made headlines by trading Jordan Staal and Zbynek Michalek, but they also had 9 draft picks. The Staal trade netted them an extra first-round pick.
Read on for analysis of the Penguins selections.
Begin Slideshow

»
Jamie Sabau/Getty Images

Pouliot is a polished defenseman who knows how to handle the puck at the point. He has the skills to make things happen when manning that position on the power play.
Pouliot is not huge at 5'11 and 192 pounds, but he is big enough to handle a hit and then continue with the puck. Pouliot has an excellent burst and the skills to carry the puck out of trouble. There is a certain polish to his game that allows him to carry the puck out of zone when facing pressure situations.
While he can handle the role of stopping opponents in the defensive zone, this is the area of his game that needs the most work.
Grade: A-minus.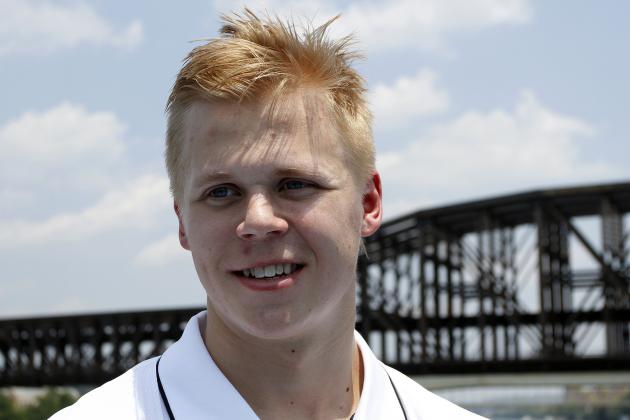 Justin K. Aller/Getty Images

Maatta has the tools to develop into a strong and powerful defensive defenseman as he matures.
Maatta is a fine skater who can read the play and throttle the opposition. He seems to take pride in stopping his opponents and asserting himself. Maatta is able to stand his ground and play the physical game.
Maatta has good offensive instincts but his first couple of strides are not fast enough that will allow him to take risks to make a big play. He's an accurate passer and he has a heavy shot from the point.
Grade: B-plus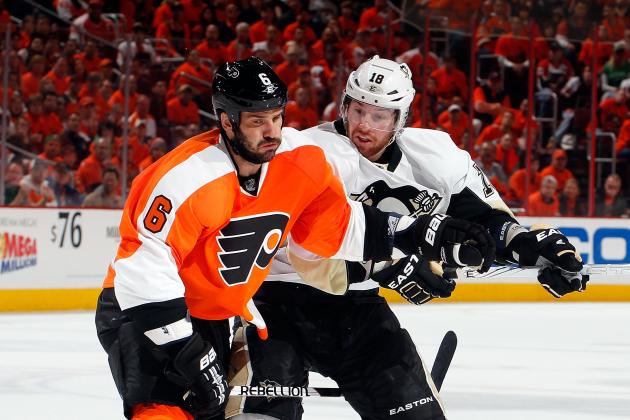 Paul Bereswill/Getty Images

A solid prospect who is aggressive and will not slow down. Blueger is a 6'0" center who is going to fly into the corners with speed in order to make a play.
Blueger is an accurate passer and has a quick release when he shoots. He knows how to buy time and get a few extra inches of space to turn a good shot into a great one. He went to the same prep school as future teammate Sidney Crosby.
He is planning to go to Minnesota State-Mankato in the fall.
Grade: B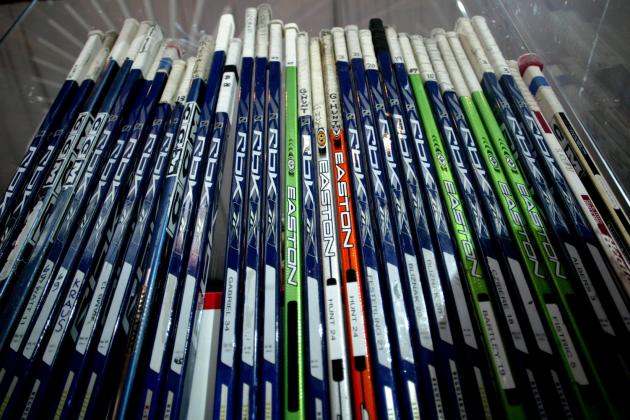 Chris Relke/Getty Images
Pittsburgh's draft picks are likely to get a long seasoning in the minor leagues.
Sundqvist comes to the Penguins out of his native Sweden with strong offensive upside. At 6'3" and 187 pounds, has the size to fit in effectively in the NHL. He could be a sleeper as he makes progress in the system.
Grade: B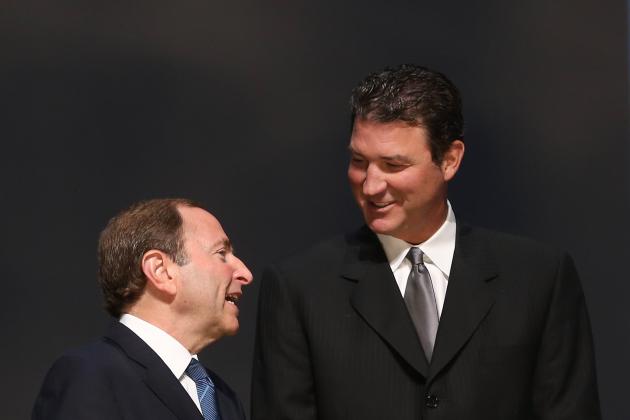 Bruce Bennett/Getty Images

Murray has the size that most teams are looking for from their goaltending prospects. At 6'3", he can cover a large portion of the net and that's half the battle. He knows how to square himself up to the shooter and he is not going to wander far from his crease in order to take chances.
He had a top performance for Canada in the World U18 junior competition.
Grade: B
Paul Bereswill/Getty Images
Playing with Sidney Crosby could be a great thrill for any player drafted by the Penguins.
Injuries have kept Marcantuoni from fulfilling his potential, but the Penguins know he has the ability to become an offensive force.
The biggest thing Marcantuoni has going for him is his speed and and quickness that allows him to find the openings and get off his shot quickly. He has skills as a forechecker and he can go into a crowd and come out with the puck. Once he gains possession he knows what to do with it.
If he can avoid injuries, he has a chance to climb the ladder and potentially get to the NHL.
Grade: B-plus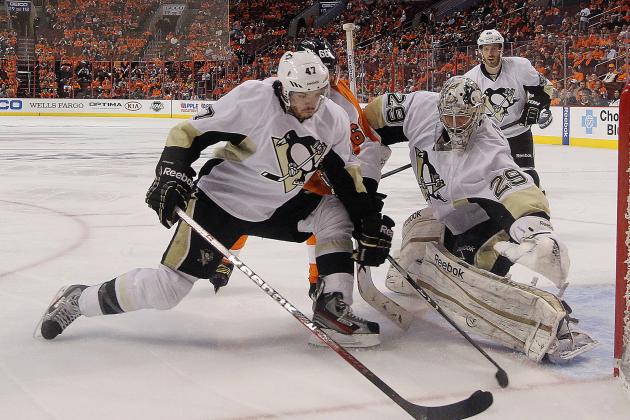 Bruce Bennett/Getty Images
Improving overall defensive play is a key for the Penguins in the 2012 draft.
Maguire has the size and strength at 6'1" and 204 pounds to handle the stress level and work load needed to climb the ladder and have a chance to get up to the National Hockey League. He played for Powell River Kings of the British Columbia Hockey League last season. He had a 17-12-1 record with a 2.33 goals against average.
Grade: B-minus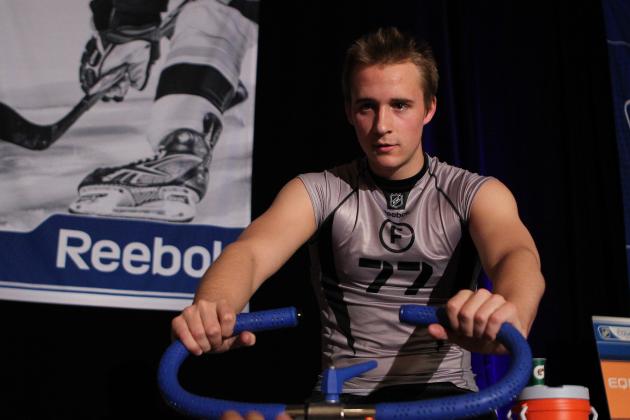 Claus Andersen/Getty Images
NHL draft-eligible players face rigorous physical fitness tests.
Seymour is a physical defenseman who is not shy about asserting himself. He check in at 6'4" and 200 pounds. He recorded 96 penalty minutes last season for the Peterborough Petes of the Ontario Hockey League. He had 8 assists in 2011-12.
Grade: C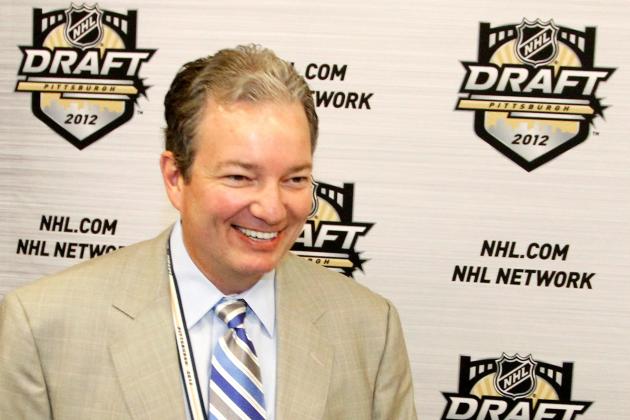 Justin K. Aller/Getty Images
Penguins GM Ray Shero went after talent deep in the draft.
Highly skilled player who knows how to get his shot off quickly. He has the hands to beat a goalie with a series of moves and is dangerous when he comes to the net in an odd-man break. He may be the kind of player who can help a team get valuable points on the shootouts. He is slick enough to make quick moves in tight to the goal, but he prefers to stay on the outside.
Grade: C