Detroit Lions: 10 Early Winners and Losers of the Offseason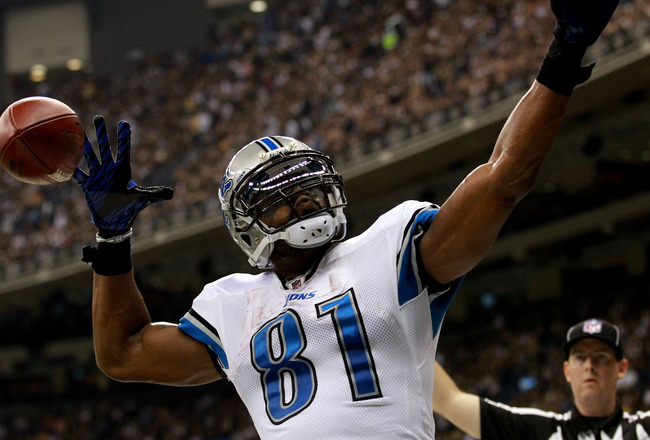 Ronald Martinez/Getty Images
The Detroit Lions have players that have the opportunity during the offseason to improve their standing on the team or to decrease it. Some players have helped themselves, and others have really done some damage.
Some players have strengthened their position by coming to OTAs in great physical shape. Some have caused the team to question itself as to whether that player should have been drafted by something that happened off of the field.
The 2012 offseason has not been a very good one from a Lions perspective. Four of the five players from the 2011 draft class have had issues this offseason, with three of them being arrested for marijuana related offenses. Some are questioning whether the inmates are running the asylum in Allen Park.
The news has not been entirely negative, though, as several Detroit Lions have done great things this offseason, for one reason or another. Calvin Johnson has emerged as a leader of this team, and he has become one of the faces of the franchise.
The Lions are like every other NFL team: They all struggle to keep their young players headed in a positive direction. But like other teams, there are positive things that have happened as well.
Winner: Calvin Johnson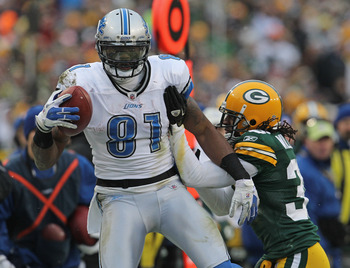 Jonathan Daniel/Getty Images
Calvin Johnson has had a fantastic 2012 offseason. He signed an extension with the Detroit Lions that will keep him in Detroit through the 2019 season. It is the largest contract in NFL history, an eight-year deal worth $132 million.
He is one of the faces of the franchise, as he announced the Lions' Round 1 selection of offensive tackle Riley Reiff at the 2012 NFL draft. He is quickly becoming one of the Lions leaders, both on the field and off.
Johnson also became the 2013 EA Sports Madden Cover Player, beating out Carolina quarterback Cam Newton. Johnson is a very popular player across the NFL, as he is widely considered the best wide receiver in the NFL.
It is an understatement to talk about his offseason other than glowingly. When you have signed the biggest contract in NFL history, you have had a great offseason. He doesn't appear to be resting on that though. Per Dave Birkett of the Detroit Free Press, fellow Lions wide receiver Nate Burleson commented on how Johnson has looked in OTA's:
"You wouldn't think a guy like that can come back and get better but he does. He's stronger and faster."
Calvin Johnson has had an offseason for the record books, quite literally.
Loser: Nick Fairley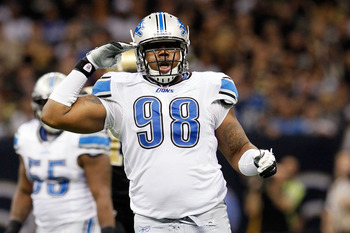 Kevin C. Cox/Getty Images
First, a marijuana arrest and then an arrest for driving under the influence and evading police. These incidents happened within a month of each other. These are not good things to bring upon yourself during the offseason after your rookie season.
Fairley struggled all year to overcome the injury to his foot in 2011 training camp. He had a very quiet season, and much more was expected out of him coming into the 2012 season. Fairley is known as a dominant force along the interior of the defensive line.
The Lions were counting on a very disruptive Nick Fairley in 2012, but the off-field issues have really become a problem. According to Dave Birkett of The Detroit Free-Press, Detroit Lions president Tom Lewand thinks that Fairley will get suspended by the NFL, an announcement coming after the case is resolved through the legal process.
The Lions selected Fairley in Round 1 of the 2011 NFL draft. He has a chance to be a significant piece of the future for the Lions as a defensive tackle. He needs to understand that this chance won't last forever and that his football career needs to be more of a priority than he has shown it to be thus far.
Winner: Stephen Tulloch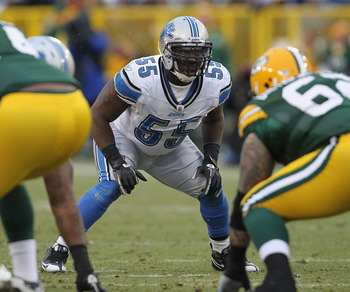 Jonathan Daniel/Getty Images
Stephen Tulloch was a very high-profile player in the 2012 free-agency period. He was the most sought after player at the middle linebacker position, and the Lions managed to retain his services with a five-year deal worth $25.5 million.
Tulloch has put himself in a great position to be a very important player for the Lions during the prime of his career. He has guaranteed that he is going to get paid very well, and he is certainly the heart of the defense as their middle linebacker.
Tulloch is the player responsible for calling out the defensive alignments. He is also under a lot of pressure considering the "Wide 9" defense that the Lions are running. The scheme calls for the linebackers to cover a lot of territory as their defensive ends line up wide and as they get up the field quickly.
It leaves a lot of room for teams to run behind the pressure, and it exposes the linebackers and secondary players, as they simply can't miss tackles in such open space. Tulloch is going to earn his money in this defense, and he has earned it.
Loser: Mikel Leshoure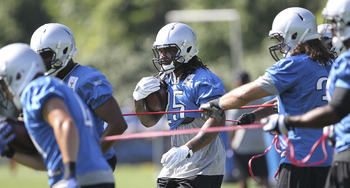 Leon Halip/Getty Images
Mikel Leshoure has been arrested twice during the 2012 offseason. Both arrests were related to marijuana, and Leshoure has been suspended for the first two games of the 2012 NFL season. He has also been docked an additional two paychecks.
Mikel Leshoure was drafted in Round 2 of the 2011 NFL draft, and he was expected to really stabilize the Lions running game. He tore his Achilles tendon in training camp, and he missed the entire 2011 season. It was a huge blow to the Lions offense, the running game in particular.
Leshoure has been given a very big opportunity to get his NFL career together. Yes, he has been suspended, but maybe the suspension serves as the wake-up call that Leshoure needs. Either way, another arrest for marijuana will lead to a significant suspension from the NFL, potentially as long as as eight games.
That kind of arrest could be career ending for Leshoure. It would lead to his dismissal from the Detroit Lions, as they can't place that much stock into a player that is one bad decision away from being gone from the team for a long time.
Leshoure is another young player that needs to view the Lions and his teammates more importantly than he has to this point.
Winner: Willie Young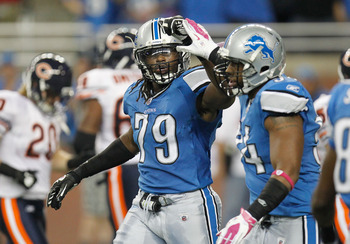 Gregory Shamus/Getty Images
Willie Young has had a nice offseason because another player is potentially holding out. He stands to figure very large for the Lions if the Cliff Avril holdout goes into the season.
Young was named as a "Secret Superstar" by Pro Football Focus. He is one of those players that is incredibly productive for how little he gets on the field. Young is a playmaker, as evidenced by the numbers that he puts up while playing very little.
He stands to gain as Avril's contract situation stays unresolved. If Young can produce at his prior level while playing more, he will be one of the great surprises of the Detroit Lions' 2012 season. Young has a chance to be a big part of the Lions defense moving forward.
Young has won this offseason because of his ability to go from deep down the Lions' depth chart to a player that will potentially play starter's minutes. Those starter's minutes could loom large for Young.
Loser: Cliff Avril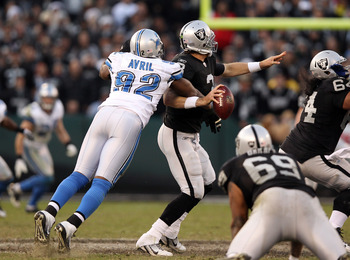 Ezra Shaw/Getty Images
Cliff Avril is staying away from Lions OTAs while he tries to get his contract settled. Avril was tagged with the non-exclusive franchise tag, and he will be paid $10.6 million for the 2012 season. He is seeking a long-term deal that will keep him with the Detroit Lions.
Avril is looking for a contract similar to the contract that Carolina Panthers defensive end Charles Johnson signed after the lockout ended in 2011. Johnson was signed to a six-year, $76 million deal with $32 million guaranteed. His contract paid him a signing bonus of $30 million also.
You can understand where Avril is coming from, as he outperformed Johnson in 2011. Johnson had 9.5 sacks, 40 total tackles and one forced fumble in 2011. Avril had 11 sacks, 36 total tackles and six forced fumbles in 2011.
As much as Avril feels like he is deserving of a "Charles Johnson" type of contract, the Lions simply can't afford to pay Avril this kind of money. It is unrealistic to think that the Lions can pay maximum money to quarterback Matt Stafford, wide receiver Calvin Johnson, defensive tackle Ndamukong Suh and Avril.
Avril has had a bad offseason as he has chosen to stay away from the Lions in an attempt to get a new contract.
Winner: Doug Hogue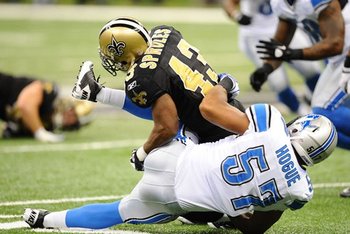 Doug Hogue was drafted in the fifth round of the 2011 NFL draft as a developmental player. Hogue was going to have to progress as a player for him to have a chance to make an impact for the Lions.
Hogue was 6'2" and 230 pounds as a rookie. His smaller stature contributed to his eventual draft position. Hogue has grown an inch and added 15 pounds of bulk to his frame. It is safe to say that size is no longer an issue for Hogue.
Backup linebacker Bobby Carpenter signed with the New England Patriots in free agency. This opens the door for a player like Hogue to move up the depth chart and make a case to be a primary backup with the Lions.
The combination of the growth in size and the possibility of Hogue moving up the Lions' depth chart makes him a player that has stood out in a great way during the 2012 offseason for the Lions.
Loser: Titus Young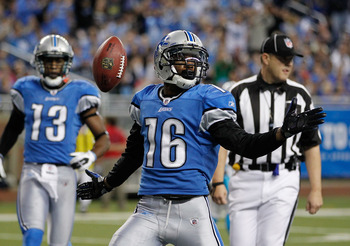 Gregory Shamus/Getty Images
Titus Young got into an altercation with teammate and Lions safety Louis Delmas and sucker-punched him, causing the Lions to ask Young to stay away from their organized team activities in May.
Young is an emotional football player and a player that is known to have some off-field concerns. He is also a very talented player in a great position to be a huge part of a very prolific passing game. Young can't throw it away because of bad decisions like punching a teammate.
Young has to get onto the field and show his teammates and the coaching staff in Detroit that he is maturing. He has to grow through this and not allow it to define him. This has the potential to be a learning experience for him.
Young has lost during this offseason because of how he handled himself in this confrontation. He needs to regain the trust of his fellow Lions, and the best way that he can do this is to make positive plays on the field and be a positive force in the locker room.
Winner: Tahir Whitehead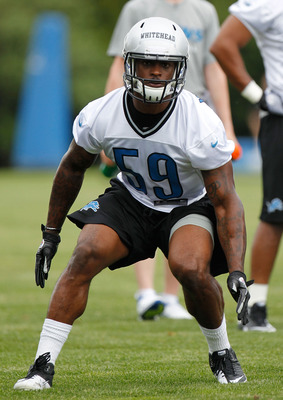 Gregory Shamus/Getty Images
The Lions traded a 2013 fourth-round pick to move into Round 5 of the 2012 NFL draft to select linebacker Tahir Whitehead out of Temple University. Whitehead played in a 3-4 defense at Temple, and it was a little bit of a surprise that the Lions would draft him as they run a 4-3 scheme.
It was conventional thinking that Whitehead would be a special-teams player as a rookie, but he has really impressed defensive coordinator Gunther Cunningham, as reported by Justin Rogers on mlive.com.
"That's by far the biggest surprise I've had in quite a while as a coach. I think (linebacker coach) Matt Burke and the scouts did a great job with him," Cunningham said. "He's much better than a fifth-round draft pick. He is something."
The Lions are getting better, and every time they get a surprise late in the draft, they get closer. Whitehead will certainly play on special teams as a rookie, but he might have much more in store down the road in a few years.
Whitehead is certainly standing out in a great way during this offseason, and if he continues to impress during training camp, bigger things could be in store for him with the Lions much sooner than most think.
Loser: Jason Fox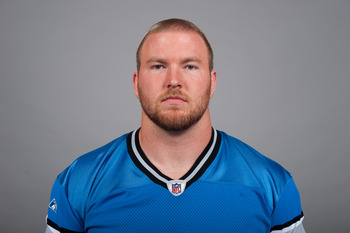 Handout/Getty Images
Jason Fox is having a very hard time staying healthy. He will really struggle to make the 53-man roster if he can't give the Lions a reason to keep him. The Lions used their selection on Round 1 of the 2012 NFL draft on a tackle, and they can only carry so many.
Fox was originally drafted by the Lions in the fourth round of the 2010 NFL draft. At the time he was recovering from a serious knee injury. He appeared in four games during the 2010 season and did not play in 2011 due to foot and knee injuries.
Fox can't afford to miss anymore time, and the Lions can't afford to wait on him. As the Lions improve, the decisions on who makes the 53-man roster get more difficult. Fox is a player that could get left behind because of his inability to stay healthy.
Fox has been surpassed by rookie Riley Reiff, and Fox missed the Lions' mandatory minicamp in June with knee soreness. The future looks bleak for Fox if he continues to miss time with injuries.
Keep Reading

Detroit Lions: Like this team?