2012 New Orleans Saints: 2-Deep Depth Chart Predictions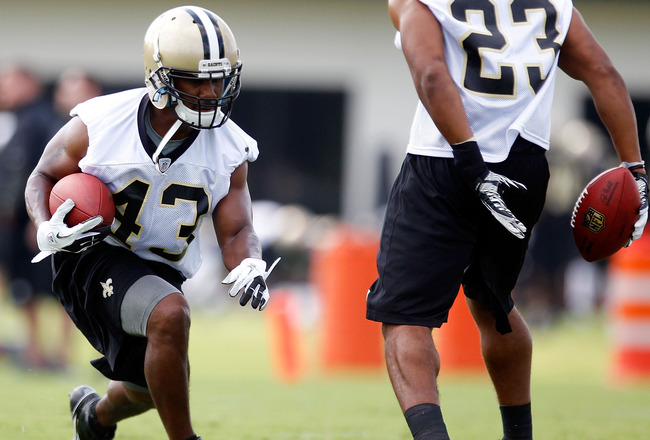 Sean Gardner/Getty Images
Looking ahead to the Saints training camp in July, New Orleans has just about every starting position taken care of. That's nothing new considering contenders rarely have open starting spots.
The Saints' depth is what we'll look at more than the starters. Depth is one of the keys to a team going from first-round exit to Super Bowl championship. Injuries happen to the best of teams, and it's important to have the next guy ready, so you don't waste a season with a freak injury.
Let's take a look at New Orleans' depth.
Quarterbacks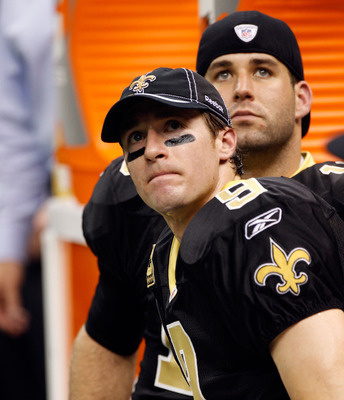 Chris Graythen/Getty Images
1. Drew Brees
2. Chase Daniel
This top spot is locked up, so I won't waste the time on it. The backup battle should be interesting now that Daniel has a competent competitor in Luke McCown. Sean Canfield just didn't make Daniel any better, but I believe McCown could.
McCown has been a starter in this league and could fill in short spans if needed. With Daniel's underwhelming performance in mini-camp, this battle could go deep into training camp.
Running Backs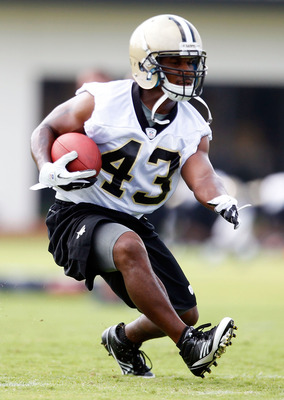 Sean Gardner/Getty Images
1. Mark Ingram
2. Darren Sproles
Ingram will get the top spot here, if healthy, because of his draft status last year. Unfair? Yes, but they didn't trade up to get him just for him to waste away on the bench.
Sproles will be the situational back and receiver out of the backfield. His role in the offense should increase while being used less in special teams dependent on Joe Morgan's health.
Pierre Thomas and Chris Ivory will be rotated in frequently to keep all backs healthy and fresh towards the ends of games.
Wide Receivers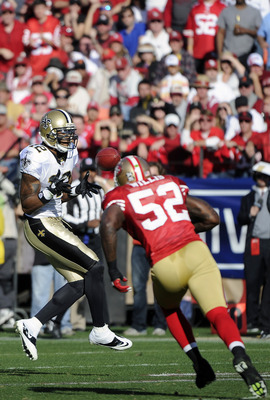 Thearon W. Henderson/Getty Images
WR1: 1. Marques Colston
WR1: 2. Joe Morgan
Colston got paid like a Pro Bowler this offseason; now it's time to reach that plateau in his career. He should break through and claim his first Pro Bowl selection of his career.
If Morgan doesn't win the competition for the spot opposite Colston, he will be rotated in a lot because of his top-end speed. He can blow the top off a defense a la Robert Meachem or Devery Henderson. He just needs to stay healthy.
WR2: 1. Nick Toon
WR2: 2. Devery Henderson
I have Toon starting opposite of Colston based on how quickly he is picking up the offense and how well he has performed so far in mini-camps. He and Morgan are the future in New Orleans at the receiver position.
Slot Receiver: Lance Moore
Can't forget about Moore. When healthy, he is one of Brees' top targets, along with Colston and Jimmy Graham. He has a swagger about him, and he backs up on the field. Let's hope for an injury-free year out of him.
Tight Ends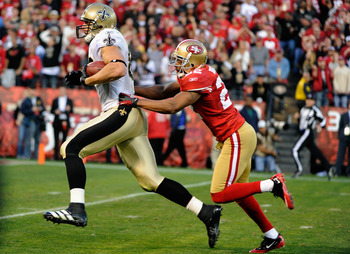 Thearon W. Henderson/Getty Images
1. Jimmy Graham
2. David Thomas
Graham is an All-Pro and will build on his breakout sophomore campaign. Thomas is very underrated and can be a great asset. His versatility is what makes him valuable. He can line up at tight end or fullback and be excellent at both.
Tackles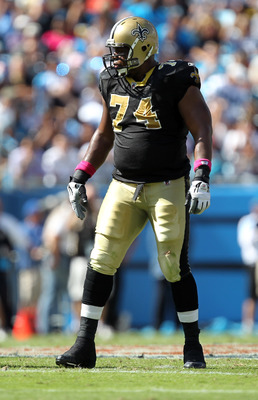 Streeter Lecka/Getty Images
Left Tackle
1. Jermon Bushrod
2. Charles Brown
Bushrod is a Pro Bowl tackle who has been very consistent since been inserted into the lineup in 2009. He has no worries about his starting spot. Brown is here merely as a formality because there is no one else. Brown is a bust, and the Saints should just cut their losses and release him.
Right Tackle
1. Zach Strief
2. Marcel Jones
Strief is a solid veteran who has had a few injuries creeping up on him lately, but has always fought through them. If they sideline him in any way this year, Jones, the team's seventh-round pick, could start ahead of the aforementioned Brown. Jones has already passed Brown on the depth chart and could be starting by year's end.
Guards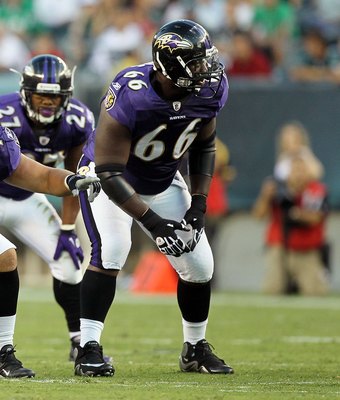 Jim McIsaac/Getty Images
Left Guard
1. Ben Grubbs
2. Andrew Tiller
Grubbs is New Orleans' key offensive free agent this offseason because he is replacing All-Pro Carl Nicks, but Grubbs is no slouch. He was a Pro Bowler for Baltimore last season and a former first-round pick.
Behind him will be this year's sixth-round pick, Andrew Tiller. Tiller is an excellent run blocker, but needs to get better in the pass game. Offensive-line guru Aaron Kromer should help with that.
Right Guard
1. Jahri Evans
2. Eric Olsen
Evans is an All-Pro guard who has never missed a game in the black and gold. He has stayed at a high level his entire career and still has plenty of years to go. Olsen was a late signee last year and could be one of the primary backups at guard or center. His versatility could secure him a spot on the team.
Center
Hannah Foslien/Getty Images
1. Brian de la Puente
2. Matt Tennant
De la Puente has entrenched himself as the starter with a solid 2011 campaign. His rapport with Brees is great, and he could be Drew's center for the remainder of his career here. Tennant, on the other hand, missed that opportunity last year. Losing battles to Olin Kreutz and de la Puente have put Tennant on the roster bubble.
Defensive End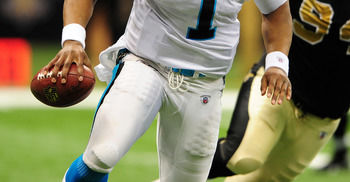 Scott Cunningham/Getty Images
Left Defensive End
1. Cameron Jordan
2. Martez Wilson
Jordan is primed for a breakout year in 2012. His progression was a little slower than usual last year, but his versatility will be the reason he will be a stud this season. Wilson is being converted to defensive end to use his freakish athletic ability to rush the passer. He will mainly be used in passing situations.
Right Defensive End
1. Will Smith (when not suspended)
2. Junior Galette
Smith will maintain his starting spot once he comes off of suspension. He is a Pro Bowl talent, but needs to bounce back off of a down year last season. Hopefully, new coordinator Steve Spagnuolo's scheme will help out.
Galette is one of those undrafted gems just waiting to breakout, and with Smith's suspension, this could be his year to do so. He has showcased his talents in spurts throughout his career in New Orleans, but this will be his first chance to shine.
Defensive Tackle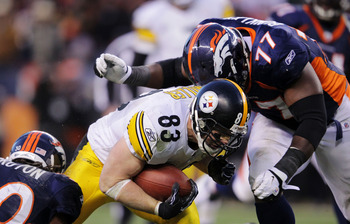 Doug Pensinger/Getty Images
Defensive Tackle
1. Sedrick Ellis
2. Akiem Hicks
Ellis is in a contract year and has had an average career in New Orleans. Not what you would expect for the seventh-overall pick in the draft. The Saints haven't extended his contract yet, so that could be a telling sign that this could be a make-or-break year for Ellis
Hicks is the team's first pick of this year's draft, in the third round, of course. Hicks is a freak of a specimen at 6'5" 320-plus lbs. He could push Ellis to have better year than last.
Nose Tackle
1. Brodrick Bunkley
2. Remi Ayodele
Bunkley's signing was overshadowed by Sean Payton and company's suspensions handed out. His presence could raise the Saints' rankings in run defense immediately. He is that good of a run-stuffer.
Ayodele is a great player to have back in the fold for New Orleans. He was there during the Super Bowl run and will be a valuable asset on and off the field.
Linebackers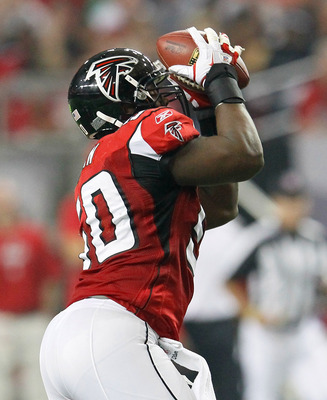 Kevin C. Cox/Getty Images
Strong side OLB
1. Chris Chamberlain
2. Scott Shanle
Shanle might have the edge right now, but Chamberlain has the experience in Spag's defense to breeze by Shanle into a starting position. Chamberlain has spent most of his time as a reserve backer, but last year was his first year starting, and he did a pretty solid job for an injury-riddled St. Louis team. Shanle won't lay down no matter how many linebackers are brought in.
Middle Linebacker
1. Curtis Lofton
2. Kadarron Anderson
Lofton was swiped away from bitter rival Atlanta and is an All-Pro talent entering the prime of his career. He will start in the middle of this defense for years and years to come. The depth behind him is pretty thin, though. Anderson is an undrafted rookie out of Furman who has impressed so far in mini-camps and could be the best of an average bunch.
Weak-side OLB
1. David Hawthorne
2. Jonathan Casillas
Hawthorne was a middle linebacker in Seattle, but will slide to the weakside in the Saints defense. He is another young linebacker added in the offseason and could team up with Lofton and Chamberlain for years to come. Casillas is a major injury risk, but if healthy, he could be an excellent reserve. He has great athleticism.
Cornerbacks
Kevin C. Cox/Getty Images
Left Cornerback
1. Jabari Greer
2. Elbert Mack
Greer has been a very underrated player when it comes to awards and honors, but he was one of the top corners in the NFC. He has constantly shut down or slowed the opposition's primary receiver just about every game. Mack is a veteran from Tampa Bay who could end up being a very good nickel corner on this team. He is another underrated player who is a very solid player.
Right Cornerback
1. Patrick Robinson
2. Johnny Patrick
I've written in an earlier post that Robinson is primed for a big year. He had a strong season filling in for the injured Tracy Porter last year. Patrick has had a strong showing early this offseason. He and Mack could be a nice set of nickel-and-dime corners for this team with rookie Corey White slowly learning the ropes.
Safeties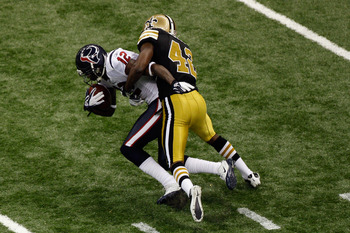 Chris Graythen/Getty Images
Free Safety
1. Malcolm Jenkins
2. Isa Abdul-Quddus
Jenkins had a bit of a down year after his All-Pro season of 2010. His play wasn't bad, but he wasn't making the big plays and turnovers that Saints fans were used to. He should rise back up to All-Pro status playing in Spagnouolo's defense, which is very safety-friendly.
Strong Safety
1. Roman Harper
2. Jerico Nelson
Harper is what he is. That's about all you can say about the salt-and-pepper safety. He makes a few plays that make you wonder why he isn't a first-team All Pro every year. Then he makes the bonehead play that allows a touchdown to end a season and...
You get my point.
Nelson is a local product that was signed after the draft this offseason. He has drawn high praise from Joe Vitt and Steve Spagnuolo in the OTA's, so far. He's a little undersized, but his heart isn't.
Keep Reading

New Orleans Saints: Like this team?