Cowboys Schedule Analysis: Lots of Improved Teams, More Elite Quarterbacks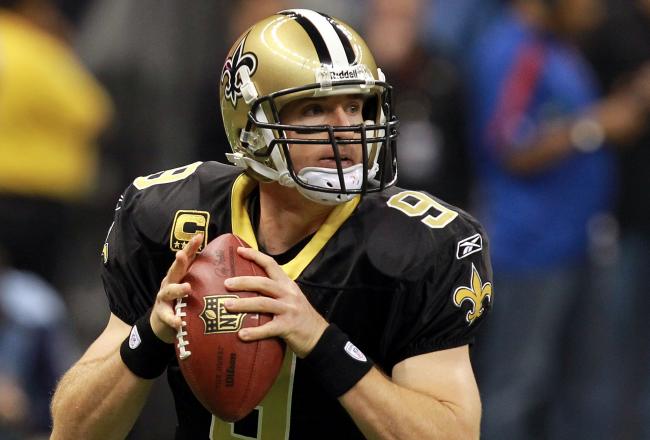 The Cowboys face a slew of elite quarterbacks this season, including Drew Brees.
Ronald Martinez/Getty Images
Technically, the Dallas Cowboys' 2012 schedule is neither difficult nor easy. The combined 2011 record of their 2012 opponents is 129-127, which is as close to .500 as you can get without being .500 or having a tied game.
But some good stuff here from Blogging The Boys: Even though the Giants technically have the most difficult schedule in the league, Dallas plays just as many teams coming off of seasons with nine or more wins (seven apiece).
Only four NFL teams play tougher schedules in terms of 2011 point differential. Dallas' 2012 opponents outscored the opposition by a total of 156 points last season. (Although it should be noted that the Giants' opponents outscored their 2011 opponents by a ridiculous 546 points.)
It is, however, important to remember that basing the level of difficulty of an upcoming schedule solely on the results of the previous season is absurd. Too much changes from year to year in this league.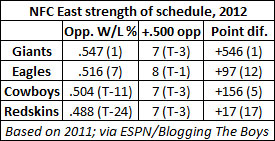 The Carolina Panthers were supposed to have the most difficult schedule in the league last year, but their opponents finished just 129-127. Only two schedules were supposed to be more difficult than the Jets' and Jaguars', but both of those teams ended up playing opponents with a combined average winning percentage of .500 on the dot. The Titans were supposed to have the hardest schedule in the league in 2010, but their opponents finished just four games above .500.
So instead of just assuming the schedule will be slightly tougher than average, let's examine which of Dallas' 2012 opponents are expected to be better, which are expected to be worse and which are expected to be about the same:
Which Teams Are Expected To Be Better?
Seahawks: Dallas beat them at home last November, but Seattle has probably improved since. They have a legit quarterback now, and they'll be at home for this year's meeting. Seattle won't feel like a 7-9 opponent.
Buccaneers: Dallas also took care of the Bucs in their only meeting last season, but you can't get any worse than Tampa was late in the year. They'll be healthier and deeper when they face the Cowboys in Week 3.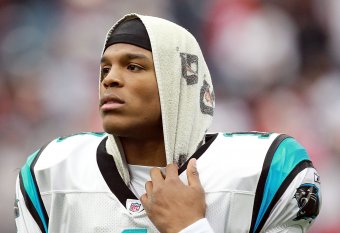 Ronald Martinez/Getty Images
Bears: With a healthy Jay Cutler and Matt Forte, they're much better than their 8-8 2011 record.
Panthers: They won four of their last six games in 2011, and now Cam Newton enters 2012 with a full offseason under his belt. This is a .500 team at the very least.
Falcons: I don't know that they're much better than they were last year, but they certainly aren't any worse than 10-6. This is a team that won 13 games in 2010. Besides, they get Dallas at home, where they were 6-2 in 2011.
Eagles: The "Dream Team" won its last four games of 2011 and is expected to make a big run this season. Much better than 8-8.
Redskins: Robert Griffin III, Pierre Garcon, Josh Morgan and a healthy batch of quality backs, plus the return of Trent Williams and Fred Davis from suspension. They should win more than five games.
Which Teams Might Be Worse?
Ravens: Baltimore will still be a force, but it likely won't have Terrell Suggs for that Week 6 meeting with the Cowboys. Not sure the Ravens will look like a 12-4 team at that stage.
Saints: They travel to Dallas late in the season, so it's tough to get a read on what the bounty scandal will have done to their season by then. Still, it seems like this year could be a write off in New Orleans.
Which Teams Should Be About the Same?
What is the toughest game on Dallas' schedule?
Giants: Dallas lost to the G-men twice last season, and both of those losses came late in the season when New York was starting to gain Super Bowl momentum. The Giants are a better team than they were early last year, but they might not be any better than they were in December and January.
Browns: With a rookie quarterback and lots of holes on both sides of the ball, they don't appear as though they're about to take off, but they also shouldn't be worse than 4-12.
Bengals: Andy Dalton and A.J. Green should only get better, and they do get to host Dallas. I definitely don't see Cincinnati taking a step backward, but I'm not convinced it'll be much better than 9-7.
Steelers: Not a lot has changed, so expect them to be a playoff team again.
So only two of their opponents are expected to have a chance to take a step back this year, while seven of them are expected by many to get better. That's the kind of thing that has me thinking their schedule will be much more difficult than expected. Their only borderline-easy games are Tampa at home in Week 3 and Cleveland at home in Week 11.
Looking at Potential Hiccups

Four of Dallas' worst games of 2011 came against the Giants, Giants, Eagles and Eagles. In other words, two divisional opponents terrorized them last season. In those four games, they had just six total sacks on Eli Manning and Michael Vick, and as a result, those two quarterbacks had a 9-to-1 touchdown-to-interception ratio against them.
The Cowboys have revamped the secondary, but they have to play the Giants in Week 1. If the pass rush is again ineffective, will they be able to keep Eli Manning in check on the road to start the season? That could be a problem. They don't play the Eagles or Giants again until midseason, but they'll still have to make some quick adjustments.
They can't afford to go 0-4 against those two teams again this season.
Looking at Where They Could Excel
Their best games last year came against Buffalo, St. Louis, Tampa Bay and Washington (Week 3), all of whom weren't able to throw on them. In those games, it was more about the defense than the offense.
With that in mind, I'm expecting the Cowboys to play well in Seattle in Week 2 and in Baltimore in Week 6.
Looking at the Quarterbacks
They struggled last year with Manning and Vick and Tom Brady, and played extremely well against guys like Ryan Fitzpatrick, A.J. Feeley, Rex Grossman and Josh Freeman. This year, Grossman becomes Griffin III, Freeman could be better and they might only face two unproven/subpar quarterbacks: Brandon Weeden and Matt Flynn.
The only elite quarterbacks they faced last year were Vick, Manning, Brady and Matthew Stafford. This year, they draw Vick, Manning, Drew Brees, Ben Roethlisberger, Matt Ryan, Jay Cutler, RG3 and Cam Newton.
Dallas should be better, but the schedule is probably tougher.
This article is
What is the duplicate article?
Why is this article offensive?
Where is this article plagiarized from?
Why is this article poorly edited?