Jurickson Profar: Could Tigers Soon Trade for the Rangers Phenom?
June 5, 2012

Christian Petersen/Getty Images
In January 2012, Angela Wittrock of MLive.com reported Detroit Tigers general manager Dave Dombrowski all but destroyed any hopes the Tigers would sign Prince Fielder after Victor Martinez's season-ending injury.
Dombrowski said Fielder would probably not be a good fit.
Less than a week later, USA Today writer Bob Nightengale reported the Tigers had signed Fielder to a nine-year, $214 million deal.
Many baseball fans throughout the country were of course stunned by this news.
But not Dombrowski.
This is because Dombrowski knows his boss, team owner Mike Illitch, is man who knows what he wants.
While the Tigers were publicly silent on Fielder, behind the scenes Illitch was as giddy as a school girl when the opportunity to snatch Fielder arose.
"I know Mr. Ilitch is probably excited," Cecil Fielder told 97.1 The Ticket after the Tigers signed his son. "He's been wanting [Prince] since he was a little kid."
Lo and behold, the Tigers acquired Fielder with the same "let's see if we can get him" mentality Illitch used to pull the trigger on trading for Miguel Cabrera in 2007.
This brings me to MLB Rumors writer Ben Nicholson-Smith's recent blurb from May 31 that said the Tigers are not seeking second base Help.  Smith cited Fox Sports writer Ken Rosenthal's tweet: "Tigers not actively pursuing 2B. Do not consider available players upgrade over Worth/Santiago. And better second basemen are not available."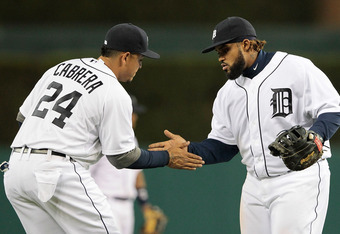 Leon Halip/Getty Images
I do not buy this tweet one bit. With Illitch's history of golden silence followed by blockbuster moves, I cannot help but think this statement is simply smoke-and-mirrors.
At last check, the Tigers are an abysmal pile of lethargy that desperately needs a new spark plug to get its engine roaring. The offense that was supposed to scare the living daylights out of opposing pitchers has been mediocre at best.
Shortstop Jhonny Peralta looks like his mind is on a faraway planet lately. DH Delmon Young looks like a man biding his time until he hits the free-agent market. And outfielder Brennan Boesch looks completely lost at the plate at times.
Worse yet, the Tigers have the second biggest second base problem in the big leagues. At .178, only the Milwaukee Brewers (.164) have a more abhorrent positional batting average.
I can almost hear Comerica Park PA announcer Bobb Vergiels now.
"Would the fan sitting in section 401, row 11, seat 13 please go play second base for the Tigers?"
Sad as it is, the second base position has gotten this bad.
This is why I have a hard time believing wheels are not turning in the Tigers front office to alleviate their second base problems once and for all.
Call this a pipe dream, but I would love to see Detroit make a trade with the Texas Rangers hot prospect infielder Jurickson Profar.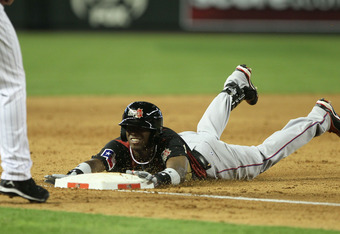 Jeff Gross/Getty Images
A shortstop by trade, Profar is having a solid season at Double-A. But for all Profar's worth, Elvis Andrus has been extended through 2014. And second baseman Ian Kinsler recently signed an extension through 2017.
This leaves Profar a player Detroit could pounce on.
A second player I really like is Cardinals second base prospect Kolten Wong.
Currently, this Hawaii native is batting .313 (60-for-192) with four home runs, 21 RBI and eight stolen bags at Double-A Springfield. This speedy, left-handed hitter also has six doubles and four triples. With Daniel Descalso holding down the fort at second for the big club, the Tigers could also go after Wong.
Yankees hot prospect Ronnier Mustelier also gives the Tigers an opportunity to resolve issues at second base once and for all. This 27-year-old Cuban defector is playing outstanding baseball, and has recently been promoted to Triple-A.
While his .308 batting average through 30 games at Triple-A is nowhere near as gaudy as his .353 average at Double-A, Mustelier has nonetheless maintained solid stats for Scranton/Wilkes-Barre. Currently, Mustelier has a respectable .341/.543/.818 line with five home runs, 19 RBI and seven doubles. With Robinson Cano already holding down the fort at second for the Yankees, Brian Cashman and Company may very well be open to trading Mustelier.
A fourth player I really like is Scooter Gennett of the Milwaukee Brewers. Already a fan-favorite, Gennett could be a nice addition to the Tigers. Of course, the Brewers are as desperate as the Tigers to fortify its second base position.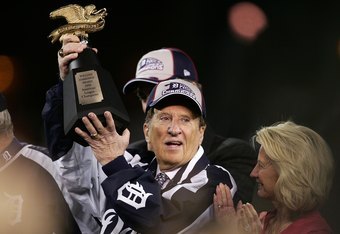 Jonathan Daniel/Getty Images
So the Tigers certainly have options to boost its problematic second base position. Of the four prospects, I really like Profar the best. However, Profar would not come cheap for the Tigers.
But if I were Illitch and Dombrowski, I would seize the opportunity to grab Profar should the opportunity present itself. Profar is an electric, multi-use talent Detroit cannot afford to pass up, for the right price, of course.
Yet at the end of the day, any of the aforementioned prospects would be an upgrade over what the Tigers have now.  
And like Rosenthal, you can tweet that.
Related Articles:
Five American League Prospects Deserving of Promotion
Meet Hot Tigers Prospect "Mean Dean Green"
Will Nick Castellanos Be Better Than Harper and Trout?