Avisail Garcia: Is Tigers' Hot Prospect the 2nd Coming of Miguel Cabrera?
May 16, 2012

While highly-touted third base prospect Nick Castellanos has generated well-deserved buzz within the Detroit Tigers organization, another ballplayer has been destroying Single-A Advanced pitching.
His name is Avisail Garcia.
This 6'4", 240 lb. native of Venezuela looks strikingly similar to another mighty force for the Tigers.
Miguel Cabrera.
Of course, while it is way too early to anoint Garcia the freakishly scary second coming of Cabrera, the Tigers are nonetheless impressed with this young ballplayer's potential.
A right field prospect with a cannon for an arm, Garcia was named the best defensive outfielder in the Tigers organization by Baseball America.
Offensively, Garcia hit .264 with 11 homers and 56 games for Lakeland in 2011.
A testament to this 21-year-old's outstanding speed, Garcia also raked in 16 doubles, six triples and 14 stolen bases for the Flying Tigers.
Coming into the 2012 season, Garcia was committed to chopping down on the 132 strikeouts he accrued last season. 
While Garcia's strikeouts are still a little high (28), he has improved his all-around hitting this season.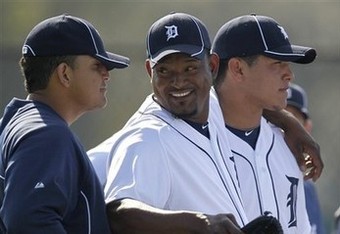 Through 35 games, Garcia is batting .315 with 45 hits, five home runs and 19 RBI. He has also garnered four doubles, a triple and five stolen bases.
As with Castellanos, the Tigers will be slow but steady in developing Garcia. After all, the team can certainly afford to do so.
But also like Castellanos, should Garcia continue to thump the ball at Single-A Advanced, leaders within the Tigers organization will have no choice but to promote him.
Related Articles:
Will Nick Castellanos Be Better than Bryce Harper and Mike Trout?
Is the Game of Baseball Dying or is it as Strong as it Has Ever Been?