Detroit Tigers: Will Nick Castellanos Be Better Than Bryce Harper or Mike Trout?
May 13, 2012

Elsa/Getty Images
Detroit Free Press writer Drew Sharp wrote an interesting article recently that discussed resolve by the Detroit Tigers organization to patiently develop hot prospect Nick Castellanos.
In this piece, Sharp wrote, "The worst thing that could've happened to very promising players like Castellanos was the meteoric rise of Stephen Strasburg and Bryce Harper."
To this, I could not agree more.
While exciting, the rapid ascent of Strasburg, Harper and Mike Trout has potential to set precedence for other struggling ball clubs.
Eager to generate excitement and revenue, these teams may rush their own young prospects to the big leagues.
This may be especially true should Harper and Trout excel this season.
Should they excel, it will be interesting to see what the Kansas City Royals do next spring if their 19-year-old stud prospect Bubba Starling tears through minor league pitching this summer.
Perhaps the Royals will rev up the hype machine with Starling like the Washington Nationals did with Harper to put fans in the seats.
Meantime, unlike the Nationals and Los Angeles Angels the Tigers will continue to develop Castellanos slowly, but surely.
This is because the Tigers can afford to do so.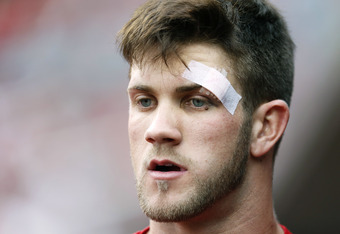 Joe Robbins/Getty Images
Besides boasting a team loaded up and down the roster with talent, the Tigers already have a stud third baseman in Miguel Cabrera.
They also have utility man Don Kelly.
Despite Castellanos destroying Class-A advanced pitching (.403/54 hits/1.009 OPS), the Tigers are truly content with Castellanos staying put.
At least for now.
The time may come soon where no justification exists to not promote this budding star to Double-A.
But for now, while Harper bloodies his own eye with bats he shatters out of frustration, Castellanos will listen, apply and heed lessons along the way.
It will be these lessons that will enable Castellanos to be better equipped for the pressures of playing in the big leagues.
It may also be these lessons that may allow Castellanos to be a better ball player than Harper and Trout, maybe not at first, but in the long run.
Only time will tell.
But it points to differentiating philosophies between teams when raising talent.
As for Strasburg; he is a freak of nature that comes along only so often.