NBA Draft 2012: Ranking the Golden State Warriors' 3 Biggest Draft Needs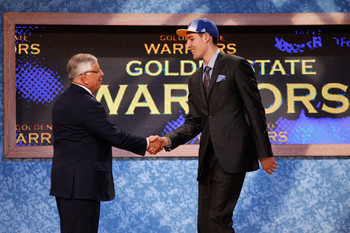 Klay Thompson being selected in the 2011 NBA Draft
The Golden State Warriors will have a very busy road leading up to the 2012 NBA draft.
With the announcement they will indeed keep their lottery pick, the Warriors will have four draft choices in the upcoming draft—two first-rounders (No. 7 and No. 30) and two second-rounders (No. 5 and No. 22).
With that being said, here are the three biggest draft needs for the Golden State Warriors.
3. Backup Shooting Guard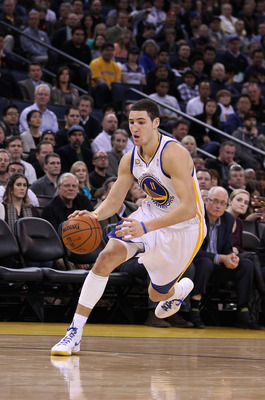 The Warriors need some depth at shooting guard to backup Klay Thompson.
Ezra Shaw/Getty Images
If you take a look at the Warriors' current roster, there aren't really any "true" shooting guards besides Klay Thompson.
Brandon Rush, Dominic McGuire and Richard Jefferson could play the 2-guard, but they all seem to play better as forwards.
The Warriors should acquire some depth at the shooting guard position with one of their four picks.
They probably won't use the No. 7 pick on a 2-guard (more on that later), but any of their other picks are fair game.
Orlando Johnson, a senior out of Vanderbilt, is an option. He should be available as a late first-rounder, and the Warriors would be lucky to grab him if he falls to No. 30.
Matt Kamalsky of NBA Draft Express claims that Johnson is a "threat to score from almost anywhere on the floor thanks to his terrific range, unwavering confidence and ability to create just enough room to get his shot off."
Other options include Jared Cunningham and William Buford, both out of Ohio State, who will likely be available in the second round.
2. Depth at PF or Center Positions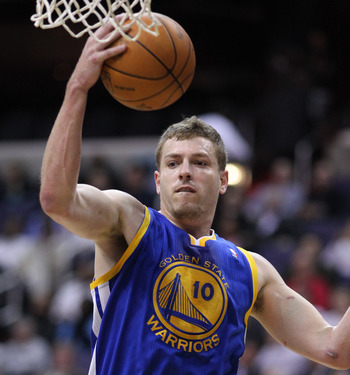 David Lee will need others to help him out, unlike last season when he had to carry the load.
This has been near the top of the Warriors' draft needs since they traded away future Hall of Fame center Robert Parrish in 1980.
Last season, we saw David Lee work like a madman down low, trying to single-handedly carry the Warriors on his shoulders.
Now, with the acquisition of center Andrew Bogut, some of the load will be taken off of Lee.
That doesn't mean they won't add more depth down low.
Aside from Bogut and Lee, the rest of the big men on the roster are Andris Biedrins (in the worst slump of his career), Mikki Moore (probably won't be back next season), Mickell Gladness (pretty solid last season, but still unproven), Jeremy Tyler and Chris Wight (both are raw and unproven).
In other words, there's Bogut, Lee and a bunch of scrubs.
Which means the Warriors will might have to use that lottery pick at No. 7 to draft a big man who can chip in immediately.
ESPN's Chad Ford has them picking PF Jared Sullinger out of Ohio State at No. 7. Sullinger is a "strong physical player, a dominant rebounder, and high basketball IQ."
Another option is center Andre Drummond out of UConn, who is projected to go in the sixth spot. He is just 18 with one year of college under his belt, making this pick very risky. However, Ford states, "At some point, Drummond's rewards start to outweigh his risks."
1. Starting Small Forward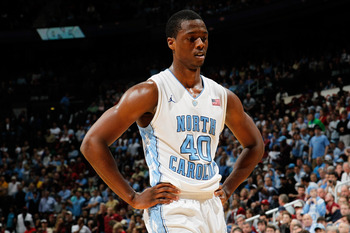 Harrison Barnes is an intriguing option at the number seven pick.
Kevin C. Cox/Getty Images
Who is the Warriors' starting small forward?
Dominic McGuire, Dorell Wright and Richard Jefferson all started at SF at various points throughout the season, but none of them really stood out.
All three of these guys would be great to bring in off the bench, but none of them are classified as bona fide starters.
McGuire is also an unrestricted free agent, which could potentially leave the Warriors shorthanded at an already prone position.
Here are my two options for the Warriors to obtain a starting small-foward.
1) Draft a Small Forward—Thomas Robinson, Michael Kidd-Gilchrist and Harrison Barnes are three high-profile forwards projected to go in the top 10. All three are capable of starting at small-forward, and all have unlimited potential.
The only problem is they might all be gone before the No. 7 pick, meaning the Warriors would have to trade up to grab one of them.
ESPN's Chad Ford has Kidd-Gilchrist going second, Barnes going fourth and Robinson going fifth.
2) Trade the Pick for a Small Forward—Marcus Thompson II of the Contra Costa Times reported the Warriors might look to trade the No. 7 pick, along with other assets, for a small-forward.
He writes:
The Warriors will also explore using the No. 7 pick to get a veteran. The Warriors' starting lineup—which is already set at four positions with Stephen Curry, Klay Thompson, David Lee and Andrew Bogut—is in desperate need of athleticism and experience. So Golden State may not want to give such a prime position to a rookie.

Golden State has long since had interest in Philadelphia's Andre Iguodala, who is exactly the playmaking athlete the Warriors need at small forward. Other small forwards high on their list, according to league sources, are Portland's Nick Batum, Indiana's Danny Granger and Memphis' Rudy Gay. And don't be surprised if the Warriors make a play for Atlanta forward Josh Smith.
In my opinion, this is the better option.
Sure, they might have to give up some other pieces, but if the Warriors can land a Danny Granger or a Rudy Gay, they will receive a bona fide starter at the small forward position.
Keep Reading

Golden State Warriors: Like this team?