NBA Draft Lottery 2012: Golden State Warriors Keep Pick, Will Draft Seventh
May 31, 2012
Light up the fireworks and break out the balloons and streamers; the Golden State Warriors keep their draft pick in the 2012 NBA Draft.
The Warriors, who were represented by GM Bob Myers and owner Peter Guber at the 2012 NBA Draft Lottery on Wednesday, will pick seventh in the upcoming draft. The Warriors needed at least the number seven pick, or else it would be property of the Utah Jazz, thanks to the Marcus Williams trade.
Golden State entered the draft lottery with the seventh-worst record in the league. They had a 72 percent chance of keeping their pick, and the odds (for once) went in their favor.
There were no changes in picks fourteen through eight, meaning that the Warriors would have at least the seventh pick. They could only lose the pick if a team with a better record ended up in a higher draft slot. 
The Warriors are still not completely out of the woods yet, as next year's pick will be top-six protected (they would need at least the sixth pick, or else it would go to the Jazz).
Here is how the lottery played out: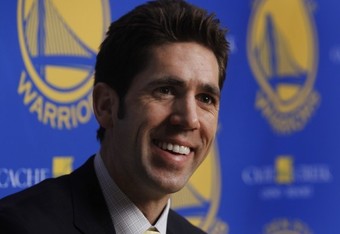 6. Brooklyn Nets (pick goes to Portland)
7. Golden State Warriors 
10. New Orleans Hornets
12. Milwaukee Bucks
13. Phoenix Suns
14. Houston Rockets