NBA Draft 2012: Austin Rivers and College Stars Not Worth Top 10 Picks
May 30, 2012

Streeter Lecka/Getty Images
With the 2012 NBA draft looming, the speculation and mock drafts have begun.
Kentucky's Anthony Davis is projected to be the No. 1 overall pick, but after him, it's anyone's guess.
ESPN's Chad Ford's big board boasts names like Davis, Michael Kidd-Gilchrist, Bradley Beal and Thomas Robinson—all solid NBA prospects.
But Ford also ranks Perry Jones III and Harrison Barnes within the top 10, as well as Austin Rivers in the top 20.
Why?
Jones is inconsistent and passive at times, Barnes' game went downhill after Kendall Marshall went down and Rivers is selfish and needs extensive work on his defense.
Let's get a little more in depth.  
Perry Jones III
Sophomore power forward Perry Jones has all the skills to be an elite basketball player, but it's his effort and his passive nature that scares me.
Averaging 13.5 PPG and 7.6 RPG in 2011-2012, Jones has great size and athleticism, but doesn't always give it his all and doesn't live up to the talent he possesses. 
He could have easily gotten to the rim a lot more in his two seasons with Baylor, instead opting for a long contested jumper.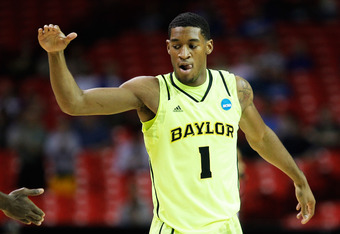 Streeter Lecka/Getty Images
Jones has great hops, which, in turn, makes him a great rebounder, and is also a solid defender when he wants to be.
The problem with Jones is his consistency and effort.
Because at the end of the day, I'd take hustle and consistency over pure talent any day.
Harrison Barnes
Harrison Barnes was a good college basketball player.
During his sophomore season in 2011-2012, he averaged 17.1 PPG and 5.2 RPG from the small forward position.
But when his point guard, Kendall Marshall, went down with a wrist injury in the NCAA tournament, a weakness was exposed.
Barnes struggles to create his own shot, especially off the dribble, which brings me to another weakness in his game: ball handling.
Barnes pulls up for jumpers more often than driving to the basket due to his lack of ball-handling skills and slow first step. 
For Barnes to be a successful NBA player, he needs to bulk up and hope that he gets drafted to a team with a top-five point guard, because the guy just can't create for himself.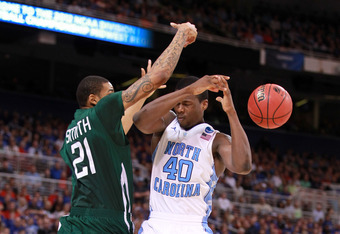 Andy Lyons/Getty Images
Austin Rivers
As a Duke fan, I was disgusted with Austin Rivers. All the hype surrounding him was a complete bust.
Sure, he led Duke in scoring at 15.5 PPG, but he averaged more turnovers (2.3) than assists (2.1) per game.
Rivers was also a questionable teammate and took a lot of unwarranted shots, leaving some scouts to label him as selfish.
And don't even get me started on his defense; let's just say he's a gambler and he doesn't win often.
If Rivers wants to succeed in the NBA, he needs to mature, improve his shot (.433 FG percentage in 2011-2012), work on his left hand and work on cutting down his turnovers.
In the end, I think Doc Rivers will end up being a better coach than his son was player.
Follow me on Twitter @Pete_Schauer