FYI WIRZ: NASCAR's Top Drivers Rock and Drop into Lucky 13 at Dover
May 28, 2012

After two weeks of racing the home track at Charlotte Motor Speedway, it's time again to analyze 12 of the top 24 drivers in Sprint Cup points. NASCAR now heads to Dover, Delaware for the halfway point of 26 regular season events before 10 playoff races—the Chase for the Sprint Cup.
The select 12 drivers—some movers, some sliders—aren't considered a dirty dozen, even though racing 600 miles in one day and night during the Coke 600 will cause copious amounts of sweat.
The biggest movers this week are Jeff Gordon, Aric Almirola and Kasey Kahne.
Gordon is trying to erase a season start he'd rather forget and this race had no crashes or equipment failure to assist a drop in points. He and Almirola—who nabbed the first pole for Richard Petty in 46 years, and the first for himself in 46 Sprint Cup races—moved up two positions.
Kahne got his first win for Hendrick Motorsports and moved one position to 15th, but that win gives him a better shot at making the Chase this year.
Equipment woes plagued Tony Stewart, Marcos Ambrose and A.J. Allmendinger, and caused a drop of two positions for each team.
The top-five Sprint Cup drivers remain the same, with only Denny Hamlin overtaking Dale Earnhardt Jr. for the third spot.
It's a tight battle at the top with only 18 points separating the top four.
Kevin Harvick and Kyle Busch advanced a spot to stay in the top 10.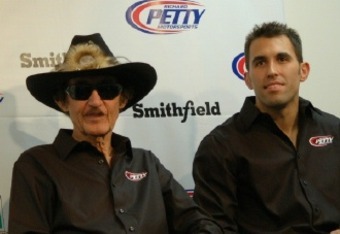 Brad Keselowski, with two wins, stays out in front of Ryan Newman in the Chase berth at 11th. Newman advanced a spot to the 13th position, two ahead of Kahne for the final Chase contender prize.
With 14 races remaining before the payoffs, much can change for those poised near the top of the point pile.
The rock and drop list: 
3. Denny Hamlin (+1)
4. Dale Earnhardt Jr. (-1)
7. Kevin Harvick (+1)
8. Kyle Busch (+1)
9. Tony Stewart (-2)
11. Brad Keselowski (+1)
13. Ryan Newman (+1)
15. Kasey Kahne (+1)
19. Aric Almirola (+2)
20. Marcos Ambrose (-2)
22. Jeff Gordon (+2)
24. AJ Allmendinger (-2)
It's also also time to look at some sunshine, seek the positive edge of six drivers moving up this week and compare post-race comments as they approach event 13 of 36.
Denny Hamlin, Kevin Harvick, Kyle Busch, Kasey Kahne, Jeff Gordon and Aric Almirola share their thoughts after coming off a good week of racing.
3. Denny Hamlin (No. 11 Toyota)
"We just need a little bit more of everything—we need a little bit more motor, a little bit more aero and a little bit more mechanical," Hamlin said. "We'll get there.

"I was driving with my eyes out and my hair on fire for 20 laps on that restart trying to catch him (Kasey Kahne). He just had a superior car tonight. We're going to hold our heads high. We have a lot of stuff that we learned with our race cars. We're definitely making strides in the right direction. There's nothing we did wrong, we just got beat by a better car today."
7. Kevin Harvick (No. 29 Chevrolet)
"We had a solid night," Harvick said. "We snuck up there in the top five, got our bonus points for leading a lap and the pit crew was awesome. This isn't our strongest race track the last two weeks but I feel like we have a solid package to build on."
8. Kyle Busch (No. 11 Toyota)
"These guys did a good job giving me a good car tonight. Just missed it on a couple runs there—got ourselves a little bit too far behind," Busch said. "We're just missing a little bit of something—just something that we lack a little bit of speed or a bit of longevity.

"We're definitely a contender each and every week. We're just not winners yet. I wish we knew what it was to get us to that point. There's just a little bit of something lacking. We'll move on to Dover and see what we can get there."
15. Kasey Kahne (No. 5 Chevrolet)
"We are gaining," Kahne said. "I think that is like seven, top-10 finishes in a row counting the All-Star race. So we are making big strides. I have the greatest teammates to work with. Which is something that I have really looked forward to coming to Hendrick Motorsports and being able to learn from Jimmie (Johnson), Jeff (Gordon) and Dale (Earnhardt Jr.) and see how they do things as well as Chad Knaus and all their crew chiefs (Alan) Gustafson and (Steve) Letarte they are all awesome guys and to learn from those guys, work with those guys is all I really wanted to do."
10. Aric Almirola (No. 43 Ford)
"This is still improvement," Almirola said. "The guys on pit road did a great job. We'll take it. It's 16th. It's not great, but it's improvement and that's the one thing we've been talking about and working on is we've normally been running 23rd, so now we're running 16th, so that's improvement.

"When you go through a year like we're going through, when you start seeing positives week-in and week-out and start building on those and can build momentum, the guys' spirits are up, that's what it's all about."
22. Jeff Gordon (No. 24 Chevrolet)
"We had an awesome race car and we showed it right from the drop of the green," Gordon said. "We drove up through there. But, we came in under green and the caution came out. Went to the back again or I guess mid-pack and came back. We had to play catch up and came back up to seventh. That is a great effort by this team. I'm so proud of them."
Expect more rock and drop analysis after the FedEx 400 benefiting Autism Speaks race this Sunday at 12:30 p.m. at Dover International Speedway.
Details at www.doverspeedway.com
FYI WIRZ is the select presentation of motorsports topics by Dwight Drum at Racetake.com. Unless otherwise noted, all quotes were obtained from personal interviews or official release materials provided by sanctions, teams or track representatives.