Barret Loux Enjoying Perfect Season at Double-a for Texas Rangers
May 28, 2012

With the sixth-overall pick in the 2010 amateur MLB draft, the Arizona Diamondbacks selected 6'5" 215 lb. right-handed fireballer Barret Loux.
In August 2010, according to Brent Zwerneman, Arizona declined signing this Texas A&M standout due to injury concerns.
Because of "fraying in Loux('s) labrum," Zwerneman wrote, Arizona said Loux had "little mileage" on his arm.
Nearly two years later, the Diamondbacks have got to be kicking themselves after letting Loux escape the hatch.
And the Texas Rangers—who swooped in and signed Loux as a free-agent just a few months later—have got to be smiling from ear to ear.
This is because Loux is enjoying a season many pitchers dream about with the Frisco RoughRiders of the Double-A Texas League.
Currently, this 23-year-old phenom is a perfect 10-0 with a 3.20 ERA. Loux also has 55 strikeouts to 17 walks in 56.1 innings pitched. Loux's ERA was 2.51 until May 26th, when he surrendered six earned runs in six innings of work against Northwest Arkansas.
Loux's most sparkling performance this season occurred on May 20th against the San Antonio Missions, when he gave up one earned run on two hits in seven innings. He struck out six batters and walked just one.
Not bad for a guy deemed to have "low mileage" on his arm.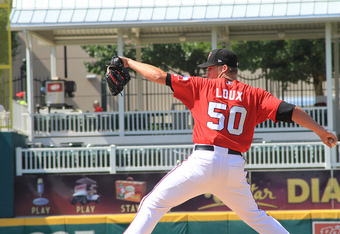 While a promotion to Triple-A Round Rock may be coming soon for Loux, his arrival in Arlington is not on the cards, at least not right now.
According to CBS Sports baseball blogger Trent Rosecrans, the Rangers are in no rush to promote this fire-baller to the big leagues. Rosecrans cites a "backlog of talent" on the big league club's pitching staff as justification.
With that said, should Loux continue to dominate at Double-A, Nolan Ryan and company may have no choice but to promote this second chance fire-baller to the show.
As if the Rangers needed any more weapons in their arsenal.
Related Articles:
Will Jurickson Profar Find Role With Rangers this Season?
Josh Hamilton's Future with Texas Rangers 'In God's Hands'