Josh Hamilton's Future with Texas Rangers in 'God's Hands'
May 27, 2012

Cooper Neill/Getty Images
"I've got faith in God and I trust god and I want to do his will more than mine. I don't necessarily want to do what's comfortable for me or my family. If he asks us to leave and go somewhere else, it might not be comfortable. But you know what? That's going to bring me closer to him and make me have a better relationship with him."
These are not the words of New York Jets quarterback Tim Tebow. Per the Associated Press, they are those of Texas Rangers superstar outfielder Josh Hamilton.
From this statement, Hamilton sounds like a man deeply entrenched in his faith.
He also sounds like a man who is enigmatic about his future with the Rangers.
It also seems as if Hamilton is sending Nolan Ryan and company a subtle ultimatum.
Some may argue that Hamilton's Godly stance on his impending free agency is apathetic, almost arrogant.
When one breaks down the difficult decisions the Rangers face at the end of this season, however, decrypting Hamilton's words becomes easier. The same goes to show why Hamilton does not want to think about his future while the Rangers continue to excel on the field.
Currently, the Rangers have the entire package as far as baseball teams are concerned. This first-place AL West team is not only playing outstanding baseball, but it also houses tremendous team chemistry.
Offensively, the Rangers boast a terrifying, psyche-tormenting lineup that toys with nearly every pitcher that faces them. With a team .288 batting average, Texas tops nearly every offensive category in the big leagues.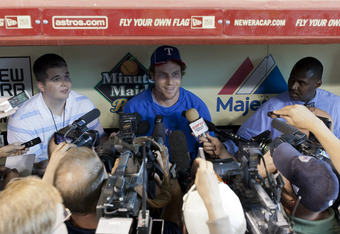 Bob Levey/Getty Images
The Rangers pitching staff has a 3.23 team ERA, which is third best in baseball behind the Washington Nationals (2.95) and Los Angeles Dodgers (3.19).
Defensively, Texas is in the top 10 in team-fielding percentage (.986). They have committed 23 errors, which is good for the seventh-lowest total in the league.
In the meantime, a ginormous elephant sits in the corner of the Rangers' clubhouse with dirty towels tossed over its head.
As reported by Ben Nicholson-Smith, the Rangers have seven ballplayers eligible for free agency after the 2012 season. Hamilton included, these players are Mike Napoli, Mike Adams, Colby Lewis, Yorvit Torrealba, Koji Uehara and Mark Lowe. 
Scott Feldman and Yoshinori Tateyama also have contract options. Four additional ballplayers are eligible for arbitration: Neftali Feliz, Alberto Gonzalez, Matt Harrison and David Murphy. Per Smith, Harrison and Murphy will receive pay raises after the season.
With a $120 million payroll, the Rangers have plenty of pockets to line following the season, Hamilton being the biggest. This fact seems to be the perfect storm that may ultimately prevent Texas from being able to sign Hamilton.
Yet again, the Rangers undoubtedly have some creative minds in their front office that have molded one of the most dynamic baseball teams in the game.
However, the Rangers' front office may need more than creativity to sign Hamilton after this season, for his asking price may be able to pay off a small chunk of America's national debt.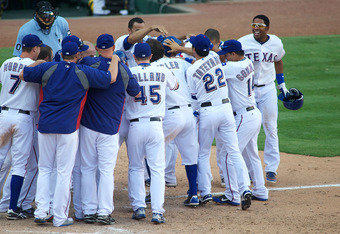 Cooper Neill/Getty Images
Hamilton will surely have other suitors who would love to attain his services; even if the big-league cities that may pursue Hamilton may prove "uncomfortable" to Hamilton's family.
"I'm praying a lot about it," Hamilton said. "God will show up and I'll be here or somewhere else. It's not about where I want to be, it's about where he wants me to be."
Are Hamilton's smoke-and-mirrors comments evidence of a man wanting to sign a monster contract that keeps him in Texas for the rest of his career? Even if this means sacrificing some of his teammates in the process?
Or is Hamilton using these comments as a bargaining chip to tell Rangers' leadership to do whatever it takes to sign him while preserving the rare chemistry this team has?
Perhaps only God knows the answers to these questions.
But from the looks of things, Hamilton and his agent may have some insight as well.  
Related articles:
Will Jurickson Profar Find Role With Rangers this Season?