Jurickson Profar: Will Hot Prospect Find Role with Rangers This Season?
May 17, 2012

Christian Petersen/Getty Images
Jurickson Profar is already making life pleasantly challenging for Nolan Ryan and the Texas Rangers.
This highly-touted, 19-year-old shortstop prospect from Curacao has rudely offended Double-A Texas League pitching so far this season.
A sweet-swinging switch hitter with surprising power, Profar is batting .291 with four home runs, 19 RBI and six stolen bases for the Frisco Roughriders.
During the past 10 games, Profar is hitting .356 with a .921 OPS.
More impressively, this whiz with an infectious spirit boasts a 26-game hitting streak through May 16th.
Neither Bryce Harper nor Mike Trout can say this.
What Harper and Trout can say, however, is that they have officially found a home in Major League Baseball.
This fact sparks the question: Will the Rangers call Profar up to the kingdom should he continue to excel?
Or does Texas let Profar continue to marinate in the minors, much like what the Detroit Tigers are doing with hot prospects Nick Castellanos and Avisail Garcia?
To this, some would answer yes. While Profar is indeed an exhilarating shortstop, he still has ways to go to master his glove work (six errors in 32 games at Double-A).
If the Rangers did call Profar up, where would he play?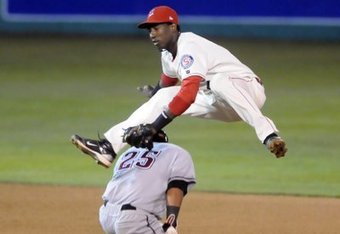 The Rangers are already loaded up and down the lineup with fear-imposing hitters.
This includes shortstop Elvis Andrus, who is quietly enjoying a breakout season.
So what to do?
Do the Rangers move Profar to the outfield to spell relief during those sizzling Texas summer months?
Or would the team be best to move Ian Kinsler to the outfield, to enable Profar to join Andrus, his veteran sidekick?
What about the Rangers using Profar at multiple positions to create a dynamic, interchangeable lineup?
As if this team could get any scarier, the Rangers using Profar in this fashion could create game-planning nightmares for opposing managers.
While several questions exist, one thing is certain. The Rangers are in an enviable position. Should Profar continue to pound minor league pitching, he has the potential to give the Rangers another nail to pound in the American League's coffin.
Related Articles:
Elvis Andrus Quietly Having Breakout Season in Shadow of Josh Hamilton
Josh Hamilton on Record to Break 82-Year-Old Baseball Record
Texas Rangers Fast Becoming MLB's Version of New Orleans Saints