Mitchell Layton/Getty Images
May 15, 2012
With all the media attention placed on outfielder Josh Hamilton, it is easy for the press to forget about other players on the Texas Rangers who are quietly having big years.
Of course, one cannot blame the media, for Hamilton is putting up statistically mind-boggling numbers.
In 33 games, Hamilton is hitting .400 with 18 home runs and 44 RBI. His 52 hits are third in the big leagues, behind Yankees Renaissance man Derek Jeter and Braves budding star Michael Bourn. Hamilton's OPS is an eye-popping 1.310, as is his slugging percentage, which sits at .854. Hamilton is also on pace to shatter Hack Wilson's 82-year-old MLB record for RBI in a season.
Meantime, shortstop Elvis Andrus is quietly having a breakout season for the Rangers.
While nowhere near Hamilton's bunker-busting performance, Andrus is hitting .326 this season in 35 games played. Andrus has 46 hits, which is tied for 10th place in the league.
While these are not ridiculous numbers by any means, they are a sign of great things to come for the Rangers.
Considering Andrus' larger body of work, he has improved his hitting every season since his rookie year in 2009.
Hits for Andrus have climbed from 128 in 2009, to 156 in 2010, to 164 hits in 2011.
Per ESPN projections, Andrus is on pace for a 200-plus hit season in 2012.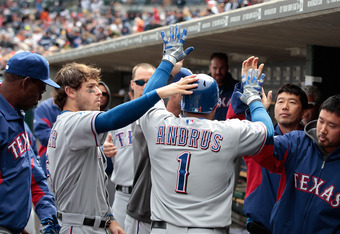 Leon Halip/Getty Images
Andrus has also vastly improved his fielding. Coming off a season in which he had 25 errors at shortstop, Andrus has just four so far this season.
While Andrus undoubtedly has ways to go to be amongst baseball's fielding elites, he is making strides.
For the Texas Rangers, boasting an ironclad shortstop like Andrus makes the team even more imposing going forward.
As if the team needed any more help.
Related Articles:
Texas Rangers are Fast Becoming MLB's Version of New Orleans Saints
Like the new article format? Send us feedback!